Alan Dershowitz Says Donald Trump Ties Have Lost Him Many Friends
Alan Dershowitz has said he has lost "lots and lots of friends" due to his ties with Dondald Trump following his spat with Larry David at Martha's Vineyard that made headlines this week.
In a scene straight out of Curb Your Enthusiasm, the two men were spotted arguing outside a grocery store with the comedian labeling Dershowitz "disgusting" due to his ties with the former president.
Now Dershowitz has given more insight into the encounter in an interview with Newsmax on Thursday night and how he is treated in Martha's Vineyard—famously a Democrat stomping ground—these days.
"There I was having a cup of coffee with a friend on the porch of the Chilmark store, which is a kind of local gathering place a general store, and Larry starts screaming at me saying, you know—ah he just couldn't control himself," the Harvard law professor began, adding: "I thought he was going to have a stroke."
Dershowitz said David called him "horrible" because was photographed patting former CIA director who served in the Trump administration, Mike Pompeo on the back.
Pompeo is a former student of Dershowitz's who he worked with on the Peace Process involving Israel and Palestine and on the Abraham Accords.
"He's my former student of course I'm going to pat him on the back and congratulate him for the work he has done," Dershowitz insisted. "But that wasn't enough for Larry David—I'm disgusting."
Dershowitz said that David refused to talk to him and kept calling him disgusting before adding: "This is the guy whose daughter I helped get into college."
He also said he represented David's family pro bono over a dispute they had at Martha's Vineyard before.
"I defended President Trump in front of the Senate and I patted Mike Pompeo on the back that's enough to end a twenty-five-year friendship," Dershowitz continued.
When asked if people have lost the ability to civilly disagree about politics, Dershowitz reminded viewers that he voted for Joe Biden but said he is seen as a "traitor" by fellow Democrats.
"I'm a Democrat. I defended Ted Kennedy, I defend Senator Alan Cranston, I tried to help defend President Clinton—almost all of my clients who have been politicians have been Democrats but because I also defended the constitution on behalf of Donald Trump that was enough," he said.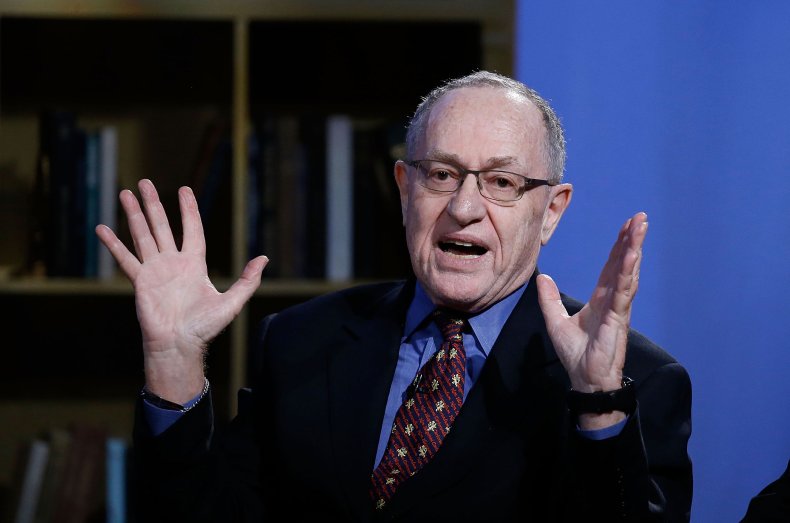 Dershowitz went on to say he doesn't mind being socially ostracized but that he has been "canceled" by a number of local Chilmark institutions on Martha's Vineyard including the library, community center, the book fair and Hebrew center.
He also likened his treatment to McCarthyism, adding: "When you start blaming the lawyer because you don't agree with the client, that's McCarthyism," adding that his ties to Trump have seen him lose "lots and lots of friends."
Newsweek has contacted Larry David's representatives for comment.