Alarming Number of Orca Descend on Oregon Coast To Feast on Seal Pups
An alarming number of orca have been sighted off the Oregon coast, as they descend on the area to feast on seal pups.
The killer whales were first spotted in late April. In May, there have been multiple sightings every day, according to the Oregon Coast Whale Watchers' Facebook page.
The orca have been seen in spots along the coast including Sea Lion Caves, Coos Bay, Yachats, Newport and Gold Beach. Orca are not unheard of in the area, but had rarely been spotted before April.
Josh McInnes, a marine ecologist and killer whale researcher at the University of British Columbia's Institute for the Oceans and Fisheries Marine Mammal Research Unit, has been tracking orca that enter this area.
McInnes told Newsweek that spring usually brings an increase in orca numbers, as they arrive for the harbor seal pupping season.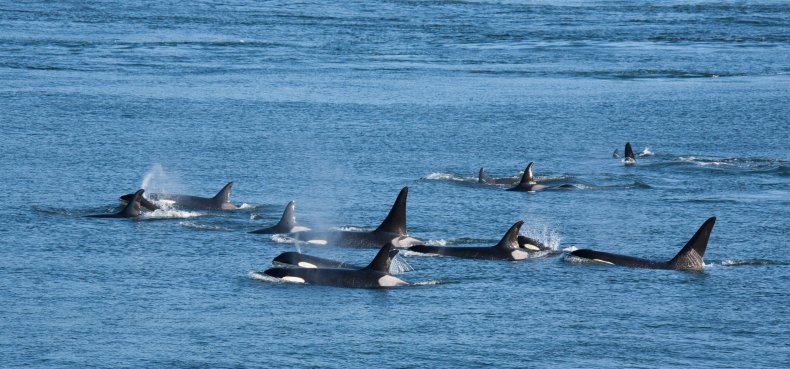 "We are noticing that there is a seasonal trend in sightings. So transient [killer whale sightings] may occur year-around, but we notice a spike in occurrence in the spring. This is likely related to the harbor seal pupping season," he said.
"From our research in British Columbia and Washington state, we know that the same whales we are seeing there occur off Oregon and specialize on harbor seals. Harbor seals pup off Oregon from late April until June," he said.
McInnes said he had also received "the odd report" of killer whales hunting gray whale calves off the Oregon coast. This hunting behavior is not rare in itself but information and photos of the Oregon orca had previously been "difficult to obtain."
"Our research spans from Southeast Alaska to Southern California. Most sightings of transient killer whales occur in the inland waters off Southern Vancouver Island, Washington state, southeast Alaska and off the central coast of California. However, there are few sightings for the Oregon area," he said.
McInnes has set up a Facebook group, Oregon Coast Killer Whale Sightings Group, to find out more about the Oregon killer whales.
Killer whales have been appearing in record-breaking numbers in the Salish Sea in recent weeks. A huge number have been spotted in Puget Sound, Washington, with more than 15 matrilines confirmed across 10 groups of orca.
A member of the Oregon Coast Whale Watchers group wrote on Facebook: "That's a lot of Orca. Maybe if these numbers keep growing.... They will make more of a regular presence here in Oregon!? That would be amazing!"
McInnes said another reason for the sightings was an increase in observer effort. Researchers "now have a substantial database" for killer whales off the Oregon coast.
"Sightings groups like the Oregon Coast Killer Whale Sightings Group enables locals to get involved and find opportunities to post their pictures that up until now were in private collections."
Killer whales can cover 100km in one day. This means they can be found anywhere along the coast from Southeast Alaska to Southern California.