Online footage has revealed a stranded dwarf minke whale washed up on a beach in Australia being rescued by a group of beachgoers.
On May 20, the Queensland parks and wildlife service arrived at Hervey Bay beach to find the minke whale washed up and unable to move.
Cetacean strandings are a largely unexplained phenomenon that occur all around the world. However, it often happens when the animal is sick or injured in some way, making them weaker and unable to swim against the tide.
Some whales strand after becoming disorientated when they accidentally find themselves in shallow water. Around 2,000 strandings occur around the world every year. Sadly, most stranded whales end up dying.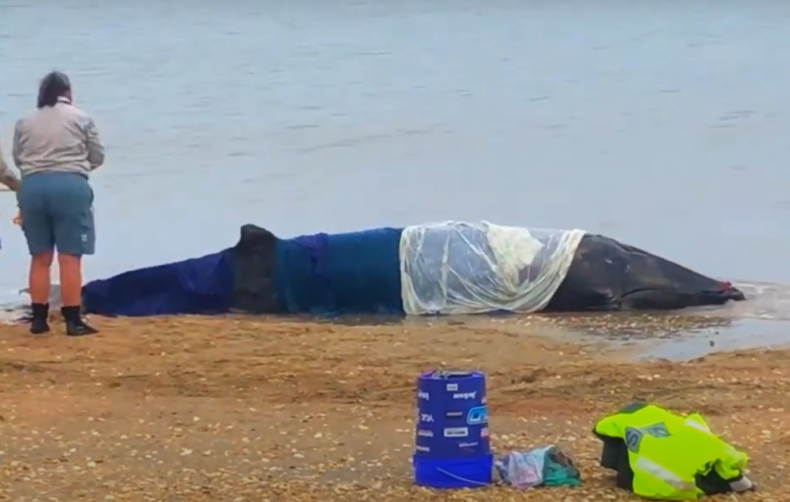 A video, taken by local snake catcher Drew Godfrey, shows rescuers pouring water on the stranded animal, attempting to keep it wet until the tide returns.
When marine mammals strand while still alive they often die, as they need water to keep their body temperature cool—if they become too dry, they lose too much water and overheat.
After an initial assessment, the Queensland Parks and Wildlife Service determined that the whale appeared to be in "good condition."
In the video, rescuers can be seen guiding the whale out to sea with the rising tide.
As it enters deeper water, the whale suddenly begins thrashing its tail, attempting to swim into deeper water. Spectators can be heard cheering as the whale becomes more lively.
The whale appears to disappear into the depths for a few moments, however, then gets stuck in the shallows once again.
"Oh no, it's coming back in," a man can be heard saying.
Stranded marine mammals often end up disoriented after they are guided back to sea, meaning they will sometimes end up back on the beach.
As the whale becomes stranded in the shallows once again, it stops thrashing about in the water and rescuers attempt to guide it back into the depths.
Rescuers pull it out and the whale once again begins flapping its tail to begin swimming.
Spectators can be heard cheering as it becomes clear that the whale is finally on its way back out to the open ocean.
Godfrey told Newsweek that the moment was "very moving."
"[It was] a heartwarming moment of community spirit and animal rescue. It was wonderful to see," he said.
Before rescuers attempted to push it back out to sea, they collected data on the whale for research purposes. Dwarf minke whales can be found in temperate and warmer waters in the southern hemisphere.