Mystery As Dozens of Sea Lions Wash Up Dead on California Coast
Dozens of dead sea lions have mysteriously washed up on the California coast, baffling scientists in the state.
It is not unusual for sea lions to become stranded. Usually, they are pups who have recently weaned from their mothers. Rescuers from the Pacific Marine Mammal Center usually treat these sea lions and ease them back to sea.
However, recent strandings occurring off the coast of California are irregular, and scientists are confused as to what is causing them.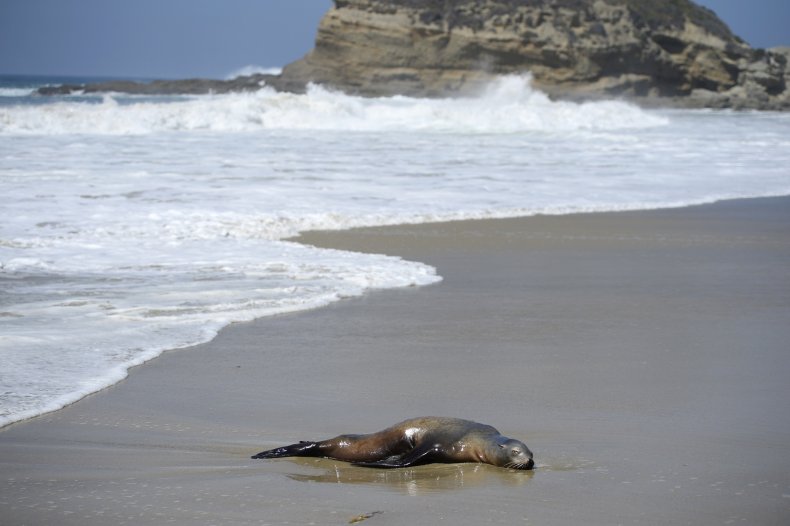 Rescuers first became worried when they found a sea lion between 7 and 15 years old stranded on Newport Beach in February, The Orange County Register reported. The sea lion had suffered seizures to the point of going blind.
Just days later, more sea lions began washing up along the coast from Newport Beach to Laguna Beach, which lies around 11 miles away. All sea lions were found dead, The Orange County Register reported.
According to the news outlet, a total of 21 teenage sea lions were found dead in February, with six washing up on the same day.
Scientists theorized the deaths could have been down to a domoic acid bloom, as all the sea lions were found with squid in their bellies.
A domoic acid bloom happens when pseudo-nitzschia australis, a harmful algae containing neurotoxins, blooms in the water. The algae can be found along the Pacific coast from California to Canada.
When it blooms, the neurotoxin can accumulate in small fish like squid. If a sea lion eats too much of the neurotoxin, it can cause heart failure and brain damage. Usually, the toxin will disappear from the sea lion's body over time, but it causes serious effects if a large quantity is consumed.
Dr. Alissa Deming, vice president of Conservation Medicine and Science at the Marine Mammal Center, is not convinced this is what caused the sea lion deaths, as toxic blooms do not usually happen at this time of year.
A pseudo-nitzschia australis bloom is usually triggered when the water gets much warmer. It also does not usually affect younger, teenage sea lions. While some residue from domoic acid was found during the sea lion autopsies, it was not at a high level, The Orange County Register said.
This means Deming and other scientists remain stumped as to what caused the deaths.
Deming told The Orange County Register it could potentially be down to a recent oil spill that happened off Huntington Beach in October 2021.
The incident saw at least 126,000 gallons of crude oil spilled into the sea. It was the largest spill to happen in California in recent years, The Los Angeles Times reported. The spill had significant ecological impacts. More than 80 birds and fish were affected by the incident, with over half dying, according to the Oiled Wildlife Care Network.
Huntington Beach only lies around 5 miles away from where the sea lion strandings occurred, however more testing has to be done in order to test this theory.
Scientists will continue testing samples from the dead sea lions to try and get to the bottom of the mysterious strandings.
"It's unfortunate so many animals died," Deming told The Orange County Register. "It's our obligation to investigate when there are events like this and to figure out what these animals are telling us about what's going on with our ocean."
Marine mammal strandings are a common phenomenon yet they largely remain a mystery to scientists.
California has been deemed a hotspot for strandings in the past, though it is not certain why. Some theorize it could be down to pathogens found in the water.