Alarming Video Shows Car Ramming Through NYC Protesters in Times Square
A video appearing on social media Thursday night shows a car deliberately driving into protesters gathered at New York City's Times Square.
The video shared to Twitter shows a car appearing to briefly stop near a crosswalk filled with protesters. At least one protester apparently attempts to block the car with a bicycle before the car accelerates through the area, running into multiple protesters in the process.
Calls have been made for help in identifying the car's driver and occupants, although they cannot be clearly seen in the video that appears online. Videos and photos also circulated of a second car that was said to have driven around the area while unsuccessfully attempting to strike protesters.
"My office is looking into tonight's incident in Times Square," New York City Council Member Keith Powers tweeted. "Hoping everyone is safe. Using a vehicle to hurt peaceful protestors is unacceptable and must be stopped."
The New York City Police Department (NYPD) said that the vehicle that struck the protesters was a black Ford Taurus. The NYPD added that the car was not owned by the department, dispelling rumors that the car was an unmarked police car.
NYPD said an investigation is ongoing and asked any injured parties to come forward, saying they have yet to hear from any "complainants," although at least one image on social media shows what is claimed to be an injury to a person struck by the car.
The Black Lives Matter demonstration continued after the incident. Those taking part were protesting the death of Daniel Prude, a Black man who died after a March encounter with police in Rochester, New York.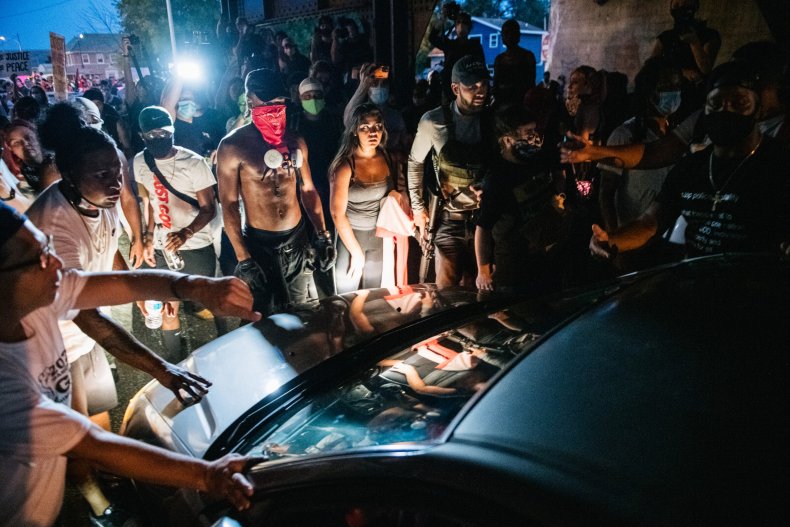 Prude's family recently shared video they say shows a naked Prude, who was suffering a mental health incident, being detained by officers who then placed a hood over his head before asphyxiating him to death. The video led to protests in Rochester, New York.
Multiple recent incidents Black people dying in police custody have led to widespread protests of police brutality and racial injustice across the country and around the world.
Dozens of protesters have been hit with vehicles that appear to purposefully drive into crowds, with some being injured or killed in the process. As collisions multiplied, white supremacists circulated memes taking delight in the injuries and deaths, typically including the phrase "All Lives Splatter."
Some vehicles that struck protesters have been driven by police officers. In late May, NYPD vehicles were filmed driving into a protest that had erupted in the wake of the death of George Floyd.
NYPD Commissioner Dermot Shea told Reuters the vehicles were "attacked" by the pedestrian protesters while defending the actions of the officers as an appropriate use of force.