Alaska Airlines Engine Issue Prompts Emergency Landing Warning
An Alaska Airlines flight from Seattle to Honolulu was forced to make an unexpected landing on Friday due to an engine problem. No injuries were reported, according to KHON-TV.
An oil filter bypass light turned on for one of flight 145's engines, causing an emergency announcement aboard the flight. The crew responded by idling the engine while in flight, reported KHON-TV. Although the flight was going to make an emergency landing in Maui, the plane was flying safely and continued on its initial path.
The airline told Fox News that the plane's second engine and "all other systems onboard" were functioning normally.
"The captain came on the overhead speaker and just said that they were having overheating of one of the engines, so they needed to idle a little bit to try to let it cool off but that we're going to have to make a quicker landing than usual," passenger Carrie Mingle told the outlet.
Mingle said the captain told passengers that a fire crew would be ready; the flight was already midway through its route at that point. The mood was apprehensive, and "a lot of people on the plane had written emails or texts to their loved ones" because they were not sure what would happen, said Mingle.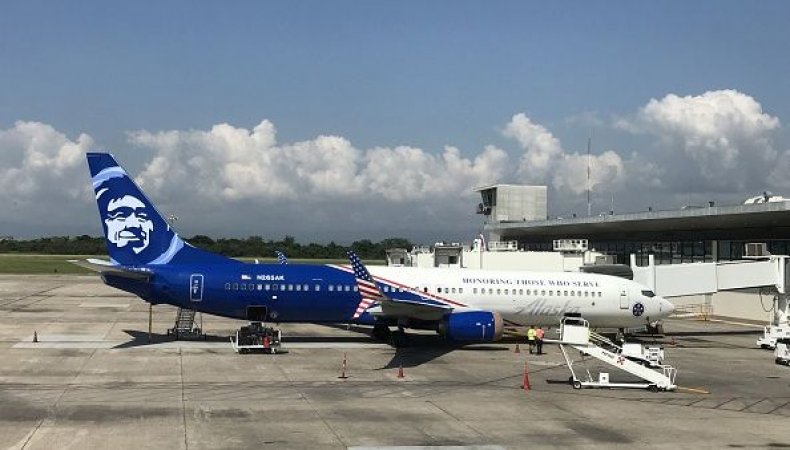 According to KHON-TV, there were 157 passengers on the flight and eight crew members.
Although several outlets described the incident as an emergency landing, it's unclear if Alaska Airlines considered a landing with one idle engine to be an emergency. The airline did not return Newsweek's request for comment.
The incident came days after a woman suffered cardiac arrest and died on an Alaska Airlines plane from Seattle to Kansas City.