NASA Before and After Images Show Rapid Melt of Alaska Snowpack
As spring temperatures spike, the thick snowpacks amassed over the winter are melting across the country, causing flooding and a variety of other issues in riverside communities.
The Yukon River, in the center of Alaska, has experienced the impact of rapid snowmelt. As seen in images taken by Operational Land Imager (OLI) on the Landsat 8 satellite and the OLI-2 on Landsat 9, in the week between May 6 and May 14, the snowy landscape is transformed by spring, causing the river to flow intensely.
Other rivers across Alaska also saw rapid melting and resultant flooding, prompting Governor Mike Dunleavy to declare a state of emergency on May 13.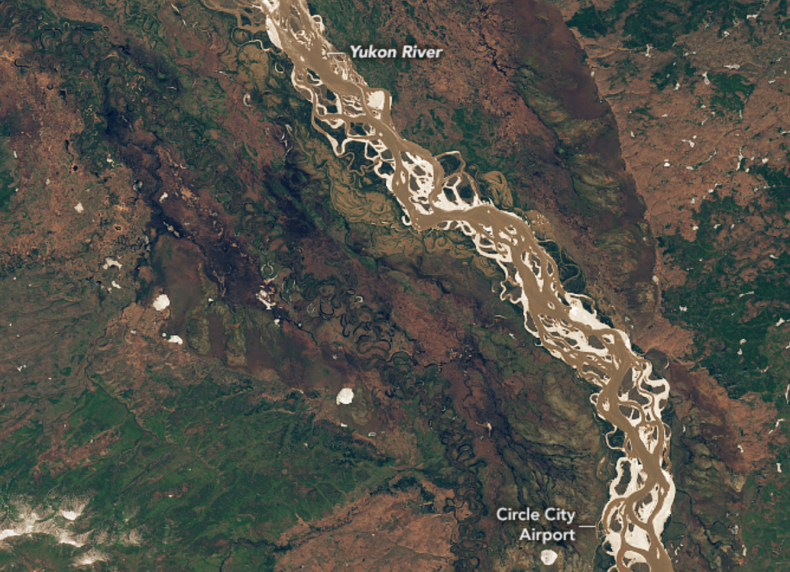 The rapid melting of ice can trigger ice jams in rivers, causing the river to burst its banks and flood nearby towns and villages.
Ice jams are clogs in a river generated by large quantities of ice chunks and other debris. This can more or less dam the river, inducing flooding in areas upstream of the blockage. This year in particular made for prime ice jam conditions as the snowpack across most of the U.S. was extremely high and melted in a short period of time due to rapidly rising temperatures. This forces the ice to melt in larger chunks that are more likely to clog up a river.
Further, snowmelt water exacerbates the issue, adding more water above the jam and worsening the floods.
In the town of Circle, Alaska, it's thought that several smaller ice jams may have contributed to massive flooding in the town on May 13.
"It was reported that the water rose 10 feet in a 30-minute period," meteorologist Jim Brader of the National Weather Service forecast office in Fairbanks told the NASA Earth Observatory.
This led to significant damage to buildings and other infrastructure, with several homes being destroyed.
Similar flooding due to ice jams were seen in the town of Buckland, along the Buckland River in western Alaska, according to a Facebook post by the NWS Fairbanks Alaska page.
"Although ice jams happen every year, this year was much worse than average," said Brader.
Rapid snowmelt is causing a number of other issues across the U.S. with severe flooding in Yosemite National Park and Tulare Lake in California, and several roads turning into waterfalls in Utah.
However, the Yukon River is expected to finally begin receding.
"Water levels are finally cresting on the Yukon [River] at Galena and look to be making a downward turn based on the hydrograph," tweeted NWS Fairbanks on Wednesday.
Do you have an animal or nature story to share with Newsweek? Do you have a question about crocodiles? Let us know via science@newsweek.com.