Albino Alligator Gives Toothy Grin During Bath in Viral Clip
An albino alligator showed just how much she enjoyed a quick bath in a viral video viewed nearly six million times on TikTok.
Jay Brewer shared the video on his TikTok account @jayprehistoricpets, which has more than 17 million followers. Commenters watched in delight as Coconut had a relaxing back scratch during her quick bath.
"We're going to take a little water," Brewer said at the start of the video. "And we're going to give Coconut a little back scratch."
After pouring the water on the alligator, he began to scrub. Almost immediately, Coconut closed her eyes and flashed what looked like a wide smile as Brewer brushed her back.
"Look at that, all that green needs to come off of you, Coconut," Brewer said as he continued to scrub her back and tail with a brush.
According to Alligator Adventure, a zoo located in North Myrtle Beach, South Carolina, albino alligators cannot produce any melanin in their skin.
"This genetic defect gives their skin a yellowish-white appearance and the eyes generally cast a pinkish hue due to the visible blood vessels in the colorless irises," Alligator Adventure zoo officials said.
Because of its coloring, albino alligators cannot camouflage themselves. It's rare that one makes it to adulthood because they are seen as an easy target in the wild.
"Their skin is said to be extremely sensitive to sunlight in which too much sun will burn their skin," zoo officials said.
Viewers took to the comments section to share their love for Coconut's wide smile while she received a quick cleaning.
"Cute little murder lizard," wrote a viewer.
"My heart is melting it's so cute," another commented.
Another viewer wrote, "If danger why smile."
One declared Coconut was likely the happiest reptile.
"The way [her] mouth is open its like [she's] saying, 'Oh yeaaaahhhhhhh thanks jay,'" a viewer wrote.
Some commenters shared that their own pets had a similar reaction to getting cleaned as Coconut.
"My iguana always loved her toothbrush baths lol," they commented.
"My cat [is] also like this," wrote a viewer.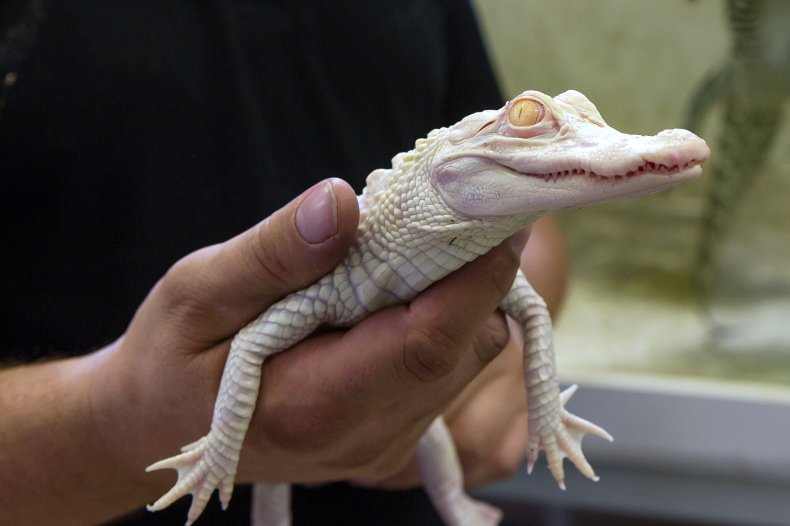 Brewer is the founder of The Reptile Zoo, which is based in Fountain Valley, California. He often shares videos showing the different animals he handles on his different social media platforms with his followers.
Coconut's bath is not the first of Brewer's videos that have gone viral.
Newsweek previously reported that he shared a video that showed the moment that a snake bit him and managed to draw some blood.
He explained the snake was defending her eggs and is one generation removed from a wild snake.
Newsweek reached out to Jay Brewer for further comment but did not hear back in time for publication.