Alec Baldwin Comedy Central Roast: Caitlyn Jenner Called 'Auntie Tom' Over Trump Support
Alec Baldwin took the hot seat on Comedy Central's latest celebrity roast, as stars including Robert De Niro, Caitlyn Jenner and Baldwin's own daughter Ireland Baldwin eagerly slammed the 30 Rock star Sunday night. But the biggest zinger of the night came at Jenner's expense.
Saturday Night Live's Chris Redd made a rather pointed jibe at Jenner, 69, over her past support for President Donald Trump during the 2016 U.S. election.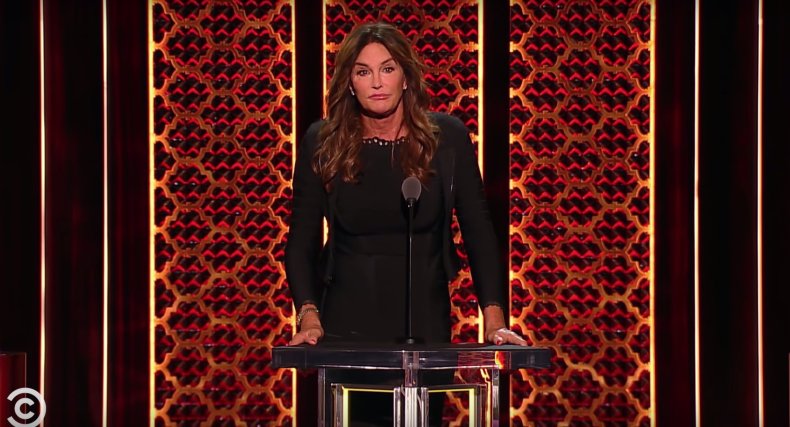 "You goddamn hypocrite. You're against gay marriage, you voted for Trump ... you're like the Auntie Tom of the trans community," said Redd. "You did open the door for trans people, but then you ran in and slammed that s**t shut behind your flat ass."
In 2015, Jenner told Ellen DeGeneres that she was "a traditionalist ... I kinda like tradition and it's always been a man and a woman." However, appearing on ABC's 20/20 in 2017, Jenner took back her comments from two years earlier, telling Diane Sawyer, "I am 100 percent behind gay marriage. Let's clear that up right now."
Jenner also backed Trump in the 2016 election, hoping that she could work with the Republican Party to improve LGBT+ rights, particularly transgender rights. However, Jenner has since admitted to making a mistake supporting Trump, whose administration imposed a ban on transgender military members and mooted defining gender as one's biological sex at birth.
"The reality is that the trans community is being relentlessly attacked by this president. He has made trans people into political pawns as he whips up animus against us in an attempt to energize the most right-wing segment of his party," Jenner wrote in a column for The Washington Post in October.
Alec Baldwin roasted by Jenner and more
The Comedy Central Roast of Alec Baldwin featured a fair share of penis jokes, quips about Baldwin's infamous voicemail left for daughter Ireland when she was just 11, and many a joke at Jenner's expense.
Sunday's roast was emceed by Will & Grace star Sean Hayes, who began the night by informing views that "nothing said tonight will be more offensive than what you left on your daughter's voicemail."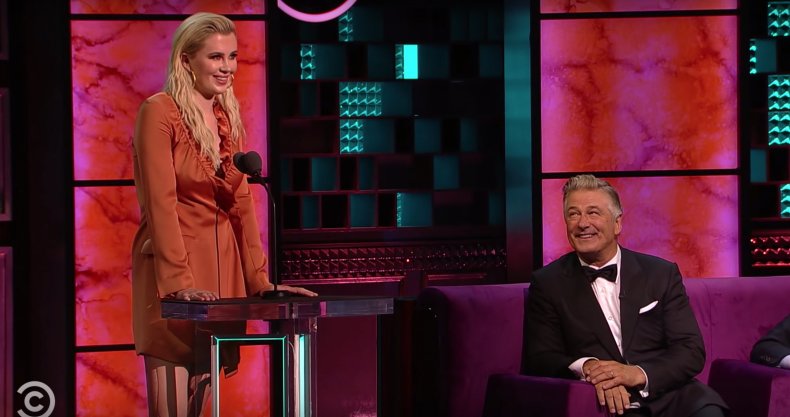 Here are 10 of the best jokes from the Roast of Alec Baldwin:
Baldwin's daughter Ireland Baldwin alluding to that famous "thoughtless little pig" voicemail message: "It's good to be here. I almost didn't know about it because I haven't checked my voicemails from my dad for the last, like, 12 years."
Ireland Baldwin referring to her mother and Baldwin's ex-wife Kim Basinger: "It hasn't been easy being the daughter of an iconic movie star... but I'm not here to talk about my mother... or her Oscar."
Sean Hayes telling Alec Baldwin: "This will be the funniest thing you've ever been a part of that Tina Fey didn't carry you through."
Caroline Rhea: "Let's face it, no one wants to be here. The person who went to the greatest lengths to not show up tonight was Bruce Jenner... I actually respect that you fully transitioned instead of stopping halfway like Sean Hayes."
Nikki Glaser to Robert De Niro: "I can't believe I get to share this stage with you ... and by that I mean the final stage of your life."
Sean Hayes on Robert De Niro: "He's got two Oscars and his balls are nominated for a SAG Award."
Robert De Niro on Caitlyn Jenner: "Comedy Central wouldn't put Caitlyn Jenner on a roast until after her transition so they could pay her 20 percent less."
Caroline Rhea to Alec Baldwin: "Alec, where are your brothers tonight? God knows they're not working."
Robert De Niro: "What the f**k am I doing here?"
Alec Baldwin Comedy Central Roast: Caitlyn Jenner Called 'Auntie Tom' Over Trump Support | Culture