Donald Trump has branded Alec Baldwin a "nut job" and said the actor is "not stable" as he continues to be investigated for the shooting on the set of the movie Rust.
Cinematographer Halyna Hutchins died on the set of the western movie in October when a prop gun being used by Baldwin was fired.
The former president sat down with conservative pundit Candace Owens for a long-ranging interview for The Daily Wire.
The two discussed a number of topics including Trump potentially issuing a pardon for either Julian Assange or Edward Snowden as well as President Joe Biden and the COVID-19 vaccine.
But towards the end of the interview, Owens moves on to what she calls a "fun" subject and asks Trump about Alec Baldwin.
Baldwin has long been an outspoken critic of Trump and the two men have regularly traded barbs publicly—the 30 Rock star famously performed an unflattering caricature of the former president on Saturday Night Live for several years.
"He did the imitation of me for years, I thought he was terrible," Trump told Owens.
"I thought he did terrible, I thought he was terrible at it, they have other people that do much better."
Trump referenced the interview that Baldwin did with ABC News' George Stephanopoulos in which he said that while the gun went off while he was holding it in rehearsals, he did not pull the trigger.
"He's always trouble," Trump said. "I mean, he takes a gun he said he didn't pull the trigger and then the experts get on say it's not possible that that particular gun can—it doesn't work that way in other words.
"It can't happen that it works where you don't pull the trigger and it just happens to go off okay. I don't think that was a very good interview for him."
Some gun experts have indeed questioned how that model of gun could have fired without the trigger being squeezed.
Since the tragic accident, Alec Baldwin and his wife Hilaria have had numerous run-ins with the press and paparazzi, and the couple has publicly confronted reporters for following them.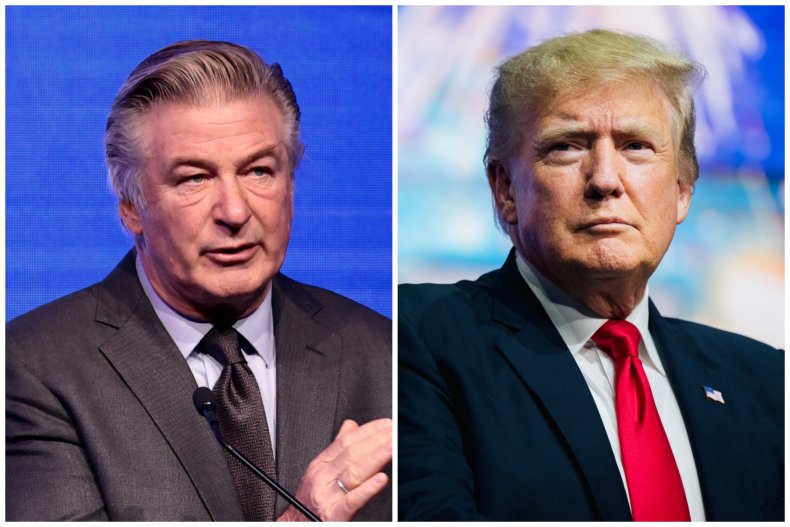 "He's always trouble [when] he goes out to talk to the press," Trump said.
"Nobody gets treated worse than me by the press and I'm very hustled ... but I don't end up in fistfights with him on the street—I mean there's something wrong, I think he's crazy there's something crazy."
Trump then questioned if Baldwin intentionally pointed the gun at Hutchins—something which the actor vehemently denied in his ABC interview.
"He pointed the gun, he still pointed the gun at this woman and it happened to go off and she wasn't even an actor so it's not like at a scene where it went on during a scene," Trump said.
"Did he do it on purpose?" Trump asked. "I don't know I mean, you tell me."
Owens interjected to say that Baldwin is "not stable" to which Trump added: "He definitely is not, he's definitely not a stable person—he's a nut job actually."
Trump previously called Baldwin a "sick guy" during podcast appearance in November.
Speaking on Chris Stigall's podcast, the former president said: "There's something wrong with him. I've watched him for years. He gets into fistfights with reporters," before adding "He's a sick guy."
Baldwin responded to those comments in his ABC interview, and said it was "surreal" that Trump spoke about the tragedy.
"The former President of the United States said that I'm a wacko ... and that I probably shot her and killed her on purpose," Baldwin said.
He said I did it deliberately," he added. "And I thought to myself, just when you think that things can't get more surreal, here's the former president of the United States making a comment on this tragic situation."