Alec Baldwin Fired Prop Gun Killing Cinematographer, Wounding Director, Police Say
While using a prop gun, actor Alec Baldwin shot the director and the cinematographer of his upcoming film on Thursday, killing the cinematographer, according to New Mexico police.
Baldwin, 63, was filming the western Rust near Santa Fe when a prop gun discharged and wounded writer-director Joel Souza, 48, and director of photography Halyna Hutchins, 42, the Santa Fe County Sheriff's Office said in a statement obtained by Newsweek. Hutchins was transported by helicopter to University of New Mexico Hospital, where she later "succumbed to her injuries." Souza was taken to Christus St. Vincent's hospital, where he is "undergoing treatment for his injuries." Souza is in critical condition.
The sheriff's office added that no charges had been filed and that an investigation of the incident remains active and ongoing.
Santa Fe deputies arrived to the Bonanza Creek Ranch film set a little before 2 p.m. local time after a person reported the shooting in a 911 call. The set was locked down immediately after the incident. A Rust production spokesperson told Deadline that the shooting happened due to an accidental "misfire of a prop gun with blanks" and that the production had been "halted for the time being."
Baldwin, the star and producer of the film, took to Instagram and posted a picture of himself costumed on the set only hours before the incident, captioning the photo "Back to in person at the office. Blimey...it's exhausting." Hutchins shared a picture of the costumed cast and the crew to her Instagram on Tuesday, along with a short video showing her riding a horse on her "day off."
Baldwin was cast as the title character, the outlaw Harland Rust. Other members of the cast include Jensen Ackles, Travis Fimmel, Brady Noon and Frances Fisher. The plot of the film is said to center around Rust and his grandson being pursued by a U.S. Marshal and a bounty hunter.
A synopsis of the film posted to IMDb reads: "A 13 year-old boy, left to fend for himself and his younger brother following the death of their parents in 1880's Kansas, goes on the run with his long estranged grandfather after he's sentenced to hang for the accidental killing of a local rancher."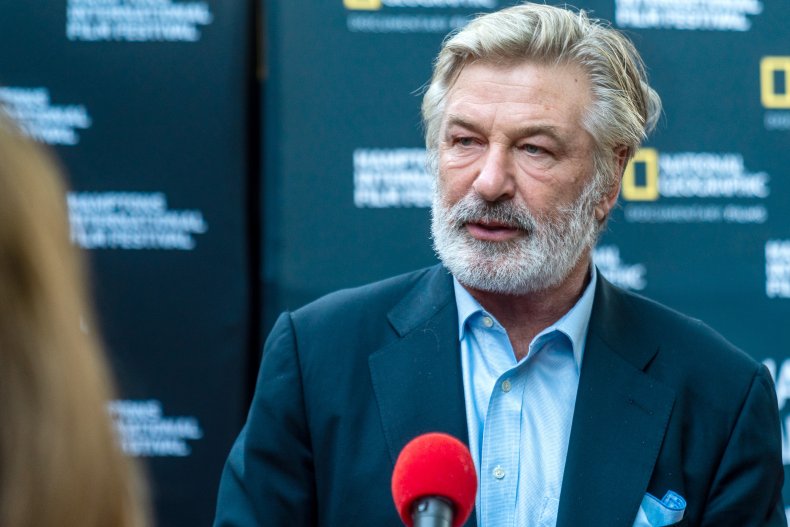 The New Mexico Film Office announced that production had started in a press release earlier this month, with the organization's director Amber Dodson touting New Mexico scenery as "the ultimate wish list for the Western genre." Baldwin's fellow producer Ryan Smith said that filmmakers "could not have asked for a better backdrop."
Production on Rust had been slated to continue in New Mexico until early November. It is not clear when, or if, filming will resume following the shooting incident.
Newsweek reached out to Souza, Hutchins' representative and the film's production company for comment.
Film and television productions have been hit with tragic deaths caused by prop guns in the past. Notable cases include the 1984 death of actor Jon-Erik Hexum, who held a handgun to his head on the set of the CBS television show Cover Up and fatally shot himself with blanks. Actor Michael Massee also fatally shot The Crow star Brandon Lee with a prop gun while filming a scene in 1993.