Alec Baldwin Seemed to Think Halyna Hutchins Survived Shooting—Bodycam
Alec Baldwin appeared to be unaware of the extent of Halyna Hutchins' injuries in police bodycam footage taken shortly after she was fatally shot on the set of his ill-fated movie, Rust.
Cinematographer Hutchins was fatally shot on the New Mexico set of Rust on October 21, 2021, when a prop gun that star and producer Baldwin was holding during rehearsals discharged. Writer-director Joel Souza was injured in the incident. Baldwin has maintained that he did not pull the trigger.
In newly released footage of Baldwin's interview with investigators following the shooting, the actor was asked if he believed that somebody would have intentionally placed a bullet into the firearm that he was holding.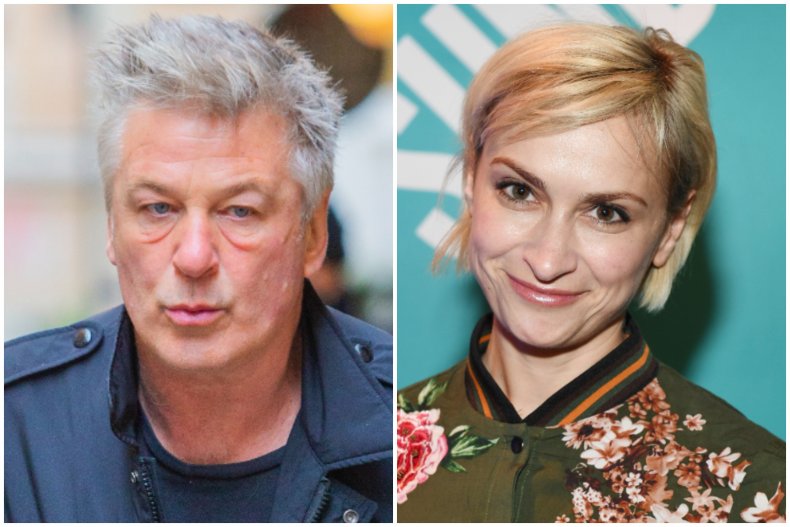 "To place a bullet and position a bullet that is a live round—to make sure that that bullet is in the chamber if I were to squeeze the trigger in rehearsal that that bullet came out—someone has to have extraordinary access to that weaponry to do that," he responded. "I can't imagine somebody walked around with a round and it was a .45 caliber round."
Referring to Hutchins, he went on: "Other people on the set were speculating that [if] it was a .45 caliber round she'd be dead. It would have blown a big hole in her.
"So we're wondering, was the projectile that went into some foreign material stuck and it was an accident with a flash round, and something came out of the barrel, they didn't check? They always check."
Stating that he had "never heard of anything like this is my life—ever," Baldwin told officers that he struggled to understand how what he then described as a projectile could go through Hutchins' body and hit Souza in the shoulder.
"I don't know any projectile with a gun in a flash prop gun that could accomplish that," Baldwin said. "Now if somebody put a live round in there accidentally..."
He then turned officers' attention to Rust armorer Hannah Gutierrez Reed, who was tasked with overseeing weapons and training during part of the production.
"See a very important question for Hannah is, have you ever co-mingled live rounds with theatrical rounds in your kit?" Baldwin said to the officers. "Because they're forbidden to do that, according to the union rules and the safety rules for all the unions.
"You're not allowed to do that because of the fear of what will happen if you co-mingle. So whether someone accidentally, and I can't even imagine deliberately placed a live round in that gun. I've never heard that in my life."
"This is Making Me Very Emotional"
Earlier in the interview, Baldwin was seen explaining to officers that the gun he had used was "supposed to be a cold gun," meaning it contained no live ammunition.
"This is a puzzle to me," he said. "This is making me very emotional now. In my time, and I'm older, but when I was younger and I was shooting guns in films I've never seen a theatrical flash round where the material went through someone's armpit, came out of their body and hit somebody else on the shoulder.
"I'm wondering if your department is prepared to find out what comes out of [Souza's] shoulder surgically. Is that a live round? Because I don't think it makes any sense otherwise."
Speaking of Souza, he added: "He just told me on the phone. I talked to Joel, and he said, 'They showed me the X-ray and the shape of the thing in my shoulder is the shape of a bullet.'"
Discovering the Bullet
Toward the end of the video, Baldwin's questions on the matter were answered, when officers showed him an image of what had been fired from the gun.
"Oh, that's a bullet," said Baldwin as he sat opposite one of the interviewing officers. "As I suspected, somebody put a live round in the gun. If that's a bullet that was pulled out of his shoulder, then someone loaded a live round into the gun."
"I'm very upset right now," the screen star said as the video came to its conclusion.
The release of the video comes after it was revealed that the police investigation into the incident has not been completed, with Baldwin and others still facing the possibility of criminal charges.
The Santa Fe County Sheriff's Office said on Monday that it had yet to receive evidence critical to the investigation, including data that police in New York had taken from Baldwin's cell phone.
In the statement obtained by Newsweek, Santa Fe County Sheriff Adan Mendoza said that the evidence needed to be analyzed before any decisions on potential charges could be made by prosecutors.
"Various components of the investigation remain outstanding, including FBI firearm and ballistic forensics along with DNA and latent fingerprint analysis, Office of the New Mexico Medical Examiner findings report and the analysis of Mr. Alec Baldwin's phone data extracted by Suffolk County Sheriff's investigators," Mendoza said.
"Once these investigative components are provided to the sheriff's office, we will be able to complete the investigation to forward it to the Santa Fe district attorney for review," he added.
Last week, New Mexico's Environment Department's Occupational Health and Safety Bureau (OHSB) released a report that found the film's production company had "demonstrated plain indifference to the hazards associated with firearms" and could have "prevented the accident from occurring" if it had acted properly.
No criminal charges have been brought in relation to the shooting incident, which is still under investigation.