Alec Baldwin Returns to SNL as Donald Trump to Kiss Spicer, Impersonate Nixon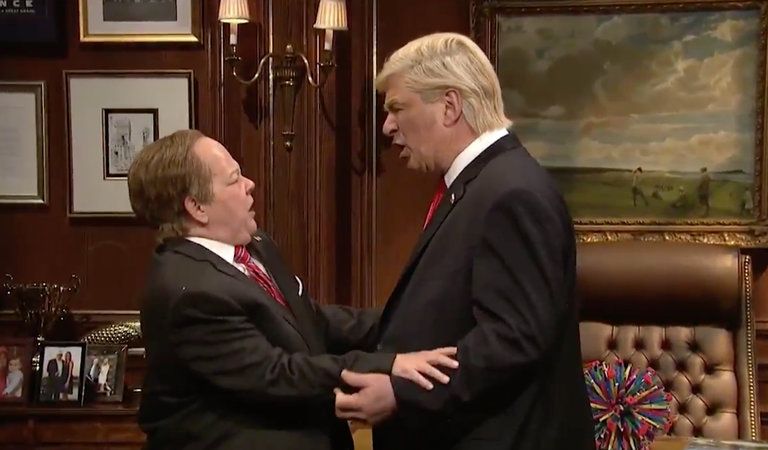 Alec Baldwin returned to Saturday Night Live this weekend, reprising his much-loved role as President Donald Trump on the late night show to tackle the week's biggest issue: the firing of FBI Director James Comey and the investigation into alleged Russian interference in the presidential election.
In the sketch that opened the episode, Baldwin's Trump sits down with "NBC Nightly News"' host Lester Holt, played by Michael Che, after the pair's interview Thursday about Comey's termination.
Che's Holt says Trump's staff had been insisting all week that the president's staff did not fire Comey because of his investigation into Russian involvement in the presidential election. Baldwin's Trump says nonchalantly: "No, I did. I fired him because of Russia. I thought 'he's investigating Russia. I don't like that. I should fire him.'"
Read more: Becoming Donald Trump: How Alec Baldwin perfected his SNL impression
"But that's obstruction of justice," Che responds. "Sure, O.K.," Baldwin agrees.
Che's Holt asks: "Is that it? Wait so, did I get him? Is this all over?" Holding his earpiece, apparently listening someone speaking to him, he continues: "Oh, no, I didn't? Nothing matters. Absolutely nothing matters anymore?"
Che also asks Baldwin's Trump about comparisons between him and Richard Nixon, the former U.S. president impeached over the Watergate scandal.
"No, no, no, I am nothing like Nixon ... I bet Nixon only got one scoop of ice cream for dessert. But I get two scoops, OK? Two scoops," Baldwin's Trump said. He proceeds to hold up two fingers, making V signs with both hands in the air, impersonating Nixon. (The ice cream joke referred to a TIME interview with the president on Monday, in which it was reported that he got two scoops of ice cream for dessert, while others at the dinner were only served one.)
Che also adds, "You're also very different from Nixon because he won the popular vote."
Later in the show, Melissa McCarthy joined him in her role as White House Press Secretary Sean Spicer. After a press briefing during which McCarthy as Spicer set off a fire extinguisher and threw a pillar at reporters, she headed to New York on a motorized podium to find Trump. After eventually finding him at a New Jersey golf club, McCarthy's Spicer immediately questions Trump: "Have you ever told me to say things that aren't true?" He replies: "Only since you started working here."
Read more: "Spicey's back!"—Melissa McCarthy returns to SNL as Sean Spicer hiding in the bushes
Spicer says he thinks he cannot continue in his role given the speculation that he will be replaced by his deputy Sarah Huckabee Sanders. Trump tries to bring him round.
"Sean, come on, I would never do that. She doesn't have your special spice. Salt and pepper. A little sugar," he says, tickling Spicer. McCarthy responds, ""No, I'm married."
"You like when I do that Sean?" Trump asks. "Sean, kiss me." Spicer refuses: "I have a wife, I took vows." Baldwin's Trump retorts: "It's okay, I'm famous."
McCarthy asks: "Is this like the Godfather when you kiss me and no one ever sees me again?" Trump says "yes" before the pair kiss to end the sketch.
The sketch aired following growing speculation, fueled by White House leaks, that Trump is considering replacing Spicer as press secretary and is already interviewing candidates.