Melissa McCarthy Returns to SNL as Sean Spicer, This Time Hiding In The Bushes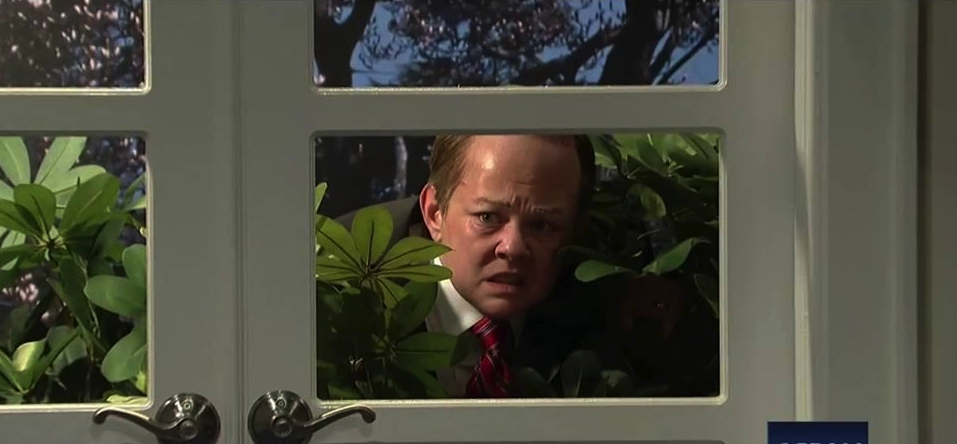 It's been a bad week for White House Press Secretary Sean Spicer. After he spent several minutes Tuesday night hiding in the bushes from reporters following President Donald Trump's firing of FBI director James Comey, White House rumors suggested Trump might be about to ax his top comms chief. And then, Melissa McCarthy reprised her role as "Spicey" on Saturday Night Live.
Instead of a guest appearance, McCarthy hosted this week's show, continuing her now infamous impression of Spicer. It came one day after she rode an electric press briefing podium through the streets of New York dressed as Spicer as part of filming for the skit.
The sketch begins with a White House press briefing delivered by Spicer's deputy Sarah Huckabee Sanders, played by Aidy Bryant. The press corps notices someone in the bushes outside the press room window: Sean Spicer, or "Spicey," as McCarthy refers to herself in the sketch.
As Sanders bats away suggestions that Spicer is hiding in the bushes, a reporter asks her to take on the role full-time "instead of him." Another reporter agrees and calls Spicer "bullish," before McCarthy bursts into the room and sprays the reporter with a fire extinguisher.
Read more: Sean Spicer's best moments are also his worst
McCarthy, as Spicer, proceeds to take control of the briefing, announcing "Spicey's back! Sarah's out!" The topic inevitably turns to Comey's firing.
"Trump is innocent," she says. "How do we know? Because he told us so. Period. Then he hired lawyers to agree with him. And they're going to prove it with a certified letter, which you know is the truth, because it costs an extra $2 to have it certified."
Talk of Comey and Trump turns to the FBI investigation into Russian interference in the election and possible collusion with the Trump campaign. A reporter poses the question to McCarthy: "You must know this Russia thing looks really bad?"
Spicey deflects angrily, saying "there is no Russian thing." The only Russian "thing," she said, is her "little dollies," pulling out wooden Matryoshka dolls (which house dolls of smaller sizes inside) emblazoned with Trump's face.
Inside Trump is Comey, depicted as a dog; inside him is Hillary Clinton, depicted as a witch; and inside her is Vladimir Putin—but McCarthy tells reporters not to "look at him," realizing his inclusion was a mistake. The final dolls depict chief strategist Steve Bannon, shown as a big, green monster, and finally Attorney General Jeff Sessions, depicted as Pikachu.
In the final scenes of the press briefing, reporters ask if Spicer is surprised Trump fired Comey before him. In fury, McCarthy picks up a pillar and launches it at the reporters, playing on the perception that the real-life Spicer becomes far too agitated when questioned by reporters.
The journalists continue to ask why, in their view, he continues to humiliate himself every day defending the president and suggest the president might be lying to him. "He wouldn't do that, he's my friend!" McCarthy as Spicer replies.
"If he's your friend, why is everyone saying he's about to fire you and replace you with Sarah?" a reporter asks.
McCarthy's Spicer suddenly leaves the press room on the electric podium, setting off for New York to find Trump. "I need to find Trump! I promise I'll talk better. I can't go back to the Navy. I can't swim."
She reaches Trump Tower only to be told that the president does not come to Trump Tower anymore. She eventually finds Trump, played by Alec Baldwin, at a New Jersey golf course. McCarthy as Spicer asks him, "Have you ever told me to say things that aren't true?"
"Only since you started working here," he replies.