What Alec Baldwin Said in First Interview About Fatal Shooting on 'Rust' Movie Set
The actor Alec Baldwin has spoken for the first time on camera since the shooting involving a prop gun that killed Halyna Hutchins on the film set of Rust.
Baldwin described the cinematographer as "my friend" after he stopped at the side of the road to speak to members of the media who had been following him in Manchester, Vermont.
Hutchins, 42, was shot on the set when Baldwin unknowingly fired a gun loaded with a real bullet. Prosecutors have not ruled out filing criminal charges over the case.
After the incident, Baldwin tweeted his sorrow and shock at the incident but his conversation with the group on Saturday was the first time he had spoken about it in the flesh.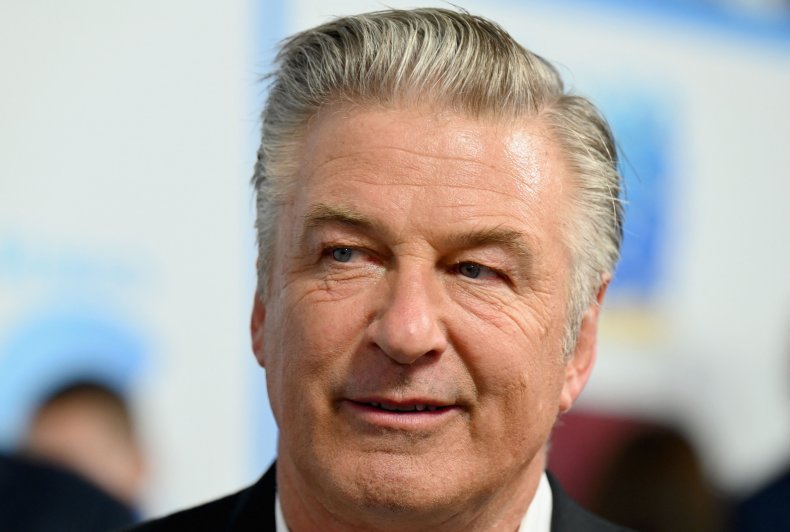 Insisting that he was under instruction not to talk about the investigation, Baldwin said that the day he arrived in Santa Fe, New Mexico, he took Hutchins to dinner with the film's director, Joel Souza, who was injured during the accident.
"We were a very, very well-oiled crew, shooting a film together and then this horrible event happened," Baldwin told the group with his wife, Hilaria Baldwin, standing next to him filming the conversation.
"I have been told multiple times, 'don't make any comments about the ongoing investigation', and I can't," as he then asked those gathered, "what other questions do you have other than that?"
When one of the journalists said he had forgotten the name of Hutchins, an irritated Hilaria Baldwin interrupted by saying, "her name is Halyna. If you're spending this much time waiting for us, you should know her name."
The actor then said he had met with Hutchins' husband and son and that "the guy is overwhelmed with grief."
"There are incidental accidents on film sets from time to time, but nothing like this," Alec Baldwin said, "this is a one in a trillion event."
"We are in constant contact with him because we are very worried about his family and his kid," he said, "we are eagerly awaiting for the sheriff's department to tell us what the investigation has yielded."
When asked if he would work on another film set in which firearms are used, Baldwin replied, "I couldn't answer that question."
"I do know that an ongoing effort to limit the use of firearms on set is something I am extremely interested in," he said.
"How many bullets have gone off on film sets and TV shows in the last 75 years? This is America," he said, "Billions?... and nearly all of it without incident.
"We have to realize when it does go wrong...some new measures have to take place," he said.
"It's urgent that you understand I'm not an expert in this field.
"So whatever other people decide is the best way to go in terms of protecting people's safety on film sets, I'm all in favor of and I will cooperate with that in any way that I can."
Baldwin said he doubted that production on Rust would resume before brushing away a question about why he and his family were in Vermont. He then told the group why he had decided to speak with them.
"Do me a favor, my kids are in the car crying," he said, before Hilaria Baldwin interjected, "because you guys are following them, and they know."
Alec Baldwin continued: "As a courtesy to you I came to talk to you....I talk to the cops every day."
Meanwhile, Hannah Gutierrez Reed, the film's armorer, had earlier said that she had been overruled on her attempts for greater efforts on gun safety on set.
"She fought for training, days to maintain weapons, and proper time to prepare for gunfire but ultimately was overruled by production and her department," Reed's lawyer, Jason Bowles, told Variety.