Alec Baldwin's 'Rust' Shooting Claims Receive Support From New Mexico D.A.
Alec Baldwin has maintained that he did not pull the trigger on the gun that discharged live ammunition and fatally killed cinematographer Halyna Hutchins on the set of the movie Rust last October.
"I let go of the hammer and the gun goes off. I never pulled the trigger," the actor said in the weeks following the incident in an interview with ABC News' George Stephanopoulos. That claim had been widely questioned and even disputed by some gun experts.
But now, the Santa Fe, New Mexico, District Attorney investigating the events has seemingly corroborated Baldwin's claim that the gun misfired without the trigger being squeezed.
"I didn't know too much about guns, certainly not about 1850s-era revolvers. So when I first heard that, I was like, 'Oh, that's crazy,'" District Attorney Mary Carmack-Altwies said in an interview with Vanity Fair.
The D.A. revealed she launched an "unofficial" investigation of her own to test Baldwin's claim about how the gun fired. With the help of her team of investigators, she tested an unloaded old revolver in an empty room.
"One of the investigators in my office happens to have a very old type revolver, and so he brought it, at my request, so that we could look at it and see if that was at all possible," she told the magazine.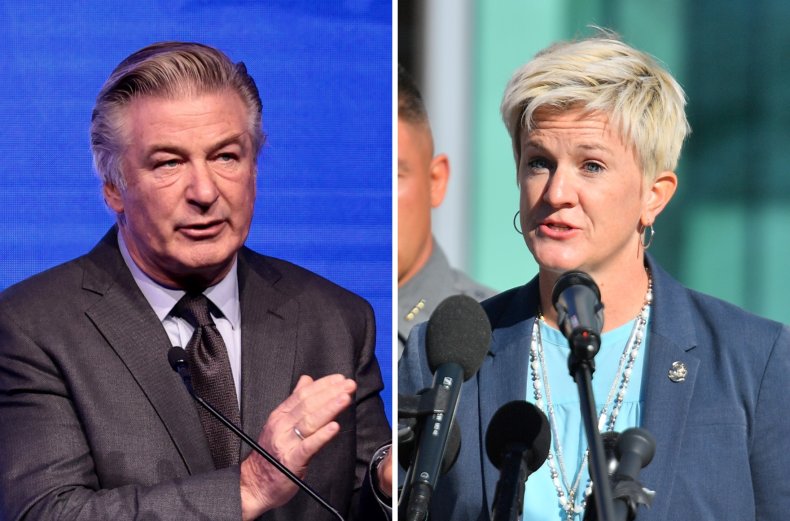 "Then they visually showed me," Carmack-Altwies explained. "You can pull the hammer back without actually pulling the trigger and without actually locking it. So you pull it back partway, it doesn't lock, and then if you let it go, the firing pin can hit the primer of the bullet."
This is the action that caused the live ammunition in the gun to fire.
In his ABC interview Baldwin said he was discussing the action of cocking a gun in a scene with Hutchins, and then demonstrated with the prop firearm.
"I'm holding the gun where she told me to hold it," the 63-year-old said, before explaining how he pulled back and later released the hammer of the gun.
"I said to her, 'In this scene, I'm going to cock the gun, do you want to see that,'" Baldwin continued. He confirmed Hutchins told him to cock the gun.
He also added that he "would never point a gun at anyone and pull a trigger at them."
The D.A.'s unofficial investigation comes weeks after Baldwin's lawyers denied claims that the actor and producers on the set of Rust were "reckless" in the events that led to Hutchins' death.