Alex Berenson, 'Pandemic's Wrongest Man' Suspended Permanently From Twitter
Conservative commentator and vaccine skeptic Alex Berenson has been permanently suspended from Twitter after he reportedly violated the social media giant's COVID-19 misinformation rules.
Berenson, dubbed "the pandemic's wrongest man" by the Atlantic in April, was removed from Twitter on Saturday following "repeated violations."
A statement sent to NBC News regarding Berenson's permanent suspension read: "The account you referenced (Berenson's) has been permanently suspended for repeated violations of our COVID-19 misinformation rules."
While Berenson, 48, has frequently shared views about COVID-19 vaccine effectiveness it was a recent post that appeared to have moved Twitter bosses to ban the former New York Times journalist.
The tweet, which questioned the effectiveness of vaccines read: "It doesn't stop infection or transmission. Don't think of it as a vaccine.
"Think of it - at best - as a therapeutic with a limited window of efficacy and terrible side effect profile that must be dosed in advance of illness. And we want to mandate it? Insanity."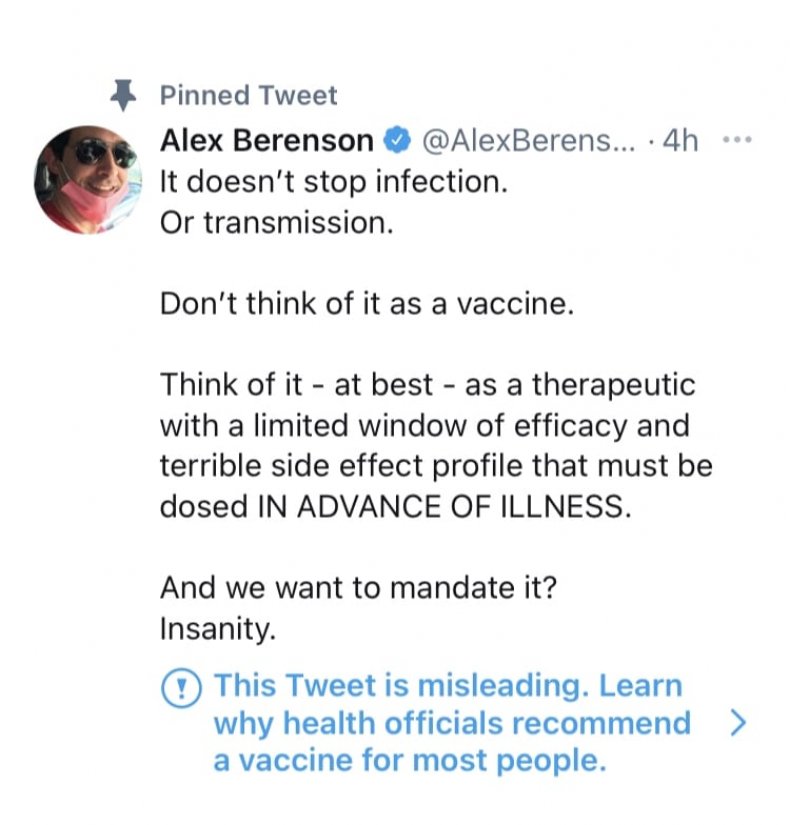 Twitter went on to label the post as being "misleading" before Berenson's account was removed from the platform.
Following his suspension, Berenson wrote in an entry on subscription newsletter service Substack yesterday, which included the tweet that appeared to have sparked his removal from the social media website.
In the entry titled "goodbye Twitter," Berenson said: "I am officially suspended. This was the tweet that did it. Entirely accurate. I can't wait to hear what a jury will make of this. Meantime, guess you'll be getting more Substacks."
In a comment sent to Newsweek, Berenson said of his suspension: "We have reached a dangerous moment. Social media companies that have audiences which dwarf any other are now actively censoring reporters at the behest of governments.
"I will continue to fight to get out the truth and am considering all legal options. Meanwhile, you can find my reporting on my Unreported Truths Substack."
He concluded: "My reporting - my early warnings about vaccine failure in Israel, for example - has been proven accurate over and over."
Newsweek has contacted Twitter for comment.
Berenson has been heavily criticized in the past over his statements about COVID-19.
Back in January, PolitiFact, a fact-checking website, rated Berenson's comments that the COVID-19 vaccine causes "roughly 50 times the rate of adverse events from the flu vaccine."
He previously claimed that COVID-19 related deaths would not reach more than 500,000 - it has now surpassed 637,000.
In May 2020, Fox News said Berenson was hosting a one-off special called COVID Contrarian on its streaming platform Fox Nation, although the announcement was pulled in July that year when the virus surged in the U.S.
The CDC has stressed that COVID-19 vaccines are "safe and effective" against the deadly virus.
On its website, the CDC said the "vaccines were evaluated in tens of thousands of participants in clinical trials.
"The vaccines met the Food and Drug Administration's (FDA) rigorous scientific standards for safety, effectiveness, and manufacturing quality needed to support emergency use authorization (EUA)."
Pfizer's COVID-19 vaccine also received full vaccine approval from the FDA on Monday, the first vaccine to move out of its EUA stage.
UPDATE 8/29/21 7 a.m. ET: This article has been updated to include a comment from Alex Berenson.