Alex Jones Defamation Trial: Key Takeaways on Sandy Hook, Infowars and More
Alex Jones' defamation trial, which will determine damages that the Infowars host must pay to family members of Sandy Hook Elementary School shooting victims, has entered the jury deliberation stage.
Jones has already been found liable for defamation in Texas and Connecticut due to making repeated false claims that the 2012 attack in Newtown, Connecticut—the most deadly elementary school shooting in U.S. history—was a hoax. A second trial to determine damages in Connecticut was expected to begin following jury selection this week but has been delayed due to a last-minute bankruptcy filing for Jones' media company Free Speech System.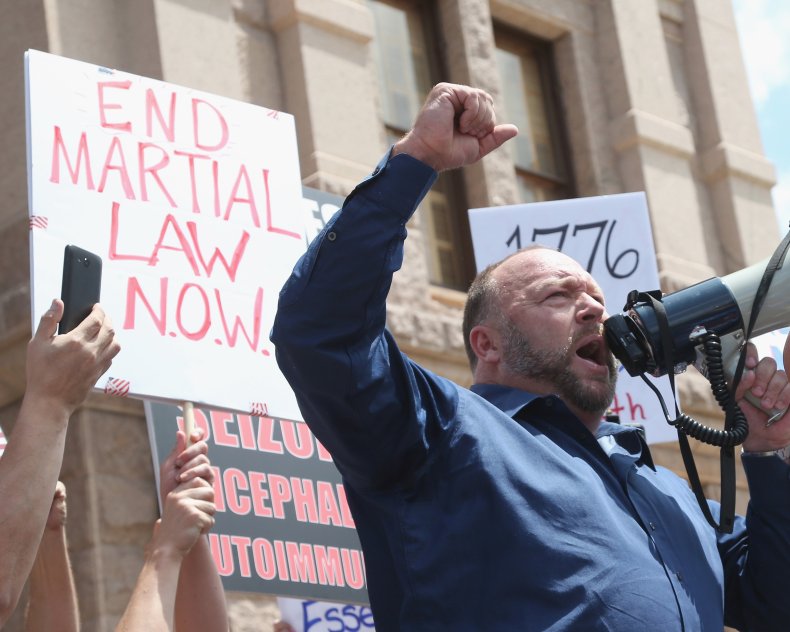 The trial taking place in the far-right conspiracy theorist's hometown of Austin, Texas, began last week and is set to conclude soon, with attorneys for the defense and the plaintiffs having delivered their closing arguments on Wednesday. The two-week trial has been marked by several dramatic revelations and tense moments, as well as multiple eyebrow-raising incidents. Here are some key takeaways.
Jones Admitted That the Sandy Hook Shooting Was '100 Percent Real'
Jones had previously falsely claimed that the Sandy Hook shooting—which caused the deaths of 20 children and six adults—was a false flag attack staged by "crisis actors" as part of an attempt to pass gun control legislation. He has walked back the false claims since facing legal blowback.
While testifying in Texas on Wednesday, Jones admitted to the court that the shooting was not staged and falsely said that the media was distorting his views by reporting on the claims he had made.
"It was [real], especially since I've met the parents," Jones testified. "It's 100 percent real, and the media still ran with lies that I was saying it wasn't real... They won't let me take it back."
Sandy Hook Parents Confronted Jones Directly During the Trial
Sandy Hook parents Neil Heslin and Scarlett Lewis, whose 6-year-old son Jesse was killed in the shooting, filed the lawsuit against Jones in Texas. Lewis confronted and directly spoke to Jones on Tuesday while testifying at the trial.
"I wanted to tell you to your face because I wanted you to know that I am a mother first and foremost. And I know that you are a father and my son existed," Lewis said to Jones as he shook his head. "You're still on your show today trying to say that I'm implying that I'm an actress, that I am 'deep state,' you have this week."
"And I don't understand," she continued. "Truth, truth is so vital to our world. Truth is what we base our reality on, and we have to agree on that to have a civil society. Sandy Hook is a hard truth... Jesse was real. I am a real mom... I am not deep state... I know you know that."
Jones Has Blasted the Parents, Judge and Jury on His Show During the Trial
As Heslin spoke about the "living hell" that the false claims had put him through during an emotional testimony on Tuesday, Jones argued that Heslin was "slow" and potentially "on the spectrum" during a live segment of Infowars' The Alex Jones Show.
"I'll just say it because I've got to be honest. He's slow, OK?" Jones said. "I think Heslin acts like somebody on the spectrum and that makes me feel like an ever bigger jerk, but when I saw him, I'm like there's something about this guy."
During the same episode, Jones also suggested that Judge Maya Guerra Gamble and attorneys for the Lewis family were "demonically possessed" and claimed that they were adherents to "the new world order."
"It's demonic," said Jones. "They all act demonically possessed. The judge, the lawyers. It's surreal to be around them. And it makes you feel sorry for them because these people are committed to occult ideology of the new world order."
Mark Bankston, a lawyer for the family, played an additional clip of Jones blasting the jury in court on Wednesday. In the video clip, which Bankston said aired last Friday, Jones accused the jury of being full of people who "don't know what planet they're on."
Jones' Defense Attorneys Accidentally Sent His Cell Phone Records to the Opposing Lawyer
Bankston asked Jones in court on Wednesday if he was aware that his defense attorneys had "messed up and sent me an entire digital copy of your entire cell phone with every text message you've sent for the past two years, and when informed, did not take any steps to identify it as privileged or protected in any way?"
The attorney said that the text messages proved that Jones had lied by previously claiming to not have any text messages about Sandy Hook. Jones argued that he had been simply "mistaken" when claiming to not have the texts and accused Bankston of staging a "Perry Mason moment."
Jones Had Awkward Exchanges With the Judge
Gamble noticed on Tuesday what she assumed was gum-chewing by Jones and told him to "spit [his] gum out," prompting the Infowars host to insist that he had not been chewing gum but had instead been using his tongue to massage his gums following a tooth extraction.
"It's not gum," Jones protested before leaning forward. "Would you like me to show ya?"
The judge interrupted Jones to inform him that she did not "want to see the inside of [his] mouth," before telling him to "sit down."
The Opposing Attorneys Had a Tense Confrontation
F. Andino Reynal, defense attorney for Jones, clashed with Bankston last week during a heated exchange over the introduction of new video evidence. Reynal at one point reportedly walked close to Bankston and repeatedly accused him of being a "liar" before raising his middle finger at the family's lawyer.
A different attorney intervened to help diffuse the situation, with the lawyers agreeing to discuss the matter later over the phone.
Jones Could Be on the Hook for at Least $150 Million
While the jury is still deliberating on the exact amount, the families are seeking $150 million in damages in the Texas trial. Jones could also be liable to pay additional punitive damages, which will be decided at a later date.
Reynal has argued that Jones should only have to pay $1 in damages, asserting that the Infowars host had "already been canceled" for his remarks.
Jones is also likely to be ordered to pay damages at the conclusion of the Connecticut trial.
Newsweek reached out to Reynal for comment.