Sandy Hook Lawyer Says Alex Jones Is 'a Coward' After He Sues Himself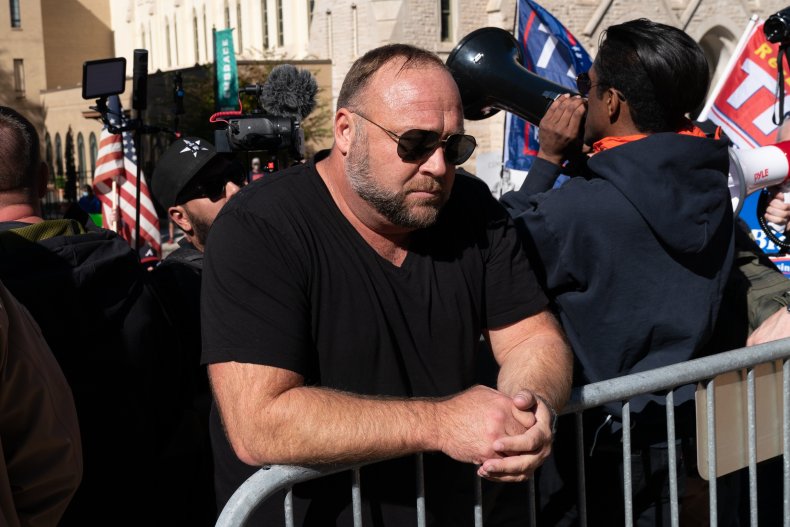 Infowars host and conspiracy theorist Alex Jones has been called "a coward" by a lawyer representing the family members of those killed during the Sandy Hook Elementary School shooting.
Jones sued his media company Free Speech Systems on Friday, only days before jury selection was due to begin in a Connecticut defamation trial over him falsely claiming that the mass shooting was "fake." The Sandy Hook shooting—which took place December 14, 2012, in Newtown, Connecticut—was the country's worst-ever elementary school shooting, resulting in the deaths of 20 children and eight adults, including the shooter and his mother.
Hours after suing his own company, a Chapter 11 bankruptcy claim for Free Speech Systems was filed in Southern Texas Bankruptcy Court, according to CT Insider. While the filing is not expected to affect a separate defamation trial that is currently ongoing in Texas, it could potentially delay the Connecticut trial. Chris Mattei, the lead attorney for the Sandy Hook families in Connecticut, accused Jones of being a coward following the bankruptcy filing.
"Just two days before jury selection is due to begin in Connecticut, Mr. Jones has once again fled like a coward to bankruptcy court in a transparent attempt to delay facing the families he has spent years hurting," Mattei told CT Insider. "These families have an endless well of patience and remain determined to hold Mr. Jones accountable in a Connecticut court."
Jones previously delayed his Texas trial by filing bankruptcy claims for three of his shell companies earlier this year. The Infowars host and Free Speech Systems have already lost default judgements in both Texas and Connecticut, with juries being seated to determine the extent of the financial penalties that may be owed to the families.
Although Jones has since reversed his position on the Sandy Hook shooting by admitting that it took place and was not "staged" by "crisis actors" as he previously claimed, he has continued to make questionable claims about mass shootings—such as recently calling the timing of the Robb Elementary School shooting in Uvalde, Texas, "very opportunistic."
Jones filed suit against Free Speech Systems on Friday while arguing that his company had "promised and guaranteed to indemnify and hold harmless Alex Emric Jones from any damages or other costs which may be assessed or entered against him in this litigation."
Attorneys for the Sandy Hook families in Connecticut described Jones effectively suing himself as another delay tactic in a motion to strike the claim.
"Alex Jones will do anything to delay trial in this case, including effectively suing himself," the attorneys wrote. "The cross claim alleges the fiction that this wholly controlled subsidiary promised to hold Jones harmless for damages in this case, inviting this proceeding to enter Mr. Jones' conspiracist world where found facts and sworn testimony mean nothing at all."
"To ensure that Jones does not benefit from this latest ploy, the cross claim should be stricken immediately as untimely and made in bad faith," they continued.
The cross claim was filed by Jones' New Haven-based attorney John Williams. A different attorney for Jones, F. Andino Reynal, raised eyebrows earlier this week after raising his middle finger at an attorney representing the Sandy Hook families during the Texas trial.
Newsweek has reached out to Williams for comment.