A Connecticut judge ruled Wednesday that Infowars host Alex Jones could face fines of $25,000 per weekday that increase by $25,000 each additional day beginning Friday if he continues to skip depositions in the lawsuit over Jones' lies about the 2012 Sandy Hook elementary school shooting.
Jones has skipped the scheduled deposition because of claims that he is too sick to be questioned, but Judge Barbara Bellis ruled that there was insufficient evidence to prove Jones' alleged illness was real and held him in contempt of court. The judge scheduled a new date for the deposition and threatened Jones with fines.
The Infowars host has been a popular figure on the far right, with one of his most prevalent conspiracy theories being that the 2012 shooting that killed 20 children and six staff members at the elementary school was a "false flag" operation faked by politicians pushing gun control agendas.
He has faced several lawsuits from family members of victims as a result, and in October was ruled liable for all damages after a judge ruled that his lawyers failed to produce required evidence. Jones was found guilty by default in lawsuits filed in Connecticut, where the shooting took place and his home state of Texas for failing to provide requested evidence. The amount he must pay in damages to the families has yet to be decided, the Associated Press reported.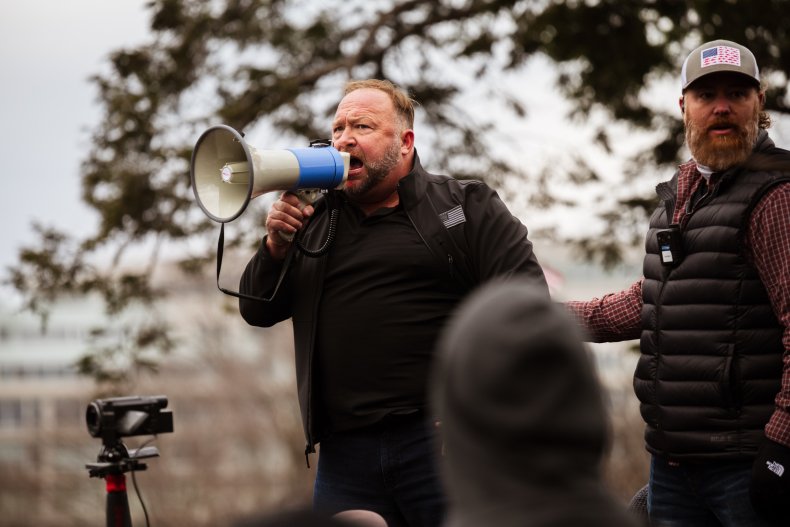 Earlier Wednesday, the families who brought the suit each rejected a reported settlement offer of $120,000 each from Jones. Bellis ruled that Jones will be fined $25,000 per weekday starting Friday if he continues to skip depositions.
"The so-called offer is a transparent and desperate attempt by Alex Jones to escape a public reckoning under oath with his deceitful, profit-driven campaign against the plaintiffs and the memory of their loved ones lost at Sandy Hook," the families said.
Jones failed to appear for a deposition last week, alleging that it was because of the advice of a medical professional. However, he still hosted his daily Infowars show in the days around the deposition.
"The judge's order is shocking and an insult to the medical doctor who advised Alex not to attend court proceedings," Jones' lawyer Norman Pattis told the AP. "We regard the order as lawless and unprecedented." Pattis also said that he planned to appeal the ruling to the Connecticut Supreme Court.
Bellis again denied a request of the families to have Jones arrested for allegedly avoiding the deposition, but did rule that the future depositions be held at the Connecticut offices of the attorneys representing the families, instead of closer to Jones's home in Texas, where they were scheduled to take place last week.
Another lawyer for Jones claimed he would not be available to appear for a deposition until April 11, which would mean if the fines continue unimpeded by appeals or rulings from a higher court, Jones could be fined up to $525,000 total over the six weekdays through April 8, next Friday.
Jones has stated that he no longer believes the shooting was staged and apologized in the settlement offer that was rejected by the families earlier this week.
Update 03/31/22, 4:15 p.m. ET: This article was updated to reflect the fact that Jones' fines would start at $25,000 and increase by $25,000 each additional day.
Update 03/30/22, 6:50 p.m. ET: This article was updated with additional information.
Update 03/30/22, 6:15 p.m. ET: This article was updated with additional information and a new headline.