Alex Jones Screams at InfoWars Viewers to Buy His Products to 'Fight Enemy'
Far-right commentator Alex Jones gave an impassioned speech on a recent episode of his InfoWars show, demanding that viewers buy his products and give donations to fight an unspecified "enemy."
"[Support] our guests because everyone we have on is fighting with everything they have got," Jones screamed to his viewers in the video shared on Twitter and viewed over 40,000 times. "This is a war against you and your family of inflation and collapse."
"They know everyone is going to wake up in the midst of it and that is why they want to silence the leaders because they think they can then defeat you," he continued screaming. "So when you keep us in the fight, you keep yourself in the fight and this is life and death."
It's unclear what prompted Jones' rant, which continued with him calling on viewers to visit the InfoWars online store and buy their "amazing" products, as well as make a donation to both the site and guest Roger Stone's legal defense fund.
"Go to the Stone Defense Fund and make a donation to him because he is a gladiator and a champion in the fight," Jones said. "If you don't support us you are helping the enemy...This is all-out war."
The Infowars clip urging donations comes after Jones denied in April that he and his show have not gone bankrupt—despite a court filing saying companies he owns, including the conspiracy website, have filed for bankruptcy protection.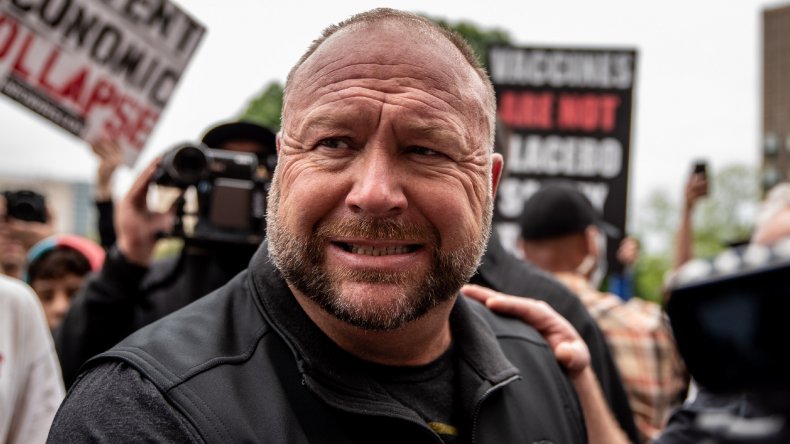 The bankruptcy controversy is occurring amid an effort to settle litigation brought by relatives of children killed in the 2012 Sandy Hook elementary school shooting. Jones was sued by families for defamation over his repeated claims that the shooting that killed 20 young children and six staff members was a hoax, with grieving parents played by "crisis actors."
The far-right pundit sought Chapter 11 protection for three of his companies, including Infowars, in Victoria, Texas. Each company has estimated liabilities of as much as $10 million, according to court documents.
Speaking on the subject on the April 18 episode of his show, Jones denied he or InfoWars were going bankrupt. He said on the podcast that he filed for Chapter 11 for his affiliate companies to pay their creditors in full. Under U.S. bankruptcy law, a successful case filed under Chapter 11 would allow the debtor to continue to operate their businesses and, with court approval, borrow money.
Newsweek reached out to InfoWars for comment.