Alex Jones Pays $75K in Fines Before Deposition in Sandy Hook Lawsuit
Right-wing radio host Alex Jones has begun to appear for depositions after paying $75,000 in fines in the lawsuit filed against him by family members of Sandy Hook victims over his repeated claims that the 2012 school shooting that killed 20 children and six staff members was a hoax.
The InfoWars founder skipped depositions last month, citing health issues, but last week a Connecticut judge found him in contempt of court, ruling that there was insufficient evidence to prove he was not medically well enough to be deposed. Judge Barbara Bellis said Jones would be fined $25,000 starting last Friday, increasing by $25,000 each weekday that he did not appear for questioning.
Court records show that Jones paid fines of $25,000 Friday and an additional $50,000 Monday before complying with the court order. He appeared for questioning in a deposition starting Tuesday that was set to continue Wednesday, according to the Associated Press.
Jones said in a recent Infowars video that the deposition began with lawyers for the victims' families "demonizing" him for questioning the official reporting of the shooting.
"It's just totally insane to sit there and watch this happen and to watch them lick their lips and lick their chops and think we're going to finally shut Alex Jones down," Jones said. "These people want to put us in prison for our speech."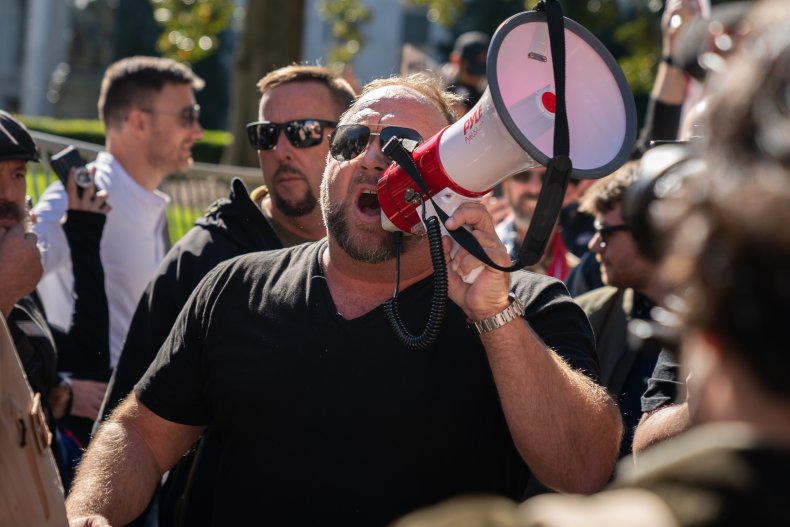 However, the deposition Jones is complying with is not for potential jail time, but for the trial set for later this year to determine how much he owes in damages to the families. Two judges found him guilty "by default" last year due to his lawyers providing insufficient evidence requested by the plaintiffs.
Family members of several victims are suing Jones for defamation over his repeated claims following the elementary school shooting that it was staged by politicians motivated by a gun control agenda, with grieving parents allegedly played by "crisis actors."
"I had the impression watching the attack on Mr. Jones that this trial will be about something far greater than what happened at Sandy Hook," Jones' lawyer, Norman Pattis, told the AP. "The trial's going to be about ordinary people's ability to say I'm not buying it, I want to raise questions, I want to draw my own conclusions."
Last week, Jones' lawyers filed a motion to have the fines suspended because they had agreed for Jones to appear as soon as he was available, which they said at the time was April 11. Bellis denied the motion, which would have forced Jones to pay a total of $525,000 in escalating fines over the six weekdays between last Friday and April 11.
Last week, the families suing Jones also rejected a settlement offer of $120,000 each, calling it a "transparent and desperate attempt by Alex Jones to escape a public reckoning under oath with his deceitful, profit-driven campaign against the plaintiffs and the memory of their loved ones lost at Sandy Hook."
Jones has said in the years since the 2012 shooting that he no longer believes it was staged but still contends that the lawsuits against him don't have enough evidence to prove defamation, and are infringements upon his right to free speech.
Update 04/06/22, 1:20 p.m. ET: This story has been updated with additional information.
Update 04/06/22, 12:24 p.m. ET: This story has been updated with additional information.