YouTube channels sharing content from Alex Jones and his website Infowars have attracted hundreds of thousands of views, despite the host's ban from the platform.
Uploaded under the pseudonym "General Shepherd," at least three accounts amassed thousands of subscribers since their creation in October last year. The profiles were online until today, when they were terminated after Newsweek approached the technology firm for comment.
Analytics from the social media tracking service SocialBlade indicated that each of the channels had steady growth since stealthily surfacing online.
Two of the proxy Infowars channels brought in more than 550,000 views in the past 30 days, while the most-popular channel boasted 1,689,757 views in total.
The accounts were by no means cash cows, bringing in no more than $1,900 a month according to analytics, but they had a stream of user interaction.
One of the more popular "General Shepherd" channels re-uploading and distributing Infowars content was able to gain close to 10,000 subscribers on the Google-owned video website before its removal earlier today.
A YouTube spokesperson said the channels flagged by Newsweek had been deleted, noting they were created to circumvent a previously-issued suspension by uploading "terminated content." YouTube confirmed the ban on Infowars and its host remains "active and consistent."
Jones, 45, who continues to spearhead the controversial media operation made famous by peddling conspiracy theories and unfounded claims, was banned from mainstream social media websites and app stores in 2018 - including Facebook, Twitter, Apple, Spotify and Google. Prior to deletion, Jones' YouTube channel had over 2.4 million subs and 17 million monthly views.
Since the headline-grabbing expulsions, which multiple platforms said was due to violation of hate speech policies, YouTube has been forced to stop multiple attempts to evade the bans.
Last March, Media Matters for America revealed YouTube banned an Infowars-linked YouTube account called "Resistance News" that had more than 64,000 subscribers and 12 million views. The Verge reported last August that an Infowars-linked YouTube account titled "The War Room" was purged within a day of being created. YouTube said each case violated its policies.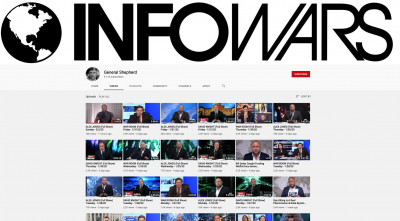 The YouTube account for Infowars contributor Paul Joseph Watson was not impacted in the spate of social media bans in recent years, and currently has more than 1.7 million subscribers.
It remains unknown who maintained the "General Shepherd" accounts, a name previously tied to Infowars by Right Wing Watch. Infowars and Watson have been contacted for comment.
In one of the most-recent uploads before their deletion from the website, Jones was discussing the coronavirus with Mike Adams, founder of Natural News, a fringe conspiracy website pushing the claim the outbreak may have been a "bioweapon" or a "vaccine experiment gone wrong."
Natural News has been described as a "powerful conspiracy empire" in the Daily Beast. More recently, Vice colorfully referred to it in a report as "the often demented health site."
The virus—which has now killed more than 360 people globally—featured heavily in the Infowars segment uploaded to YouTube after being aired Sunday (February 2).
"As of today, this is 100 percent a man-made virus," Adams at one point proclaimed. "There is no natural origin of this. Any news organization that's reporting this is caused by bats and snakes and seafood markets, that's fake news. This is 100 percent man-made. Laboratory origin."
The Natural News write-up that fueled the discussion was based on the now-rescinded research published without peer-review by a group of scientists based in India titled: "Uncanny similarity of unique inserts in the 2019-nCoV spike protein to HIV-1 gp120 and Gag."
The paper was seized by conspiracy theorists and used to back up claims the virus was engineered. "It was not our intention to feed into the conspiracy theories and no such claims are made here," one author of the pre-printed paper has since said online, as reported by Forbes.
The blog Zero Hedge had its Twitter account suspended over the weekend after publishing information about a scientist it suggested created the virus, Buzzfeed reported.
Jones, who called the study "prestigious," also used the Sunday broadcast to sell life storable foods. "I sell high-quality storage foods because I believe we should all be prepared and be self-sufficient and be able to shelter in place so the virus doesn't get in our houses," he said.
It is unlikely to be the last time you see Alex Jones on YouTube. He recently made appearances on podcasts hosted by Joe Rogan and Logan Paul, and turned heads on social media after attending a Virginia gun rights rally in what appeared to be a large armored vehicle.
A YouTube spokesperson told Newsweek the ban on the host and his website does not extend to his guest appearances, but any videos featuring him will be reviewed. Yet despite the pledge to take ongoing action, it seems that some Infowars content is still slipping through the cracks.