Alex Jones traveled around Virginia's capital in what appeared to be a battle tank and addressed the public through a bullhorn ahead of a gun rights rally.
Thousands of gun rights activists, as well as far-right groups like the Proud Boys, have descended on Richmond, Virginia, gathered for the rally early on Monday, HuffPost reported.
Radio host Jones also appeared to start his day well before the rally was due to begin. He was pictured in the city in a black vehicle bearing the logo for InfoWars, his right-wing conspiracy website.
Video footage live-streamed on Twitter's Periscope platform on Monday morning showed Jones speaking through a bullhorn, criticizing the Democratic Party and chanting slogans including "America is back."
"The Democratic Party are a bunch of degenerate, anti-American globalists who want to start a race war in this country and they're gonna be defeated," Jones says during the live-stream. "Americans are coming together like never before. America is alert. America is rising."
He added: "We are here in Virginia at the capital in defiance of the globalist tyranny and their attempts to trigger a civil war."
Jones also branded Virginia Governor Ralph Northam a "liar" after the Democrat declared a temporary state of emergency days ahead of the rally and banned all weapons from the Capitol, fearing the rally could spark the kind of violence seen in Charlottesville in 2017.
"State intelligence analysts have identified threats and violent rhetoric similar to what has been seen before other major events such as Charlottesville," Northam said last Wednesday, warning that "armed militia groups plan to storm the Capitol."
A day after Northam's executive order, the FBI arrested three men in Maryland who authorities say are linked to a violent white supremacist group and were believed to be heading to the rally on Monday.
But Jones maintained that "no one is threatening violence" and accused Northam of trying to "engage in insurrection against the Bill of Rights and Constitution." Northam's office has been contacted for comment.
Jones also used his bullhorn to declare that President Donald Trump will be acquitted in his impeachment trial in the U.S. Senate.
"The corrupt evil deep state Democrats will not get our First Amendment, they will not get our Second Amendment and they will not get out our president Donald Trump, who will be exonerated in the U.S. Senate as innocent," Jones added.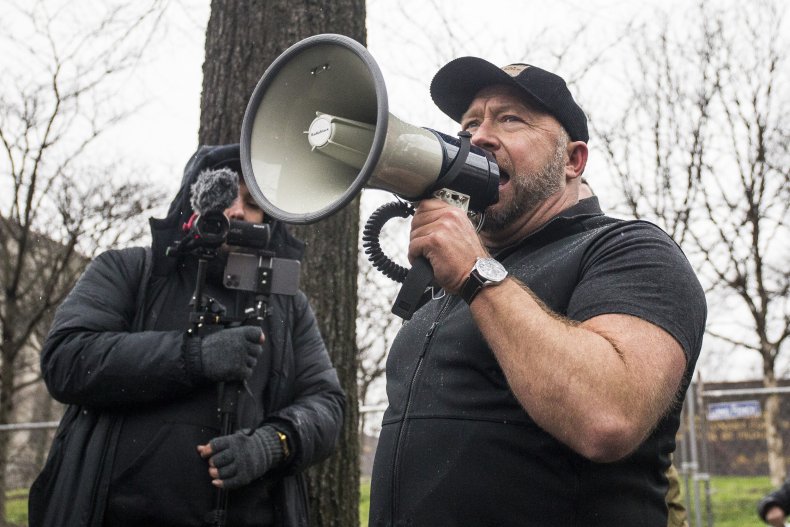 The Associated Press reported that thousands of gun rights activists arrived in Richmond hours before the 11 a.m. rally, which happens to coincide with Martin Luther King Day, was set to begin.
They are set to protest plans by the state's Democratic leadership to pass gun control legislation.
Three gun regulation bills were passed by the Virginia Senate last week, which will prohibit firearm possession in public spaces during certain events, limit monthly handgun purchases and require background checks for firearm transfers.
Trump weighed in on the situation on Friday, suggesting the move would jeopardize incumbent Democrat Mark Warner's chances of retaining his U.S. Senate seat.
"Your 2nd Amendment is under very serious attack in the Great Commonwealth of Virginia. That's what happens when you vote for Democrats, they will take your guns away. Republicans will win Virginia in 2020. Thank you Dems!" Trump tweeted.