Attorney Analyzes Alex Murdaugh's Behavior in Crime Scene Video
An attorney has broken down the body cam footage of the moment police encounter Alex Murdaugh at the crime scene where his wife and son were found shot dead.
Margaret "Maggie" Murdaugh, 52, and 22-year-old Paul Murdaugh, the South Carolina lawyer's wife and son, were killed on June 7, 2021. According to police, Alex Murdaugh, 54, reported finding their bodies at their 1,700-acre hunting estate in Colleton County, South Carolina.
In July 2022, Alex Murdaugh was charged with two counts of first-degree murder and two counts of possession of a weapon during the commission of a violent crime. He has pleaded not guilty.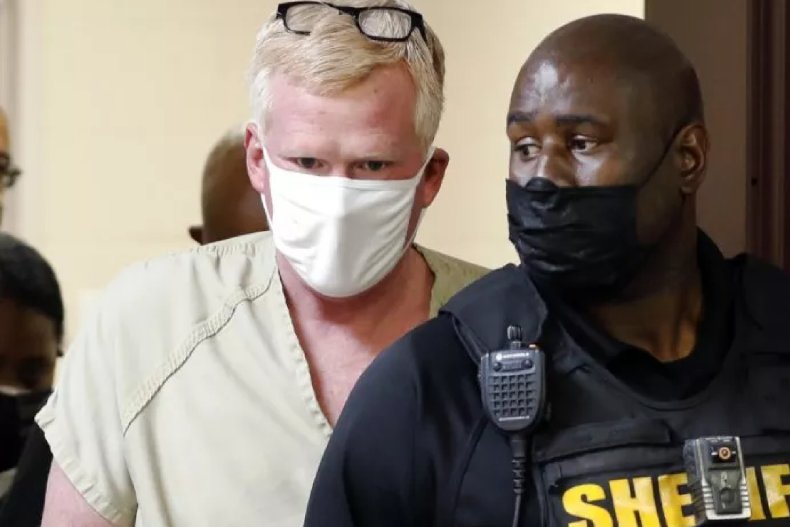 During his trial earlier this week, the police body camera footage of Alex Murdaugh's first interaction with law enforcement—following his family's deaths—was played. The footage has since been posted on social media.
Criminal defense attorney Rachel Fiset, the managing partner of the Los Angeles-based law firm Zweiback, Fiset & Zalduendo, spoke to Newsweek and reflected on the latest revelations in the case.
Fiset said: "The police interactions on the night of the murders could be interpreted in a variety of ways. He is visibly upset, but he appears to go in and out of what some may interpret as a rehearsed story.
"He offers a motive for the murders almost immediately upon the police arriving and seems to seek confirmation that both his wife and son are deceased in a way that could be interpreted as making sure they cannot contradict the stories he is telling."
Court filings said that Maggie Murdaugh had been shot five times with an assault rifle while Paul Murdaugh had been shot twice at close range with a shotgun, according to a report in the Rolling Stone.
Alex Murdaugh has maintained that he wasn't at the scene of the crime and later discovered the mother and son's bodies near the dog kennels at the estate.
Fiset outlined other concerning aspects of Alex Murdaugh's behavior during his initial interaction with the police.
She said: "[Alex Murdaugh] also begins to lay the groundwork regarding the timing of his actions that night, which sets up his alibi of time spent with his mother with Alzheimer's disease and his sick father—neither of whom would be able to reliably confirm when he was actually away from his home."
Fiset observed that it was "striking how clean his clothes are in the video." She said: "The fact that he did not have any blood on his clothes given the bloody murder scene at the kennels may strike the jury as extremely unusual."
Earlier in the week, Alex Murdaugh's sister-in-law, Marian Proctor, caused a stir with her testimony.
She went into detail regarding her growing concerns that, after the deaths of Maggie Murdaugh and Paul Murdaugh, Alex Murdaugh showed a lack of determination to find their killer.
During the court proceedings, Proctor said she felt that Alex Murdaugh was more concerned with protecting his now-deceased son's reputation, rather than finding the killer.
She said: "We never talked about finding the person who could have done it. It was just odd. He said that he did not know who it was, but he felt like whoever did it thought about it for a long time. I just didn't know what that meant."
Murdaugh has remained in jail at the Richland County Detention Centre with a bond set at $7 million—one of the highest in South Carolina history—according to a People report.
The trial, on day 20 as of February 17, has been taking place at the Colleton County Courthouse in Walterboro, South Carolina.