Alex Trebek's Widow Reflects on 'Astonishing' Support He Received During Cancer Battle
Alex Trebek received an "astonishing" amount of support from fans during his cancer battle, the late Jeopardy! host's widow, Jean Trebek, has said.
The beloved TV personality, who appeared on Jeopardy! from its 1984 premiere in syndication until 2020, died aged 80 in November, 20-months after being diagnosed with Stage IV pancreatic cancer.
Jean Trebek, who married the Canadian-born presenter in 1990, told how the scale of her husband's stardom only hit her when he went public with the diagnosis.
In an interview for The Eden Magazine's October edition, the New York native was asked if she saw her late husband as the icon he was, to which she responded: "Not really. Alex was my dear husband and my most beloved friend.
"Like most long-term relationships, we had our ups and downs, but the truth of it was that we were very close and experienced a lot of life together. It was important to Alex to keep his personal life separate from his professional life, unless it was 'needed,'... i.e., attending an award show or something like that.
"For the most part, Alex and I enjoyed staying at home. When we did go out, it was perhaps for a quick dinner or movie every now and then, so it wasn't like we were always out in public for me to really notice his popularity."
She added: "I knew the show was very successful and that people really liked him—a lot. I started realizing just how much he was adored by people from all walks of life when he made his public announcement that he was diagnosed with pancreatic cancer.
"We received cartons of mail every day filled with get-well cards, etc., at our home address, and I knew that the studio was receiving so much more. It was astonishing!"
"In looking back, the fact that I did not identify Alex as an 'icon' was a gift," she admitted. "We were equal partners in a marriage, and we had our own personal growth issues to deal with just like any ordinary couple.
"It would have been really weird for both Alex and myself if I thought of him as some celebrity. He could just be himself at home, and that was it."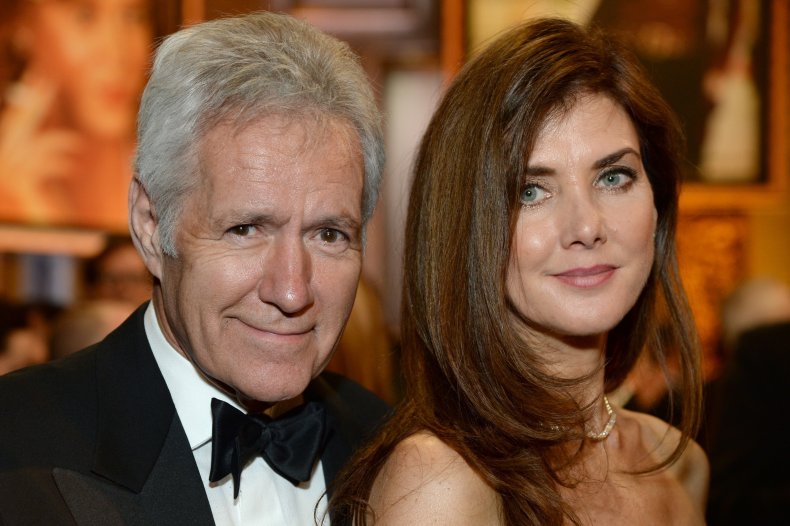 Jean Trebek, who serves as co-editor of wellness website Insidewink, also discussed the grief of having lost her partner, with whom she raised two children.
She said: "I'm reminded of what Queen Elizabeth ll said when Prince Phillip recently passed away. She said, 'Grief is the price you pay for having loved.'
"It's true. There are moments of my day that I miss Alex so much, and I just have to allow myself those times.
"Sometimes I feel as if he's been on a long vacation, and then there are other times that the reality of the absence of his presence is really palatable. I find that being with my family and friends or doing something creative and new is really helpful."
During the Season 38 Jeopardy! premiere in September, a touching tribute was paid to the late host, as it was revealed that the Los Angeles soundstage where the show is taped was renamed in his honor.
A post was shared on the Jeopardy! Twitter account, showing Jane Trebek and her husband's three children, Matthew, Emily and Nicky, standing before a plaque that read: "The Alex Trebek Stage."
The photo was captioned: "#TheGameContinues today with brand-new episodes of #Jeopardy! Don't miss returning champ Matt Amodio and 2 challengers as they face off on the newly-dedicated Alex Trebek Stage."
A statement was also shared on the show's website, that read: "Formerly known simply as Stage 10, the set was officially renamed in honor of the late Mr. Trebek: he hosted more than 8,200 episodes of Jeopardy!, many of them from this stage.
"The dedication ceremony—held on the first day of taping for Season 38—was emceed by Chairman and CEO of Sony Pictures Entertainment, Tony Vinciquerra."
"Immediately after the ceremony, announcer Johnny Gilbert set the new season in motion as he once again introduced '...a PhD student from New Haven, CT, Matt Amodio,'" the statement continued, mentioning the current Jeopardy! champ.