Alexa Bliss On Her Journey From "Underwhelming" Draft Pick to WrestleMania 34
Today, it's not uncommon for the women of the WWE to headline pay-per-views and compete in matches that used to be strictly for the boys. In 2018 the women of the WWE competed in their first ever Royal Rumble and Elimination Chamber matches, and will have their own Battle Royal at WrestleMania alongside two title matches.
Of the two title matches, Charlotte Flair vs Asuka for the SmackDown Women's title is getting most of the attention. It's a potential show-stealer, but fans shouldn't be so quick to dismiss RAW Women's Champion Alexa Bliss, who is also defending a title on Sunday.
Since her call up from NXT in 2016, Alexa Bliss has made an impact. She's the first WWE Superstar to win both the SmackDown and RAW Women's titles and the winner of the first Women's Elimination Chamber match. Yet when fans talk about the best female competitors today, names like Bayley, Sasha Banks, Becky Lynch Asuka and Charlotte are often said before hers.
But being overlooked and underestimated is nothing new for Bliss, who has fought constantly to stand out among the plethora of top-tier female talent in WWE. And now she gets a one-on-one title match at the biggest WWE show of the year.
Newsweek had a chance to speak with the RAW Women's Champion about her journey from NXT to WrestleMania 34 and her match with Nia Jax.
WrestleMania 34 will stream live around the world Sunday, April 8 at 7 p.m. EDT on WWE Network.
Editor's note: This interview was lightly edited for length and clarity.
Your path from the Performance Center to WrestleMania 34 has been quite a journey for you. Have had time to take it all in?
It's been a crazy journey and it's going very fast and I'm very excited. It's hard to sit back and really process what's going on when you're in it. But after WrestleMania you tend to sit back and you're like "wow that really happened."
Let's start from the beginning. What about your time in NXT helped you develop the most?
I think my biggest takeaway from NXT was learning the process. What goes into the business, the culture. It's not a sprint, it's a marathon. That's the biggest thing I took from NXT, and how to have the work ethic to not only be on the road but to succeed on the road.
Now that you're on the main roster, thinking back, did it help to be called up with a lot of women from NXT?
I think so. It helps and it also kind of lit a fire under my butt because when you go with a group of people it's easy. You're all making the transition together and learning together so you're not alone during that process. But also it lit a fire under me because I didn't want to get lost in the shuffle. When there are multiple people getting called up at once, there's a lot you have to do to find a way to separate yourself and make your presence be known.
I knew I was one of the most underwhelming draft picks because in NXT I wasn't given a Takeover match, I wasn't featured as the four horsewomen were, I never held a title or was presented with an in-ring image. So I knew I had to come in under the radar and kick down the door and try and make a name for myself, and that's what I did.
Your progression in the main roster has improved, from your in-ring work to your promo work. Is there a difference in your approach from NXT to main roster?
I knew from my very first promo when all the girls were introduced on SmackDown. We all came out and said a little sentence. I remember for my promo, they wrote "Bliss-tation." I had no idea what that meant or what it was supposed to mean. I remember thinking "alright, this is my first time speaking and you only get one first impression, so I have to make this work." So I was trying to deliver this one word the best I could, and for some reason I did this weird body roll when I said Bliss-tation [laughs]. That was one of the things that everyone was like, "hey you did this one thing. This weird body roll." But it made people remember. I was just thinking, what do I have to do to make myself remembered? I had to make the most out of every opportunity. I'm here. I'm on SmackDown, it's sink or swim. A lot of the time, opportunities in the WWE don't come back.
Do you feel being drafted to SmackDown first helped?
I definitely think it helped. With RAW, there's always that sense of urgency because it's the flagship show. Being on SmackDown, it was an easier transition because, at the time, RAW was very busy backstage. There's just this urgency, it's a different feel. With SmackDown it's more relaxed. I could actually focus on what I needed to do, instead of being stressed about "am I going to mess up and am I going to do ok?" and all that stuff.
When you got the call to go to RAW how did you feel and what was the transition like?
I was excited. It was really cool because I knew I was going to see people on RAW that I haven't seen since NXT. But it was kind of being like the new girl again, going on a new brand. Personally, even though I know they do, I have to assume the audience doesn't watch SmackDown. So it was like I had to reintroduce my character all over again. And then changing, evolving from SmackDown to RAW and that was a challenge for me.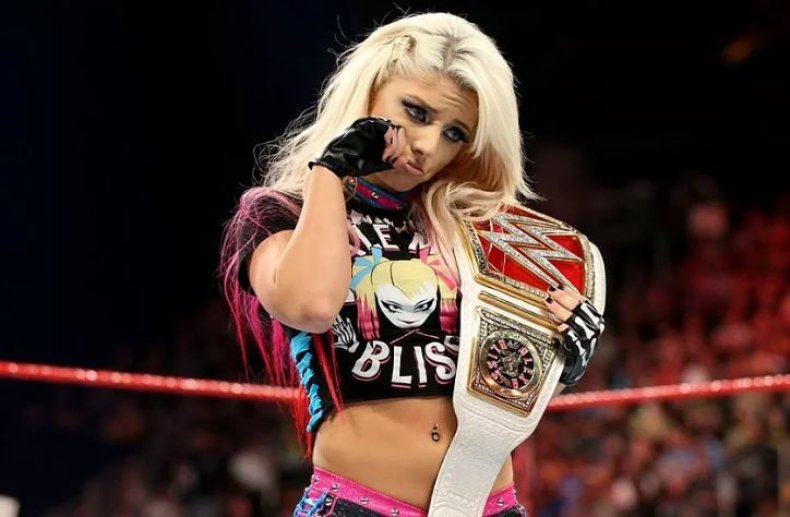 Your character is very manipulative and mean. Is it hard to get into that character? You seem like such a nice person.
It's a lot of work. When I was first in NXT and I was told I had to be a bad guy I was like "oh my gosh, I don't know what I'm doing." I knew being a good guy on NXT wasn't working out for me, I wasn't relatable, I wasn't getting anywhere and I was just getting very bland. So I knew this was one of those opportunities.I had to run with it and if not, it's not going to come back. Now it's become so much fun and it's to the point now where I think "how much further can I go? How much can I get away with? How far can I push the envelope with this character?" and WWE has been amazing with giving me the freedom to do that and help me develop this character to what she is now. And she's very mean! [laughs] But it's a lot of fun. It's so fun because it's so opposite of who I am.
What about the things you say to the women you're feuding with? Some of the things you say are pretty hurtful. Do you talk to them beforehand?
My rule, personally, in a promo is: if I wouldn't want it said to me, I won't say it to someone else. Every person that I've had a rivalry with, they've been on the same page with what we're going to say, or the direction that we're going. I've never surprised anyone with something that I've said or take it too personal. Everything is business. Everything we do is to further our stories and it's never been something where everyone isn't on the same page or uncomfortable.
After your Elimination Chamber win, you seemed very humbled by the crowd reaction but turned the switch very quickly. What was going on there?
Those were definitely real emotions [laughs] because it was such an awesome moment. It was one of the historic moments in the Women's Evolution. To be the first person to win the Women's Elimination Chamber match, those were real emotions, real tears. But at the end of the day, Alexa Bliss is Alexa Bliss and I have to turn at some point, right?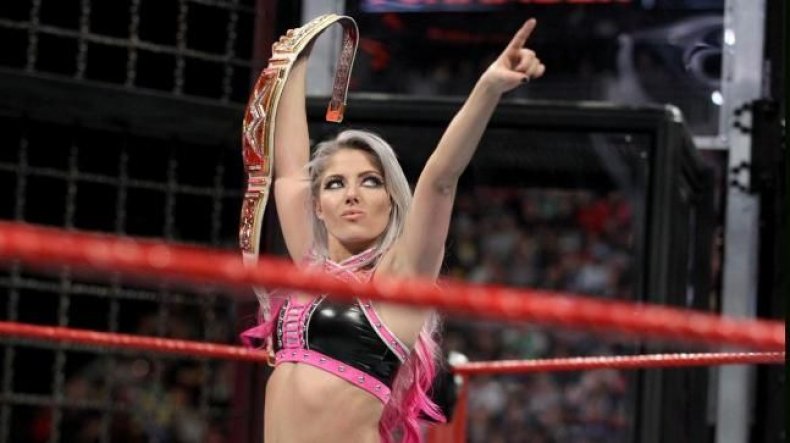 There have been a lot of Women's firsts, the first Royal Rumble, Money in the Bank but you haven't been a part of a lot of them. Do you feel like you've missed out?
I sometimes do, but I've been in my own. I had the kendo stick match, Cage match, Tables match. I haven't been left out of anything and, as Alexa Bliss would put it, I can't do all the historical things. Let someone else have the limelight. Sometimes it's cool to sit back and watch it happen.
The Royal Rumble, I obviously wanted to be a part of it because, who wouldn't? And I've said I wanted a Royal Rumble match with all the women because it took us all to get here. But being able to be a fan for once and watch it was very cool because sometimes you get so wrapped up in what we're doing when you're in it, you don't get to appreciate it.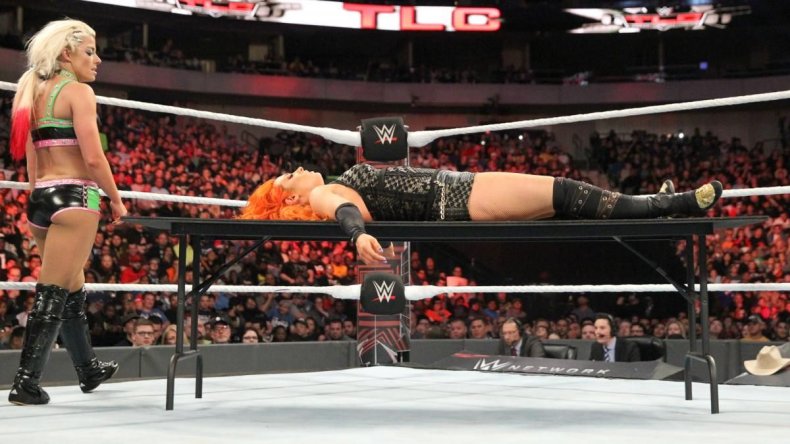 You've worked a lot with Mickie James on both SmackDown and RAW. What's it like working with her?
It's so different working with Mickie now than when we were on SmackDown. When Mickie came back to WWE, we didn't know each other. It was a new friendship on-camera. We got to know each other and we've been working together for a year now and it's a lot more fun.
Your match with Nia Jax at WrestleMania 34. You had a multi-woman match last year but this is the first time you have a one-on-one match on the brightest stage. What are you feeling?
I'm excited, it'll be amazing because it'll be the first time a Women's Championship match happens at WrestleMania in like 11 years and we will have two. With Nia, it'll be different because it's personal. Former best friends, we have emotions going into it. For me, all the matches leading up to it have been strictly competition, for a title or an opportunity at a title. But this time it's personal and it'll be different from any match I've had before.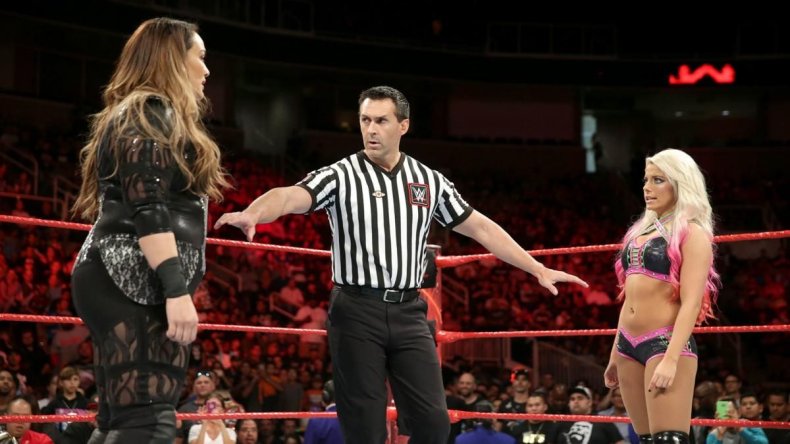 WWE Fans know that you and Nia are best friends off camera. Does that make working the match easier?
It makes it easier and makes it harder. Having a match with someone you're so close with, you have to… the best way to describe it is when me and Nia first had a promo together it was easy because we were best friends, but also very hard because we're best friends [laughs]. We just kept laughing. It's those moments where you can't be serious, and this is an actual serious storyline, and we've gotten a lot better at it. It's going to be a lot harder to face Nia Jax, because she's stronger and bigger and I'll have to do everything I can to win.
If you manage to keep your title you may have to deal with Ronda afterwards. What are your feelings on her addition to the roster?
Yea! I'm very excited, and I think Ronda is what we need right now. The Women's Evolution is going at a faster and faster rate and we need someone like Ronda to keep it going. I'm very excited to have her in the locker room and have her here and she has that crazy arm bar. But if you've seen my matches with Becky, my arm can bend backwards and not break so she'll have to pull out all the stops [laughs].
Anyone you haven't worked with yet that you want to?
In general? I would like to work with Ember Moon. I really like her story. Like me, she had multiple tryouts. Like eight or nine. She's a badass and I would love to get in the ring with her.