Alexandria Ocasio-Cortez Asks Fellow Democrats 'What Are You Waiting For?' On Impeachment
A freshman New York congresswoman has a question on her mind for her fellow Democrats: "What are you waiting for?"
Representative Alexandria Ocasio-Cortez expressed frustration with members of her party Wednesday for an ambiguous reluctance to support opening an impeachment inquiry into President Donald Trump, as leadership continues to show no signs it is ready to take the plunge into such a proceeding.
"The thing that we're struggling with is that we don't know what we're waiting for in terms of a caucus. And folks that are saying, 'No, not yet. Not yet.' Okay—accepting that that's your position, what are you waiting for?" she said to reporters off the House floor. "Are you waiting for some kind of revelation? Are you waiting for some kind of explicit—what is the bar where we will actually hold any person accountable in government? What is that bar? If it's not now, what are we waiting for?"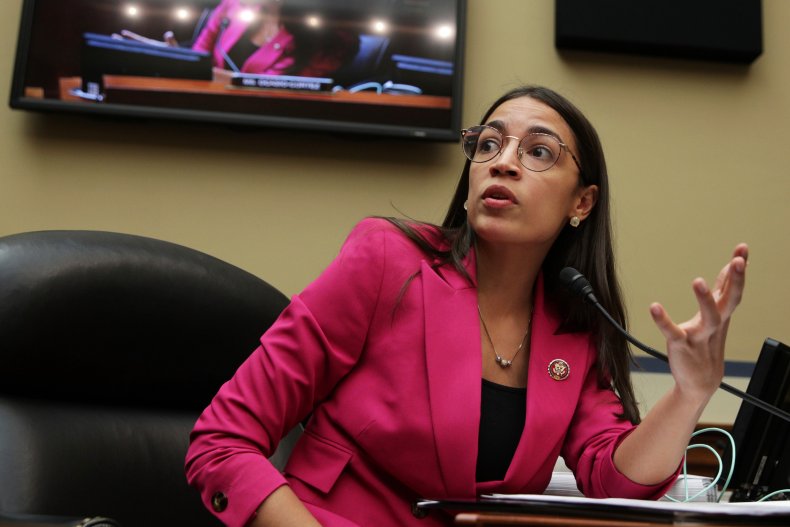 Ocasio-Cortez continued: "The frustration is that there's no bar, there's no line in the sand that we're waiting for in order to trigger impeachment."
Rank-and-file members in recent weeks have continued to trickle their way into the evergrowing pool of House Democrats who support an impeachment inquiry. And news that Robert Mueller will testify next month before Congress has Ocasio-Cortez hopeful the former special counsel will be able to sway more of her fellow Democrats.
"I hope that [Mueller] grows it," she said.
Mueller is slated to testify July 17 before the House Judiciary and Intelligence Committees in separate, but public, sessions. But the three weeks until then could offer Democrats another chance to stall on the impeachment inquiry topic, Ocasio-Cortez suggested.
"I think that there's a lot of people who are kicking the can on impeachment," she said. "I don't know for what or why, to be very honest."
Representative Jerrold Nadler, the Democratic chairman of the Judiciary Committee, viewed Mueller's upcoming congressional appearance as one that may have a "profound impact" on determining whether the panel moves to open an impeachment inquiry.
The committee is currently investigating Trump for the potential obstruction of justice incidences laid out in the Mueller report that allege the president tried to hinder or thwart the Russia probe, including by attempting to remove Mueller as special counsel. But as the committee has conducted various hearings and tried to probe the administration for information, the White House has stonewalled Democrats' demands for documents and testimony from current and former Trump officials.
"I don't know, it might," Nadler said to reporters of Mueller acting as a tipping point for some committee members. "But I think it will have a profound impact because the Russians attacked our democracy, the Trump campaign certainly welcomed that assistance."