After issuing a subpoena and securing Robert Mueller's testimony for mid-July, House Judiciary Committee Chairman Jerrold Nadler said Wednesday that the former special counsel's appearance before Congress will have a "profound impact" on whether the committee opens an impeachment inquiry into President Donald Trump.
A failure by Mueller to willingly agree to provide congressional testimony after months of back-and-forth with House panels resulted in subpoenas issued by both the House Judiciary and Intelligence Committees.
Mueller's testimony is slated for July 17 and will offer Democrats on the two committees the first chance since the report's release to directly question the former special counsel, who concluded after his 22-month-long probe into Russian election interference that he could neither indict nor exonerate the president. Mueller previously expressed no desire to publicly testify, saying in public remarks that his report "is my testimony."
"I would not provide information beyond that which is already public in any appearance before Congress," he added in his rare public statement made on May 29.
Mueller further stated the "Constitution requires a process other than the criminal justice system to formally accuse a sitting President of wrongdoing," which Democrats viewed as a nod to Congress to pick up the mantle where he left off.
Still, Democrats have repeated their yearn to hear directly from Mueller, even if it means the former FBI director will refuse many questions and simply read portions of his report for those watching at home to witness on television. The argument Democrats have made is that the majority of Americans do not realize the contents of Mueller's report and hearing directly from him could sway their opinions on impeachment.
"I don't know, it might," Nadler told reporters when prompted whether Mueller's testimony could strengthen calls for an impeachment inquiry among Democrats. "But I think it will have a profound impact because the Russians attacked our democracy, the Trump campaign certainly welcomed that assistance."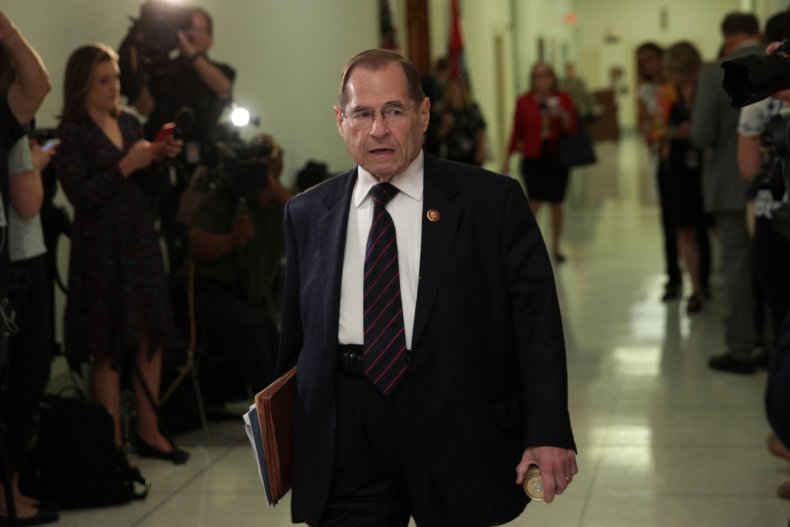 Mueller's 448-page report concluded that the Trump campaign "expected it would benefit electorally from information stolen and released through Russian efforts," in addition to the Russian government perceiving "it would benefit from a Trump presidency and worked to secure that outcome."
However, Mueller said that due to "insufficient evidence," they could not determine that a criminal conspiracy to influence the election took place, and that due to longstanding Justice Department guidelines and the inability to stand trial, Trump could not be charged with obstruction of justice for attempts to thwart or hinder the probe.
"The Russians attacked our democratic election with the goal of helping Trump win the election," Nadler continued. "The Trump campaign welcomed that help."
Nadler and his committee have been investigating the president for potential obstruction, based on Mueller's report, and has sought to compel documents and witness testimonies from several current and former Trump administration officials.
The White House has blocked officials from cooperating and exerted executive privilege or immunity, such as was done with former White House counsel Don McGahn and former White House Communications Director Hope Hicks.
Nadler was unsure whether the White House or Justice Department would seek to block Mueller's appearance. But he issued doubt that any attempts to do so would prove fruitful.
"They may attempt to. I doubt that they would succeed because Mr. Mueller is an honest man and understands that congressional subpoenas are not optional," the New York Democrat said. "I suspect that whatever the White House says, Mueller will not make us try to enforce the subpoena in court, and he said he would come in and testify."