Alexandria Ocasio-Cortez Accuses Joe Manchin of Supporting Republican 'Voter Suppression'
Rep. Alexandria Ocasio-Cortez (D-N.Y.) accused Sen. Joe Manchin (D-W. Va.) of supporting GOP "voter suppression" on Monday over his refusal to back a key Democratic voting rights bill.
Ocasio-Cortez made the remark on Twitter while commenting on a retweet of a photo captioned "Today we are all @AOC." The photo shows Ocasio-Cortez glaring at the back of Manchin's head as he stood and clapped while former President Donald Trump delivered his 2019 State of the Union address.
"Just thinking about how after this photo ran Wall Street Journal columnists spent more time criticizing me for not smiling enough than asking Manchin precisely what areas of 'common ground' he had in mind when he stood up for the GOP," tweeted Ocasio-Cortez. "Turns out voter suppression was one of them!"
Manchin vowed to oppose "partisan" voting rights legislation and blasted members of his own party for attempting to "demonize the filibuster" in an opinion article titled "Why I'm voting against the For the People Act," which was published by the Charleston Gazette-Mail on Sunday.
Although the senator had previously spoken against the bill, the article provoked a groundswell of criticism from Democrats and progressives, many of whom already had Manchin and Sen. Kyrsten Sinema (D-Ariz.) in their crosshairs over opposition to eliminating or reforming the filibuster in a Senate split 50-50.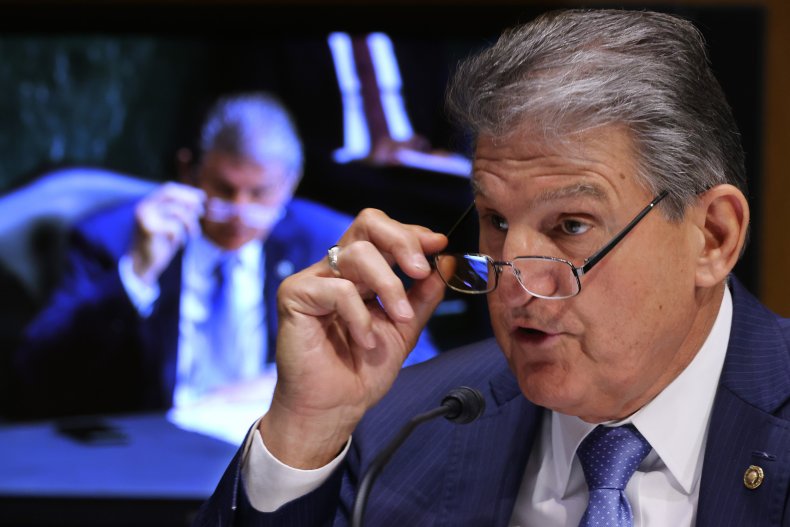 "I believe that partisan voting legislation will destroy the already weakening binds of our democracy, and for that reason, I will vote against the For the People Act," Manchin wrote. "Furthermore, I will not vote to weaken or eliminate the filibuster."
"For as long as I have the privilege of being your U.S. senator, I will fight to represent the people of West Virginia, to seek bipartisan compromise no matter how difficult and to develop the political bonds that end divisions and help unite the country we love," he continued.
While Manchin opposes the For the People Act, he went on to express support for the John Lewis Voting Rights Act, another Democratic election reform bill that is less sweeping in scope. Sen. Lisa Murkowski (R-Alaska) has indicated support for the bill but at least nine other Republicans will also need to support it in order to avoid a filibuster. It is not clear that any other Republicans support the bill.
Before accusing Manchin of supporting voter suppression, Ocasio-Cortez shared a Sunday tweet from Rep. Mondaire Jones (D-N.Y.) saying that Manchin's article "might as well be titled, 'Why I'll vote to preserve Jim Crow.'"
Rep. Jamaal Bowman (D-N.Y.) compared Manchin to Senate Minority Leader Mitch McConnell (R-Ky.) during a CNN appearance on Monday. Bowman said that Manchin "is doing everything in his power to stop democracy" while advancing "the work of the Republican Party by being an obstructionist."
President Joe Biden also expressed what appeared to be frustration with Manchin and Sinema during a speech last week, saying that difficulties in passing voting rights reform were due in part to two senators "who vote more with my Republican friends."
White House Press Secretary Jen Psaki told reporters on Monday that Biden "considers Senator Manchin a friend" although "they may disagree on some issues."
Newsweek reached out Manchin's office for comment.