Mike Huckabee Calls Ocasio-Cortez 'Manchurian Candidate' Communist Recruit on 'Fox & Friends'
The Fox & Friends hosts and former Arkansas Gov. Mike Huckabee took a shot at New York Democratic Rep. Alexandria Ocasio-Cortez Thursday, floating a conspiracy theory she's a "Manchurian candidate" with ghost writers telling her what to say and ask.
Huckabee and Fox & Friends co-host Brian Kilmeade questioned "how big a deal" the 29-year-old congresswoman has become and whether people are "writing her questions" for her behind the scenes. Kilmeade said "forces behind her" are driving her soaring popularity among Democrats and Huckabee referenced unsubstantiated "allegations" Ocasio-Cortez is a "Manchurian Candidate," a reference to Richard Condon's 1959 novel about a brainwashed American veteran who unwittingly becomes an assassin as part of a Soviet-led Communist conspiracy to take over the U.S. government.
Kilmeade asked Huckabee to respond to a negative ad released by a North Carolina Republican congressional candidate that ridicules the freshman New York Democrat.
"It's amazing how big a deal she has become, to be a 29-year-old with no major accomplishments to her credit other than making some really bizarre policy pronouncements about the new green new deal and getting rid of the Amazon jobs in New York," Huckabee responded. "She's making quite a name for herself and I hope that she continues to be the face of the Democratic Party. It's the best thing that Donald Trump and the Republicans have going for them in 2020."
"Somebody's writing her questions," Kilmeade claimed, referencing her widely praised and succinct line of questioning directed toward former Trump attorney Michael Cohen during his congressional testimony earlier this month. "I saw the questions at Michael Cohen, and saw the questions at Wilbur Ross, and there are some forces behind her. I think there's a story there."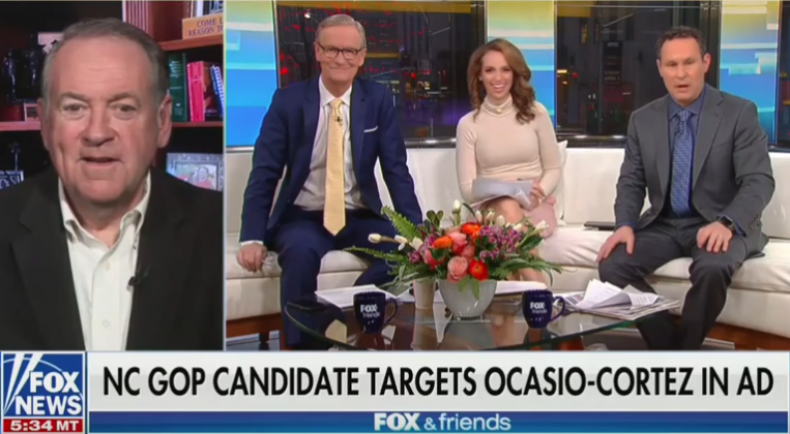 Huckabee, whose 36-year-old daughter is Trump's White House press secretary, then floated the "Manchurian Candidate" conspiracy she was "recruited" by unnamed left-wing forces.
"Well, there very well could be," Huckabee said after a pause. "I know there have been some allegations that she was almost like the Manchurian candidate – recruited, prepared. You know, I don't know. The point is that she got her voters out. Now, I think there is going to be a lot of New Yorkers who would have loved to see those 25,000 Amazon jobs that may turn out in force and say 'thank you, but no thank you, bye-bye, two years is all we can handle.'"
Ocasio-Cortez recently responded to the perpetual criticism directed at her from Fox News, labeling the most-watched cable news network "AOC TMZ."
Condon's Manchurian Candidate novel has been adapted into two Hollywood films. The 1962 version was directed by John Frankenheimer and stars Laurence Harvey and Frank Sinatra. And a looser 2004 adaptation directed by Jonathan Demme stars Liev Schreiber, Denzel Washington and Meryl Streep.