Alexandria Ocasio-Cortez Asks Wells Fargo CEO Why Bank Was 'Involved in the Caging of Children'
Democratic New York Representative Alexandria Ocasio-Cortez asked Wells Fargo CEO Tim Sloan on Tuesday why his bank got involved with caging children during congressional testimony.
"Mr. Sloan, why was the bank involved in the caging of children and financing the caging of children to begin with?"
Ocasio-Cortez appeared to be referencing the fact that Wells Fargo has been in the business of financing private prison companies.
"Uh, I don't know how to answer that question, because we weren't," Sloan responded.
Ocasio Cortez followed up: "You were financing—involved with debt financing CoreCivic and GeoGroup, correct?
"For a period of time, we were involved in financing one of the firms," said Sloan. "We aren't anymore. I'm not familiar with the specific assertion that you're making, but we weren't directly involved in that."
Ocasio-Cortez eventually relented on the point.
"These companies run private detention facilities run by ICE which is involved in caging children, but I'll move on," she concluded.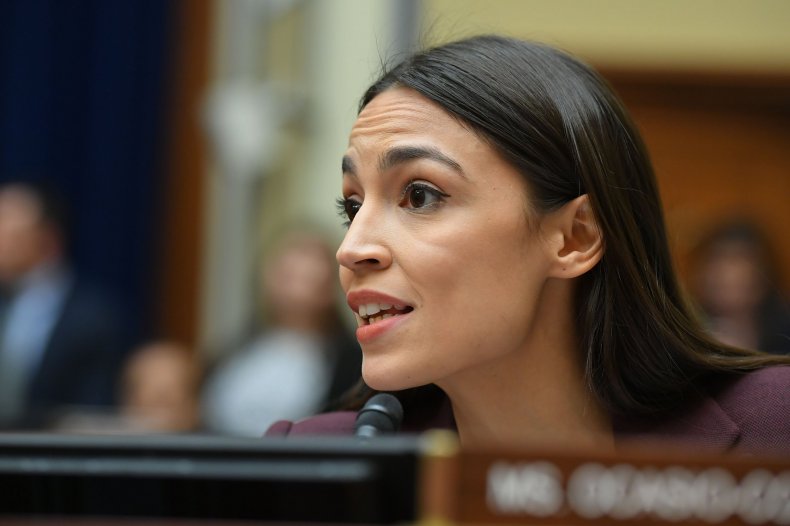 Sloan appeared before the House Financial Services Committee and was grilled by a number of folks in Congress about the company's myriad issues and scandals.
Ocasio-Cortez has proven adept in her questions during hearings. She was lauded for her focused questioning of Michael Cohen—President Donald Trump's former lawyer—during his testimony last month. When praised on Twitter for her questions, she chalked it up to her experience bartending in New York.
"Thanks! Bartending + waitressing (especially in NYC) means you talk to 1000s of people over the years. Forces you to get great at reading people + hones a razor-sharp BS detector," she posted. "Just goes to show that what some consider to be 'unskilled labor' can actually be anything but [winking emoji]."
Some Democrats have taken issue with Ocasio-Cortez for being critical of those in her own party, especially moderates. But the congresswoman said she wasn't trying to shame them but, rather, improve the country.
"I haven't put pressure on them specifically," Ocasio-Cortez said to USA Today in an interview published Tuesday. "We have an opportunity right now to have a national conversation and to move the entire country and raise the consciousness of the entire country to a better place. I'm not speaking to that member to change, I'm speaking to their districts, and I'm trying to have a conversation with the electorate."