Alexandria Ocasio-Cortez Denies She's Trying to Shame Moderate Democrats but Wants to 'Move the Entire Country to a Better Place'
New York Democratic Representative Alexandria Ocasio-Cortez denied in a new interview that she's trying to shame moderate members of her party—but she added she also wasn't going to stop trying to push the United States toward the place she wants it to go.
"I haven't put pressure on them specifically," Ocasio-Cortez said late last week to USA Today, which published the interview on Tuesday. "We have an opportunity right now to have a national conversation and to move the entire country and raise the consciousness of the entire country to a better place. I'm not speaking to that member to change, I'm speaking to their districts, and I'm trying to have a conversation with the electorate."
Ocasio-Cortez did add, however, that she would explain the rationale behind her decisions to the people she represents—noting that some Democrats supported an amendment to a gun-safety bill that required Immigration and Customs Enforcement be notified if a person fails a background check because they were not in the country legally.
"The addition of the [amendment] added a toxic anti-immigrant to a clean gun safety bill," Ocasio-Cortez told USA Today. "It forced myself and a very large amount of members to have to vote for an anti-immigrant amendment. So that puts me in a tough spot, too, you know? It's not just about, you know, do 20 people have to take a tough vote? It's that 200 people had to take a tough vote. So now ... I have to go back to my district and explain to my community why I voted, why I was forced to vote for an anti-immigrant amendment."
Ocasio-Cortez—who stunned longtime Democratic Congressman Joe Crowley in a primary race in a staunchly blue district—has become a star in the party and is often the subject of attacks from the right.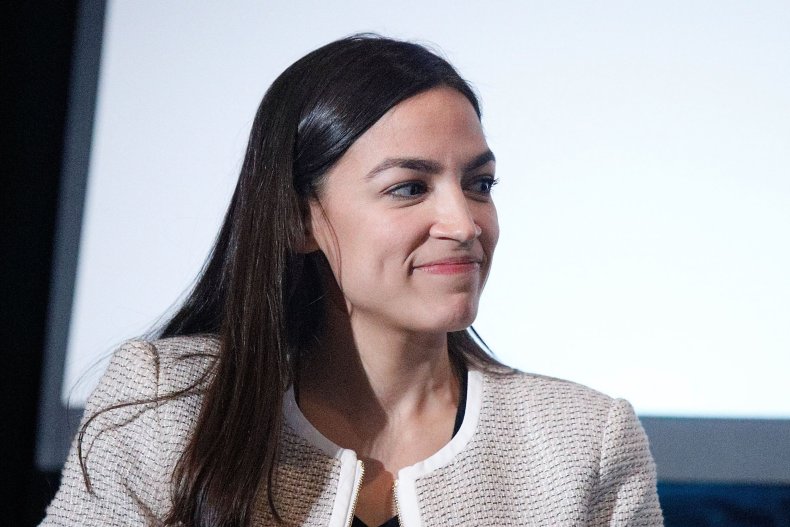 Her proposed Green New Deal, especially, has sparked debate with its call for swift and dramatic action on climate change, which many politicans on the right aren't eager to combat. She's also proven willing to voice her opinion, even if it departs with that of others in the party. For instance, Ocasio-Cortez kept impeaching President Donald Trump on the table this week, shortly after House Speaker Nancy Pelosi all but completely shot down the idea.
"[Pelosi has] always demonstrated leadership that takes all kind of factors into account. Legally, I don't think it's something [impeachment] that can ever be 100 percent off the table, but if that's how she feels right now, I respect that," Ocasio-Cortez told reporters on Monday.
She added: "You know, this is how the Speaker feels, but the whole point of our democracy is that if we disagree, we have a responsibility to air out our arguments as to why and take it into consideration."