Alexandria Ocasio-Cortez Calls Out 2020 Democrats' Climate Plans but Offers Praise for Elizabeth Warren's
Climate change proposals from the 2020 Democratic field aren't quite cutting it for the woman behind the Green New Deal.
Several 2020 Democratic hopefuls have unveiled initiatives to combat climate change, but most of them don't go far enough for Representative Alexandria Ocasio-Cortez. The candidates who've released plans are former Vice President Joe Biden, Washington Governor Jay Inslee, Senator Elizbeth Warren and former Representatives Beto O'Rourke and John Delaney.
"The entire field of climate plans still needs to be pushed," the freshman Democrat told reporters Wednesday. "And the issue is that it's not even that I think it needs to be pushed for my political views. I think it just needs to be pushed in terms of the scientific scale that is scientifically supported and what we need to solve this problem."
That means, Ocasio-Cortez elaborated, making the plans' timelines shorter while making the scale of the initiatives larger.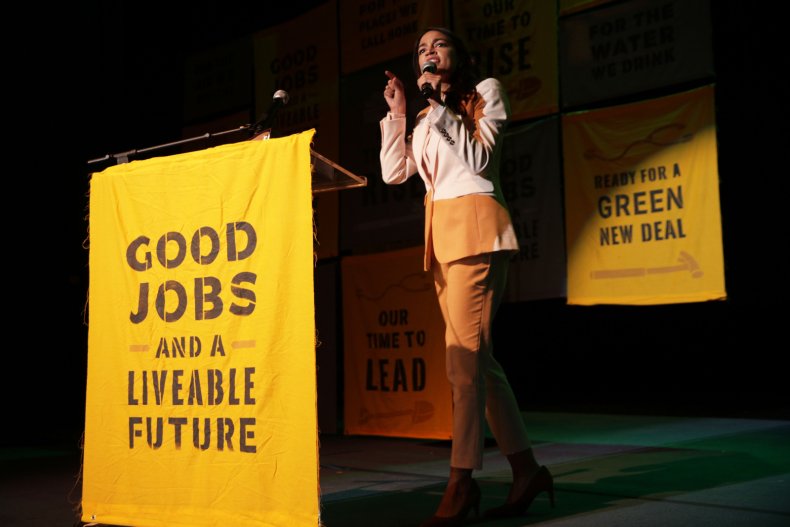 Biden and Warren were among the latest candidates to outline climate proposals this week. Biden's $5 trillion plan vows to go "well beyond" the achievements made on climate under President Barack Obama, and sets out to reach "a 100% clean energy economy and net-zero emissions no later than 2050." He found himself in hot water Tuesday after it was discovered portions of the plan's text were lifted from several other websites.
Warren's $2 trillion plan, which she dubbed the "Green Manufacturing Plan," avoided listing specific goals for emissions reductions. She chose to instead say the plan would set out to reach "the ambitious goals" set by Ocasio-Cortez's Green New Deal, which pushes for net-zero emissions by 2050.
O'Rourke's $5 trillion plan also calls for net-zero emissions by mid-century and Delaney's $4 trillion plan would reduce emissions in 2050 by 90 percent. Inslee's $9 trillion plan, which Ocasio-Cortez has labeled the "gold standard climate plan," calls for 100 percent clean energy use by 2030 and net-zero emissions by no later than 2045.
Despite the criticism from Ocasio-Cortez, she did say some of the presidential candidates had promising proposals that caught her eye.
"I haven't had the time to go through it thoroughly. But from what I've seen initially, I think it's really promising," Ocasio-Cortez said of Warren's recently unveiled plan. "I do think it's up there with Inslee's plan, in that it's hitting some of those core elements."
Inslee has made combating climate change a pillar of his campaign, having released several proposals that address investments in cleaner jobs, buildings and technology.
Ocasio-Cortez was "encouraged" by Biden's proposal, highlighting it was "not a corporate carbon tax and that's it."
"I'm encouraged at the shift in us thinking bigger and starting to really assess what it's going to take," Ocasio-Cortez added of the former vice president's plan.
But she reiterated her belief that the United States needed a greater sense of urgency. Often ridiculed for the costs associated with the Green New Deal, Ocasio-Cortez addressed her critics, arguing that there is no other alternative.
"People say, 'Oh, well, this is expensive,'" she said. "But this is what it's going to cost to save ourselves."