How Beto O'Rourke's Climate Change Plan Compares to Alexandria Ocasio-Cortez's Green New Deal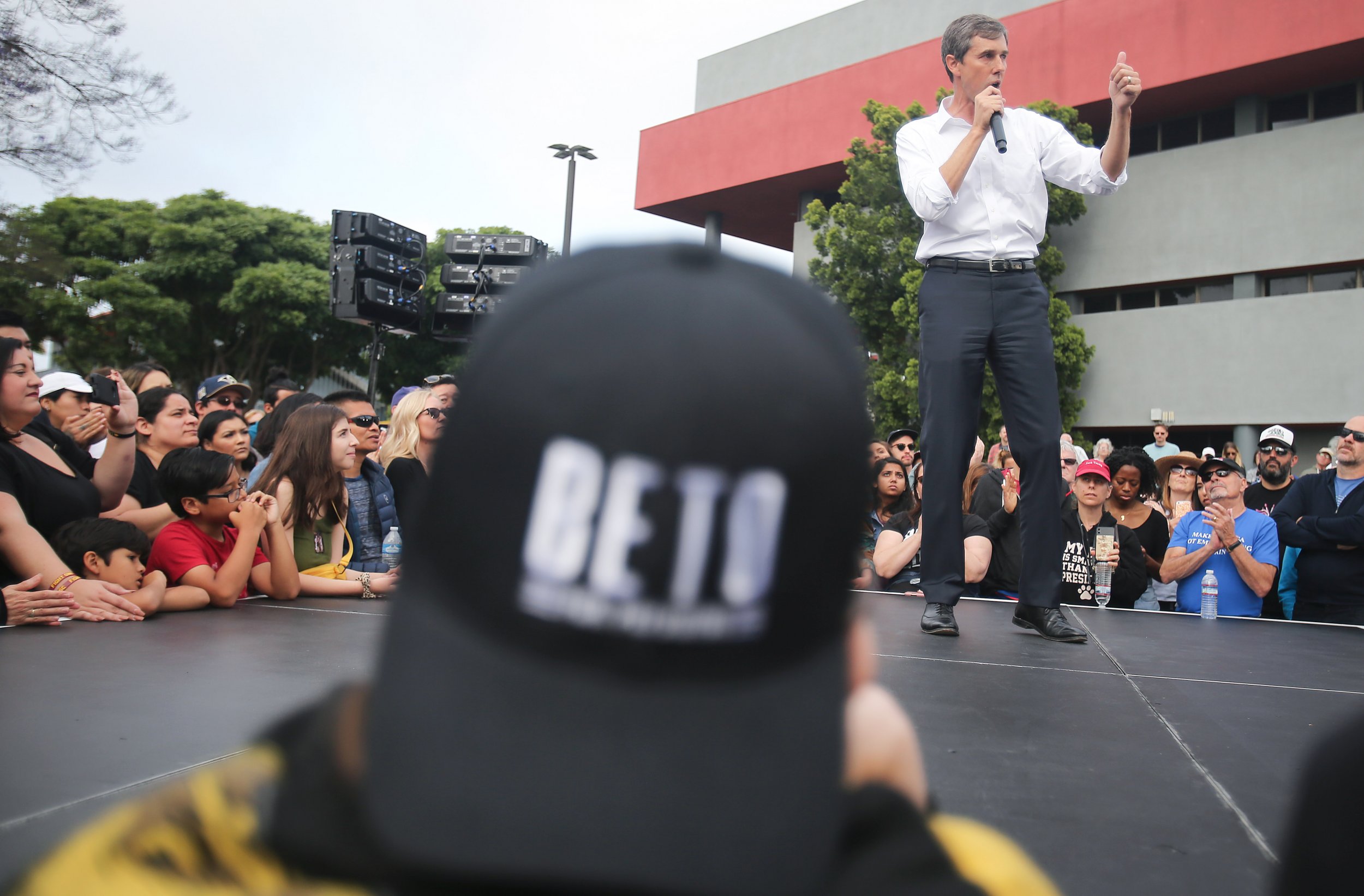 Presidential candidate Beto O'Rourke unveiled his first major policy proposal on Monday, tackling a paramount issue that will undoubtedly play a key role in the Democratic primaries—climate change.
The former Texas congressman promised that his plan would ensure that the U.S. achieves net-zero greenhouse gas emissions by 2050, getting halfway there by 2030. But his plan comes with a hefty price tag: $5 trillion over 10 years.
"The greatest threat we face—which will test our country, our democracy, every single one of us—is climate change. We have one last chance to unleash the ingenuity and political will of hundreds of millions of Americans to meet this moment before it's too late," O'Rourke said in a statement with the release of his proposal. "The actions we're announcing today will help us get there—by wasting no time cutting pollution, making historic investments in infrastructure, innovation and our communities, setting bold emissions targets, and defending those most at risk from the dangers and destruction of climate change."
The goals of the plan are similar to that of the Green New Deal, co-sponsored by Representative Alexandria Ocasio-Cortez and Senator Ed Markey, which O'Rourke said he supported because it was previously "the best proposal" on climate change he'd seen. Although the Green New Deal was filed in the House and Senate and has received plenty of Democratic co-sponsors, it's not expected to advance in Congress. House Democratic leadership has shown little interest in considering the proposal in its entirety, instead saying that other policies "will be largely in the spirit of the New Green Deal." Senate Majority Leader Mitch McConnell, who brought the measure to the floor for a vote in what Democrats labeled a political stunt, has promised to be the "Grim Reaper" for such progressive policies.
Here's how O'Rourke's proposal stacks up against Ocasio-Cortez's Green New Deal.
Beto O'Rourke's Climate Change Plan
O'Rourke said his proposal consisted of a four-part framework: executive action, infrastructure investments, enforceable goals to cut emissions and combat the immediate threats to the country posed by climate change.
The "series of forceful executive actions," as O'Rourke called them, would include the U.S. re-rentering the Paris Climate Agreement that President Donald Trump is currently withdrawing from, strengthening waste limits for power plants and fuel-economy standards. He would also be pushing to "rapidly accelerate" the production of zero-emission vehicles, strengthening building-efficiency standards and protecting federal lands from new fossil fuel leases.
To allocate funding for his proposal, O'Rourke says "in the very first bill he sends to Congress," a 10-year $5 trillion initiative would be included. The money would come from increased taxes on corporations and the country's wealthiest people, in addition to ending tax breaks for fossil fuel companies. The funding would be primarily used for infrastructure innovation to both reduce emissions and create jobs.
Like the Green New Deal, O'Rourke's plan aims to achieve net-zero greenhouse gas emissions by 2050. This will be accomplished by Congress enacting a "legally enforceable standard within his first 100 days," the proposal states. O'Rourke's administration would hold "polluters accountable," increase market competition for electricity and transportation, and require more transparency from public companies about their greenhouse gas emissions.
To combat the current impact on climate change, O'Rourke said he would increase the funding for predisaster mitigation grants by tenfold, expand the federal crop insurance program, require that communities destroyed by natural disasters be rebuilt stronger and bolster the security at U.S. military bases around the world.
The Green New Deal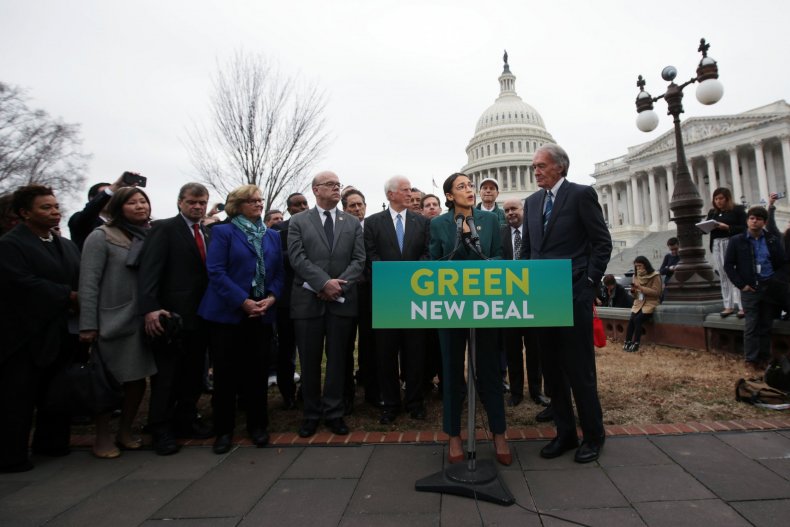 The Green New Deal, spearheaded in Congress by 29-year-old freshman lawmaker Ocasio-Cortez and co-sponsored by Senator Ed Markey, also calls for achieving net-zero greenhouse gas emissions by midcentury, in large part by investing in an overhaul of U.S. energy consumption that would spur renewable energy use and create jobs.
Although not as detailed as O'Rourke's plan in how it would achieve its goals, the Green New Deal would require "upgrading all existing buildings in the United States," constructing new buildings to be as energy efficient as possible, investing in renewable energies—specifically zero-emission vehicles and high-speed rail—and farming while removing pollution from the manufacturing industry.
But unlike O'Rourke's proposal, the Green New Deal does not specify how such a plan would be funded. Ocasio-Cortez has said the country's wealthiest citizens may have to pay 60 to 70 percent in income tax.
"Once you get to the tippie tops, on your $10 millionth, sometimes you see tax rates as high as 60 percent or 70 percent," she told 60 Minutes in January. "That doesn't mean all $10 million are taxed at an extremely high rate. But it means that as you climb up this ladder, you should be contributing more."
The likelihood of passing either plan through a Congress with the current composition is next to none, with Republicans pointing to the large price tags associated with the proposals as nonstarters. Some Republicans, such as Representative Matt Gaetz of Florida, have expressed interest in addressing climate change with plans of their own, perhaps foreshadowing a future deal that lawmakers might be able to strike as climate scientists continue to warn that immediate climate action is needed.