Alexandria Ocasio-Cortez Suggests Millionaires May Have to Pay 70 Percent in Taxes to Fund Green New Deal
Alexandria Ocasio-Cortez has long pushed for a progressive new climate change initiative called the Green New Deal, which more than 40 of her Democratic colleagues in Congress now support.
The proposal calls for 100 percent renewable electricity, zero carbon emissions, no use of fossil fuels, and investments in infrastructure and clean energy jobs, all within 10 years. The ambitious proposal has been met with hesitance by many Democrats and experts who see it as an unrealistic goal to accomplish in such short time.
The freshman lawmaker from New York suggested in a 60 Minutes interview, set to air Sunday, that the wealthiest Americans may have to pay 60 to 70 percent in income tax to help fund the measure.
"People are going to have to start paying their fair share in taxes," said Ocasio-Cortez, drawing comparisons to the progressive tax rate of the 1960s. If that structure were applied today, she said, people earning up to $75,000 annually would pay just 10 to 15 percent in income tax.
"But once you get to the tippie tops, on your $10 millionth, sometimes you see tax rates as high as 60 percent or 70 percent," she said. "That doesn't mean all $10 million are taxed at an extremely high rate. But it means that as you climb up this ladder, you should be contributing more."
Ocasio-Cortez said if people consider that a "radical agenda," then "call me a radical."
"Only radicals have changed this country," she added.
"Sometimes we take for granted exactly how radical ideas like Social Security, the [Department of Veterans Affairs], and public schooling really are: that we will care for our elders, provide healthcare, and educate *all* children in America free of cost at the point of service," Ocasio-Cortez elaborated on Twitter.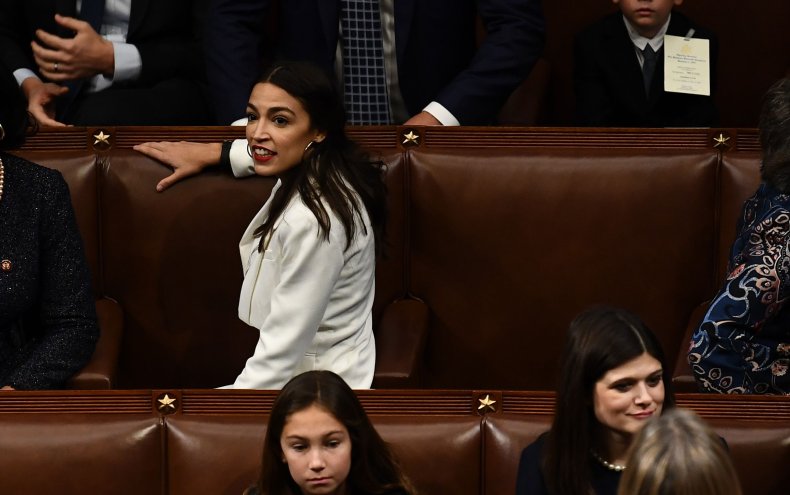 After reclaiming control of the gavel on Thursday, Speaker of the House Nancy Pelosi delivered a speech with a strong message to Congress and the country about climate change.
"We must also face the existential threat of our time: the climate crisis—a crisis manifested in natural disasters of epic proportions," Pelosi said. "The American people understand the urgency. The people are ahead of the Congress. The Congress must join them."
While Pelosi did not specifically reference the Green New Deal, progressive lawmakers who've backed the proposal expressed their satisfaction to Newsweek about her speech. Pelosi has been on the receiving end of protests from Ocasio-Cortez and climate activism group Sunrise Movement in recent months.
"Whether she's addressing us in particular—I think it happens to be so—I think she also believes this is what we have to do," said Congressman Mark Takano, a member of the House Subcommittee on Energy. "The kind of denialism [by Republicans] is very troubling to me."
Pelosi has since re-established a select committee on climate change, which she also had during her previous tenure in the role, from 2007 to 2011. But for Ocasio-Cortez and the Sunrise Movement, the committee does not go far enough because of its lack of subpoena power and ability to send legislation to the floor, in addition to not focusing enough on advancing the proposals laid out in the Green New Deal.
"This committee, if it turns out that the rumors about it are true, sounds about as useful as a screen door on a submarine," Corbin Trent, a spokesman for Ocasio-Cortez, told The Hill last month. "As it's portrayed, it's going to be completely incapable of solving the greatest threat to human kind.... Leadership, in general, is about listening to the voices of the people you're supposed to be leading and I don't believe this process incorporated that very effectively."