Nancy Pelosi Appears to Have Won Over Green New Deal Progressives with Her Climate Change Message
After returning to the speakership role for the first time in eight years, Speaker of the House Nancy Pelosi struck a chord with progressive House members Thursday with her speech.
Her message, whether intentional or not, appeared to target a coalition of liberals who have strongly pushed Republicans and their Democratic colleagues to address a specific issue: climate change.
"We must also face the existential threat of our time: the climate crisis — a crisis manifested in natural disasters of epic proportions," Pelosi said. "The American people understand the urgency. The people are ahead of the Congress. The Congress must join them."
She pledged the chamber will have "debate and advance good ideas no matter where they come from," adding that the "inaction and denial of science that threaten the planet and the future," is why Congress must act. It's also why she recreated the House select committee on climate change, a similar committee she had when she was speaker from 2007 to 2011, and appointed Democrat Kathy Castor to head it.
The topic has been a driving force for dozens of progressives in Congress, freshman lawmakers, like Representative Alexandria Ocasio-Cortez, and the Sunrise Movement, an organization comprised of hundreds of climate activists and Ocasio-Cortez supporters. Sunrise Movement has now coalesced 45 members of Congress to back a "Green New Deal" proposal by Ocasio-Cortez that calls for 100 percent renewable electricity within 10 years and investments in clean energy jobs, among other things.
Last month, the group faced mass arrests after protesting in the offices of Pelosi and then-House Minority Whip Steny Hoyer. In November, during another protest by the group in Pelosi's office, then- Congresswoman-elect Ocasio-Cortez joined them.
Pelosi's climate change message was received by several Green New Deal backers with open arms, championing the new speaker for passionately addressing the issue of climate change, which she said posed a threat to public health, the economy and America's security. Each progressive lawmaker who spoke with Newsweek and has pledged support for the Green New Deal said Pelosi's remarks were well-received and a needed step in the right direction.
This despite the fact that the climate committee lacks subpoena power and the ability to advance legislation to the floor. It is also likely to not tackle many of the specific Green New Deal proposals.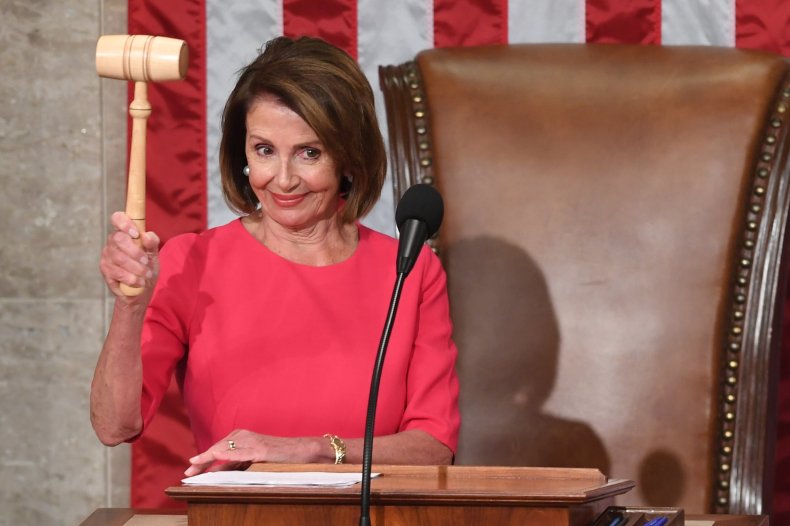 Representative Mark Takano, a member of the House Subcommittee on Energy, believed whether or not, "she's addressing us in particular — I think it happens to be so — I think she also believes this is what we have to do… The kind of denialism [by Republicans] is very troubling to me," he added.
Many of Takano's progressive colleagues who support the Green New Deal said they did not necessarily believe Pelosi was targeting them directly, but said that it was part of her longtime stance on combatting the ever-growing threat of climate change on the environment and the economy.
"I was heartened by the fact that she made that a major plank of her opening day address and that this was something the Congress was going to take seriously," said Congressman Joe Neguse of Colorado. "I am certainly going to be pushing, as I anticipate many of my other colleagues will be doing as well, to make sure that the committee acts boldly."
Congresswoman Pramila Jayapal said she had a "long conversation" with Pelosi about the select committee in recent months, and believed it was more than about targeting her and others who have pushed for aspects of the Green New Deal.
"[Her speech] was about showing her dedication to this," Jayapal said. "She did not just give it a mention, not just one sentence or a phrase, but a couple of really key sentences about how existential this threat is and how we have to take on the climate deniers."
Representatives Barbara Lee, Jamie Raskin and Tim Ryan also expressed their satisfaction with the speaker's remarks. Lee, similar to the numerous other Democrats who spoke to Newsweek and who have backed the Green New Deal, suggested it should be used as a roadmap or a blueprint to create more detailed legislation in the near future.
The champion of the progressive climate change proposal, Ocasio-Cortez, could not be reached by Newsweek Thursday, and her spokesperson did not return a request for comment. The freshman lawmaker was previously frustrated with the lack of power the new climate committee was offered, in addition to it not pivoting more toward the objectives of the Green New Deal.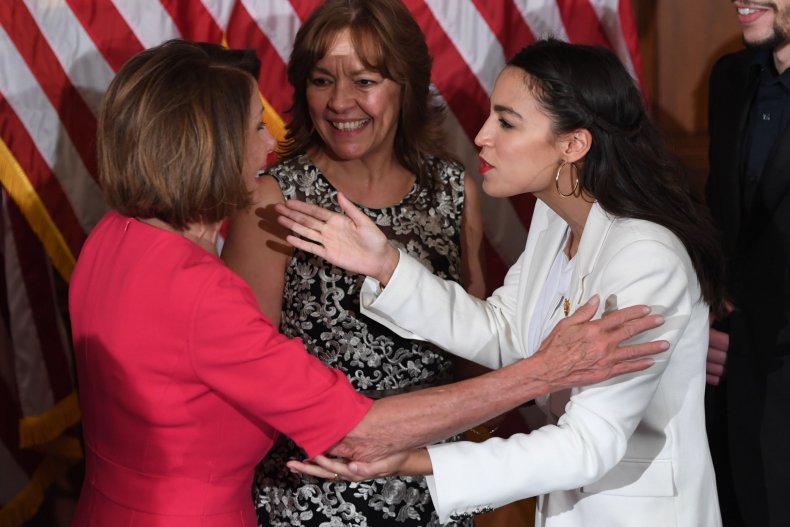 "This committee, if it turns out that the rumors about it are true, sounds about as useful as a screen door on a submarine," Corbin Trent, a spokesman for Ocasio-Cortez, told The Hill last month. "As it's portrayed it's going to be completely incapable of solving the greatest threat to human kind… Leadership, in general, is about listening to the voices of the people you're supposed to be leading and I don't believe this process incorporated that very effectively."
In a break from party ranks Thursday night, Ocasio-Cortez followed through on her threat to vote against a Pelosi-backed rules package that she publicly bashed the previous day.
In a statement to Newsweek, Sunrise Movement said it was, "glad Speaker Pelosi discussed climate change in her speech, but we're deeply disappointed she did not join the 45 Representatives calling for a Select Committee on a Green New Deal, which would have been the first time Congress had a mandate to make a plan actually in line with the latest climate science."
The group believed the current climate committee does not, "have a mandate to create a plan to transform our economy in line with what science demands." It also disapproved of the lack of subpoena power, arguing that the committee "will likely be filled largely by members who take large amounts of fossil fuel money, something we were clear could not lead to the action we need."