In direct contrast to comments he made last month regarding "political stunts," it appears Senate Majority Leader Mitch McConnell plans to do just that.
The Senate will vote on new climate change legislation known as the Green New Deal, McConnell told reporters Tuesday, without offering a specific timetable. The ambitious proposal has been spearheaded by Representative Alexandria Ocasio-Cortez, a New York Democrat. It was officially unveiled in Congress last week by Ocasio-Cortez and Democratic Senator Edward Markey in the form of nonbinding resolutions.
McConnell said he will have the Senate vote on the initiative to "give everybody an opportunity to go on record and see how they feel."
The move is viewed as a political one, aimed at forcing rank-and-file Senate Democrats to take a stance on the progressive proposal, which has been co-sponsored by liberal congressional members and Democratic presidential candidates in the Senate. However, it's received far less support and more pause from moderate Democrats while receiving criticism from Republicans.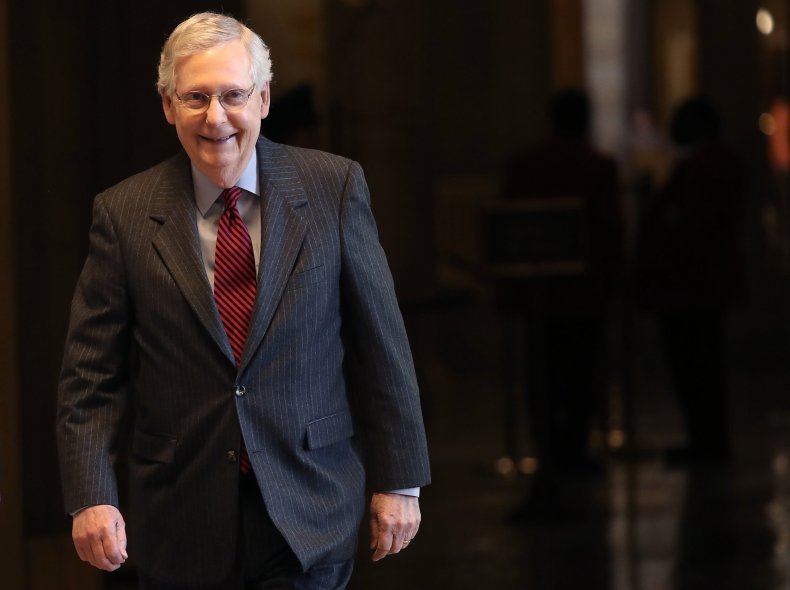 During the government shutdown last month, McConnell blocked an attempt by Senate Democrats to force a vote on a House-passed spending bill to reopen the government that lacked Trump's backing. He accused Senate Minority Leader Chuck Schumer and his Democratic colleagues of conducting a "political stunt."
"The last thing we need to do right now is trade pointless—absolutely pointless—show votes back and forth across the aisle," McConnell told Schumer January 10 on the Senate floor. "So look, the political stunts are not going to get us anywhere."
The Green New Deal calls for, among other things, using 100 percent renewable energy resources and net-zero greenhouse gas emissions within 10 years, goals that many believe are impractical and expensive achievements to be reached in such short time.
Schumer offered his own challenge to McConnell. "The first question Republicans should answer is: What is their answer on climate change?" Schumer said. "What are they going to put forward?"
Republicans have not offered an alternative measure to the Green New Deal and have not indicated they plan to do so.
Ocasio-Cortez's comments suggesting that millionaires may have to pay 70 percent in taxes to fund the Green New Deal, coupled with a rocky unveiling, have not helped her case in winning over her more moderate colleagues. Her office appeared to accidentally release a controversial "fact sheet" along with last week's legislative resolution, which claimed the measure would provide "economic security for all who are unable or unwilling to work."
House Speaker Nancy Pelosi previously told Politico the Green New Deal was a "suggestion," saying it will "be one of several or maybe many suggestions that we receive."
"The green dream, or whatever they call it, nobody knows what it is, but they're for it right?" Pelosi said.
So far, Senators Elizabeth Warren, Kamala Harris, Amy Klobuchar, Kirsten Gillibrand and Cory Booker, who are all running for president, have co-sponsored the legislation. Independent Senator Bernie Sanders co-sponsored the deal but has not said definitively if he will run in 2020.