Here's How the Green New Deal Compares to a Proposed Republican Climate Plan — The Green Real Deal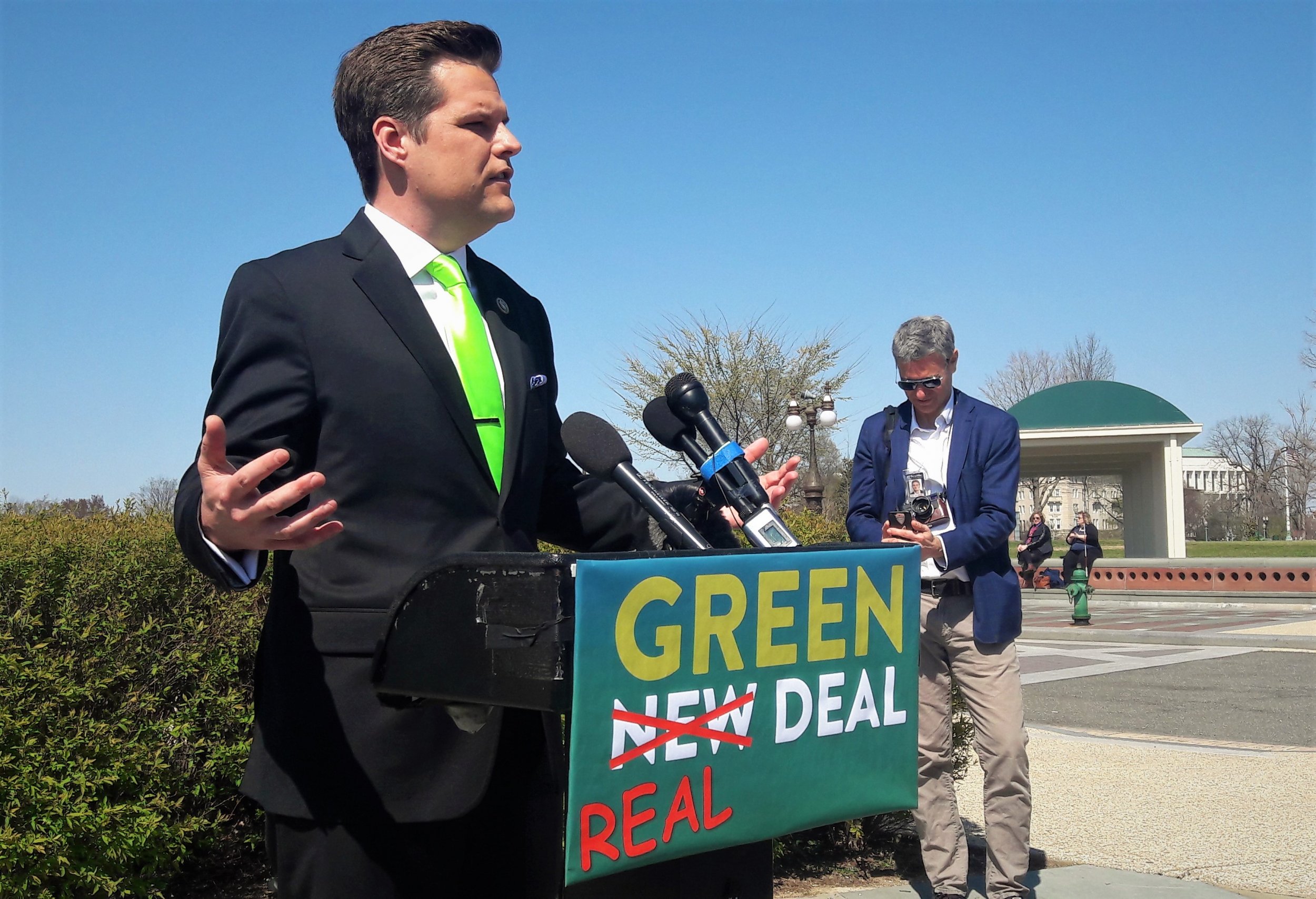 Representative Matt Gaetz has officially unveiled his new climate change proposal dubbed the Green Real Deal, an intentional snub and a "common sense rebuttal," according to the Florida Republican, to Democrat Alexandria Ocasio-Cortez's Green New Deal.
Sporting a lime green tie while speaking to reporters outside the U.S. Capitol building Wednesday, Gaetz classified his climate change resolution as a "love letter to the American innovator" and a "real, serious plan to address climate change."
Despite being a member of the conservative House Freedom Caucus, he took a swipe at not only Democrats—but members of his own party, too.
"History will judge harshly my Republican colleagues who deny the science of climate change," Gaetz said. "Similarly, those Democrats who would use climate change as a basis to regulate out of existence the American experience will face the harsh reality that their ideas will fail."
Gaetz, who represents the Sunshine State's panhandle region, said he acknowledges the national security threats that climate change poses to the U.S., and he said his solution "rejects regulation as the driving force of reform and instead unlocks the unlimited potential of American innovation and ingenuity."
But in the previous Congress, Gaetz backed legislation to abolish the Environmental Protection Agency, prompting critics to call into question his sincerity of addressing climate change.
"I don't think the EPA has done a good enough job addressing climate change," he said. "I think the EPA is an $8 billion bloated entity, and if we embrace some of these market-driven reforms, we could deploy those resources where there could be better utilization and, ultimately, a cleaner environment."
Speaking with Newsweek, Ocasio-Cortez called Gaetz's Green Real Deal proposal "weak" and "lame," saying it lacked "audacity" and "courage."
Here's how the Florida Republican's new climate change proposal stacks up to that of the New York Democrat's.
The Green New Deal
Filed in both the House and Senate as a non-binding resolution, the ambitious climate change proposal co-sponsored by Ocasio-Cortez, a freshman member of Congress, has received widespread criticism from Republicans and the president as a plan that is too expensive, unrealistic and broad.
The Green New Deal sets out to achieve net-zero greenhouse gas emissions by mid-century, in part by overhauling the economy and Americans' energy consumption. Citing a United Nations report, it advocates for reducing global greenhouse gas emissions by 40 to 60 percent from 2010 levels by 2030, wants to achieve net-zero global emissions by 2050 and says the U.S. must help keep global temperatures "below 1.5 degrees Celsius above preindustrialized levels."
By investing in renewable energies and farming, exponentially increasing the use of high-speed railways and "upgrading all existing buildings in the United States," while at the same time moving away from fossil fuels, the resolution and its proponents argue it is plausible. It sets a goal to meet 100 percent of the U.S. power demand through "clean, renewable and zero-emission energy sources" within 10 years.
It also calls for an economic stimulus package to "create millions of good, high-wage jobs" and to remove pollution from the manufacturing industry "as much as is technologically feasible."
In draft documents that were later walked back by Ocasio-Cortez's office and were not filed as official resolution text, the Green New Deal called for the U.S. to have net-zero greenhouse gas emissions by 2030.
Although admittedly not an exact blueprint solution, Ocasio-Cortez says her proposal is a good start to tackling the issue of climate change.
"What we should be debating are the technologies and actual policies that we're enacting. The ones that we should be entertaining are in the resolution itself," Ocasio-Cortez told Newsweek. "I think that passing the resolution would be an enormous step. At the same time, I think we've accomplished 90 percent of the resolution's goals, which is a plan."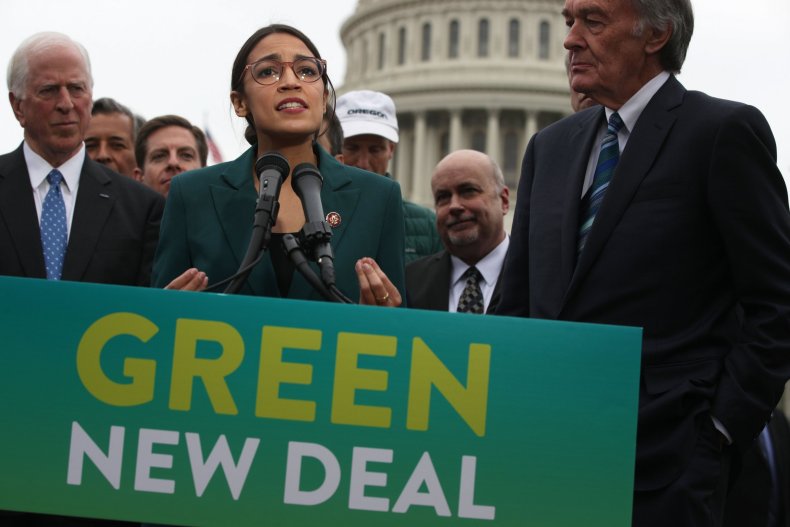 Gaetz hit at her proposal at his unveiling, saying it would add too many government regulations and stifle the free market.
"Unilaterally disarming the American economy through crushing regulations will empower Washington but few others," he said.
The Green Real Deal
Touted as the "conservative re-imagining of the Green New Deal," Gaetz said his proposal seeks to drive down greenhouse gas emissions via four main avenues: fewer government regulations (specifically removing regulations barring federal lands from being used for "renewable energy research"), modernizing the electric grid, investing in cleaner technologies like nuclear energy, hydropower and carbon capture, and better protecting the intellectual property of American clean energy innovators.
Gaetz said that "current global trade and intellectual property policies fail to protect American innovation" from China and that the current electric grid "functions as a wet blanket over American innovation because there is no mechanism by which we can have renewable technology used, given the vast fluctuations in capability, production and utilization of renewables."
Rather than move entirely away from fossil fuels, Gaetz's resolution states it seeks to invest more in carbon capture storage and use in order to reduce or achieve net-zero emissions "from energy produced from fossil fuels." A staff member provided Newsweek with the resolution, which they said Gaetz plans to file sometime Wednesday.
A point reiterated by the Florida congressman was that he did not want to stifle "American innovation," which he accused Ocasio-Cortez's Green New Deal of doing "through a regulatory model."
Gaetz declined to name specific emissions goals, as the Green New Deal does, because he does not "think that linear carbon emissions reductions are the path to success."
"I think that, ultimately, we unlock innovation exponentially if we create these platforms for innovation," he said. "If you merely create carbon emissions reductions goals and you don't have the strategy to achieve them, it becomes elusory… We can always measure progress by the capabilities that we enhance."
President Donald Trump has shown little appetite for addressing climate change. Trump and his administration have continuously knocked Ocasio-Cortez and the Green New Deal and made false claims about renewable energies. Speaking at a Republican fundraising event Tuesday evening, Trump claimed that the noise from windmills "causes cancer."
But Gaetz, who said fellow Florida Republican Francis Rooney was his only co-sponsor thus far, expressed optimism for garnering future support from congressional Republicans—even the president. Gaetz said that in conversations with him, Trump has been "very bullish about the potential of American solar" and that publicly, he's embraced some features of the Green Real Deal.
"You should ask every Republican whether or not they believe in the science of climate change," Gaetz said. "If Republicans do acknowledge the climate is changing, then it's incumbent upon each and every one of them to support a solution—not to merely acknowledge the problem and stay with their heads stuck in the sand."