Alexandria Ocasio-Cortez: Republican Matt Gaetz's Climate Change Proposal is 'Weak' and 'Lame'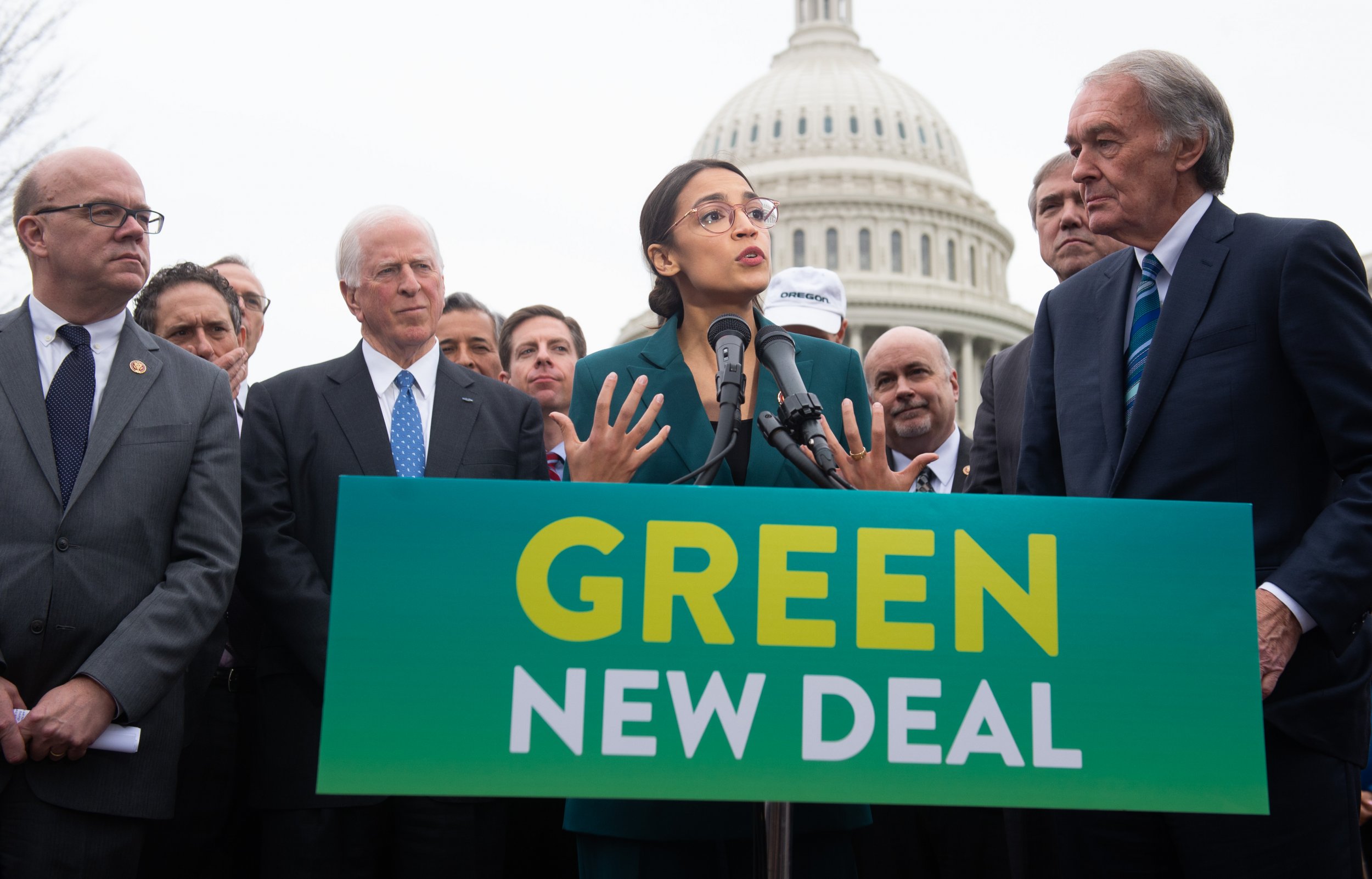 Freshman Congresswoman Alexandria Ocasio-Cortez, Democrat from New York and co-sponsor of the Green New Deal, maintains confidence that House Democratic leadership will push forward with some of the measures outlined in her ambitious climate change proposal, she told Newsweek Wednesday.
At the same time, she says that while her Republican critics, like President Donald Trump and Florida GOP Congressman Matt Gaetz, may knock the proposal as unrealistic and too extreme, they have nothing substantive to offer as a counter-proposal. Gaetz, a frequent GOP critic of Ocasio-Cortez and a Trump ally who supports abolishing the Environmental Protection Agency, will unveil his response to the Green New Deal Wednesday afternoon, also in the form of a non-binding resolution, which he calls the Green Real Deal.
"It's just so weak, it's so lame," Ocasio-Cortez told Newsweek of Gaetz's Green Real Deal proposal. "Where's the courage? Where's the audacity? Where's the daring? None of it is there. Where's the beef?"
A draft copy of Gaetz's resolution obtained by Politico last month acknowledged the threats posed by climate change and said that the government should take actions to reduce greenhouse gas emissions, but it stopped short of setting specific targets or a timeline. Gaetz's proposal, which his office has said will "highlight realistic and viable options to combat the effects of climate change," will be the most detailed House Republican plan to address climate change since the Green New Deal was introduced earlier this year. GOP Senator Lamar Alexander has also previewed a new proposal called the New Manhattan Project, which he said will focus on nuclear energy, more electric vehicles and cheaper solar energy.
Ocasio-Cortez predicted that the biggest takeaway from Gaetz's resolution would be more research rather than action.
"Thirty years of research are in. It's conclusive, it's decisive," she said. "We have solutions that have already been scoped out. More research is not a plan to save our kids."
In contrast, Ocasio-Cortez's Green New Deal wants the U.S. to operate on 100 percent renewable energy within 10 years and achieve net-zero greenhouse gas emissions by mid-century, in addition to invoking an economic stimulus plan that creates jobs and invests in cleaner forms of transportation, like high-speed railways. Citing a United Nations report, the resolution advocates for reducing global greenhouse gas emissions by 40 to 60 percent from 2010 levels by 2030 and wants to achieve net-zero global emissions by 2050.
Republicans have argued the plan is too expensive and unrealistic because it calls for a complete overhaul of the U.S. economy and energy consumption to occur in such a short amount of time, as well as "upgrading all existing buildings in the United States." Republicans also blasted the Green New Deal after draft briefing documents, which were later walked back by Ocasio-Cortez's office, suggested the greenhouse gas emissions goals should be met in the U.S. by 2030, cars and planes should be phased out, referred to "farting cows" and promised "economic security for all who are unable or unwilling to work."
On Tuesday night, Trump again lambasted Ocasio-Cortez, saying at a fundraising dinner for the National Republican Congressional Committee that the Green New Deal was "done by a young bartender, 29 years old."
"A young bartender, wonderful young woman, the Green New Deal. The first time I heard it, I said, 'That's the craziest thing,'" Trump added, but then told Republicans not to kill the proposal just yet. "Don't kill it because we want to be able to run against it. If they beat me with the Green New Deal, I deserve to lose."
Responding to Trump's criticism, Ocasio-Cortez told Newsweek: "The last guy who underestimated me lost. That's all I gotta say about that."
In a surprising upset, Ocasio-Cortez unseated incumbent Democratic Congressman Joseph Crowley in her 2018 primary election.
Even though House Speaker Nancy Pelosi has established the Select Committee on the Climate Crisis and has said addressing climate change will be a focus for House Democrats, leadership has showed little willingness to consider the Green New Deal in its entirety.
"Our select committee is going to be putting together the package of policy proposals that will be largely in the spirit of the New Green Deal," Democrat Kathy Castor, chair of the select committee, told Newsweek last week.
But Ocasio-Cortez said that was acceptable to her, so long as Congress begins to extrapolate measures from her broad proposal and consider concrete steps that could be taken toward addressing climate change. Afterall, she pointed out, even if the non-binding resolution that is the Green New Deal had a clear pathway through both chambers, "nothing will actually happen."
"What we should be debating are the technologies and actual policies that we're enacting. The ones that we should be entertaining are in the resolution itself," Ocasio-Cortez said. "I think that passing the resolution would be an enormous step. At the same time, I think we've accomplished 90 percent of the resolution's goals, which is a plan."