Beto O'Rourke, the former Texas congressman and Senate candidate who's been mulling over a 2020 presidential run, added his name Monday evening to the list of Democrats who say they back Congresswoman Alexandria Ocasio-Cortez's Green New Deal to combat climate change.
During his rally to counteract President Donald Trump's border wall event in El Paso, Texas, Monday night, O'Rourke told BuzzFeed News the Green New Deal was "the best proposal" that he'd seen to address global warming.
"I'm really excited about the leadership there to meet our commitment to the generations that follow. It is the best proposal that I've seen to ensure that this planet does not warm another 2 degrees Celsius, after which we may lose the ability to live in places like El Paso," O'Rourke, an El Paso native, told BuzzFeed. "It's going to take that kind of effort to ensure that we meet our commitments."
The handful of Democratic senators already running for president, including Elizabeth Warren, Kamala Harris, Amy Klobuchar, Kirsten Gillibrand and Cory Booker, have co-sponsored the legislation filed as a resolution. Independent Senator Bernie also co-sponsored the deal.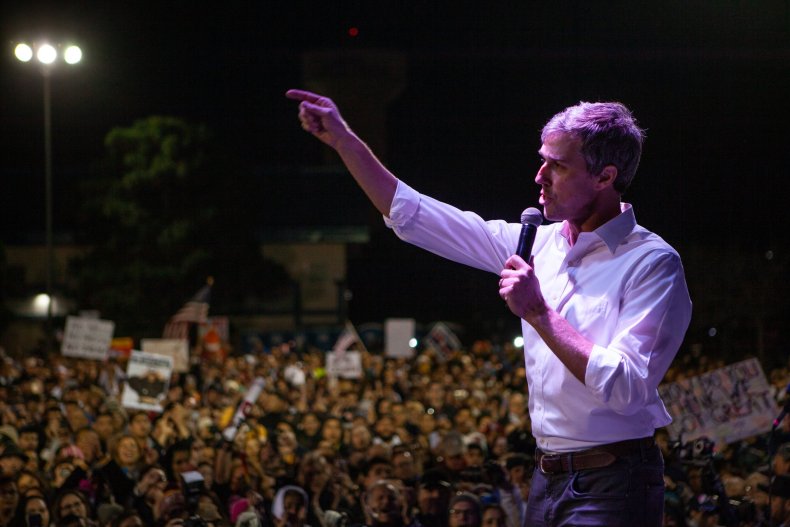 At his Monday evening counter rally, O'Rourke spoke like someone who was already a 2020 presidential candidate ready to take on Trump. Asked whether he would run, O'Rourke again said he had not made up his mind.
"I just want to make sure that whatever I do next does the greatest good for this country, and I want to make this town proud. I just want to focus on supporting El Paso tonight," he told CNN. "Before the end of this month, I'll make a decision and an announcement."
Some congressional Democrats were recently forced to clarify their stance on the Green New Deal after a controversial "fact sheet" highlighting contradictory language from the proposed legislation was reportedly released by Ocasio-Cortez's office.
One of the bullet points included "economic security for all who are unable or unwilling to work," a provision that conservatives pounced on to ridicule the proposal. It also said the goal was "net-zero" rather than "zero" greenhouse gas emissions within 10 years because "we aren't sure that we'll be able to fully get rid of farting cows and airplanes that fast."
The New York congresswoman tried to walk back the document, tweeting that there were "multiple doctored GND resolutions and FAQs floating around" in addition to "draft versions floating out there." Her chief of staff, Saikat Chakrabarti, tweeted that they had worked on the Green New Deal "in collaboration with a bunch of groups and offices over the course of the last month. As a part of that process, there were multiple iterations, brainstorming docs, FAQs, etc. that we shared. Some of these early drafts got leaked."
But reporters and news organizations said the fact sheet had been provided by Ocasio-Cortez's office before the legislation's official release and was not "leaked" to them.
"There separately IS a doctored FAQ floating around. And an early draft of a FAQ that was clearly unfinished and that doesn't represent the GND resolution got published to the website by mistake (idea was to wait for launch, monitor q's, and rewrite that FAQ before publishing)," Chakrabarti tweeted.
Still, the climate change initiative has been met with heavy resistance by Republicans and some reluctance from more moderate Democrats. The legislation calls for "net-zero" greenhouse gas emissions in the U.S. within 10 years and plans to include major economic overhauls to create more jobs—a proposal critics say is not realistic because of the time frame and the country's reliance on fossil fuels. Last month, Ocasio-Cortez suggested the nation's wealthiest citizens, specifically those who make upwards of $10 million a year, may have to pay about 70 percent in taxes to fund the deal.