Representatives Alexandria Ocasio-Cortez, a New York Democrat, and Dan Crenshaw, a Texas Republican, two spitfire freshman Congress members on opposite sides of the aisle, sparred over proposed tax rates and the Super Bowl.
"Should someone propose a 70 percent tax on the Patriots so that NFL competition is more fair and equal? Asking for a friend," Crenshaw joked on Twitter during Sunday night's Super Bowl, which the New England Patriots won.
Ocasio-Cortez, a Democrat, who has proposed a marginal tax rate of 70 percent on all income over $10 million, shot back at the Texas Republican. "The average NFL salary is $2.1 million, so most players would never experience a 70 percent rate," she tweeted.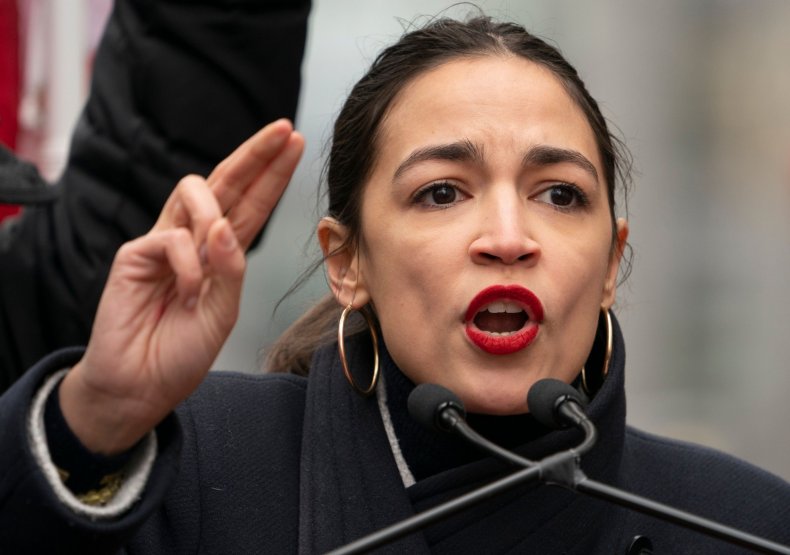 "The owners who refuse to hire Kaepernick would, though," she added, referring to quarterback Colin Kaepernick who has been exiled from the NFL for kneeling during the national anthem to protest racial injustice in the United States.
Crenshaw, a former Navy SEAL, previously moderated a Facebook group that posted racist memes and promoted the Unite the Right rally in Charlottesville, Virginia. He later said that he "never actively managed or interacted with that page."
A recent poll by The Hill and Harris X found that 59 percent of voters supported the idea of taxing all income over $10 million by 70 percent, with 45 percent of Republicans surveyed saying they backed the plan. About 39 percent of Americans agreed with the Republican tax plan to lower the marginal rate on the wealthiest Americans from 39.6 percent to 37 percent, according to Gallup.
This is not the first time an overconfident Crenshaw has tried to explain something to a woman. In January, he received some flack for "mansplaining" border security to Juliette Kayyem, an international security professor at Harvard University and former assistant secretary at the Department of Homeland Security.
After Kayyem tweeted about drugs that come into the United States through official ports of entry, Crenshaw tweeted back at her: "I'm trying to give you the benefit of the doubt here since I know you are from Harvard, but it's difficult. Answer this question honestly please: why does a drug bust at a [port of entry] prove your case that fencing shouldn't be used in between POE's? You realize they are separate issues right?" Crenshaw received his master's degree at Harvard last year.
Crenshaw again responded to the professor's tweet: "And by the way, as I type this, I am in a vehicle with CBP at the border. Happy to put you on the phone with them so you can learn more about this and properly inform your students," he tweeted.
Kayyem eventually responded, calling out the congressman, who has served for about a month, for his "he man stuff."
"Your first tweet is fair and I'll get to it. Your 2nd is ad hominem and condescending and for someone who has tried to elevate the convo, you should read my bio before playing that game. I've dealt with that he man stuff a lot. I'm on vacation so standby. Congressman," she tweeted.