Alexandria Ocasio-Cortez Fans Are Loving Her Instagram Live Videos: 'I Wish More Politicians Were Real Like This'
On Sunday, Representative-elect Alexandria Ocasio-Cortez cooked up a social media storm when she talked politics over a pot of black bean soup in an Instagram Live video watched by thousands.
But while many viewers praised the politician's embrace of social media, some critics blasted her as inexperienced and "bulls***."
Countless Twitter users applauded the video from Ocasio-Cortez, who will become the youngest woman ever to serve in Congress come January.
"She was talking about policy and cooking and being watched by 5K people," wrote user Mahatma Kane Jeeves. "The accessibility she is bringing to the public of what it means to run for office and what it means to be a public servant is incredible."
"I am completely absorbed by [Ocasio-Cortez's] live story on Instagram right now. She's cooking dinner, answering questions, and talking policy. Something is happening here that we haven't quite seen before in politics," wrote user Adam B. Golub.
"This is how you talk politics at the dinner table. I wish more politicians were real like this," wrote Renee Bracey Sherman.
A number of users compared the video to President Franklin D. Roosevelt's legendary fireside chats: radio broadcasts used by FDR to explain complex political issues to listeners in their own homes.
"It's kinda like the next generation of FDR's fireside chats. Except with peppers. And two-way chatting," wrote user EJR Taine.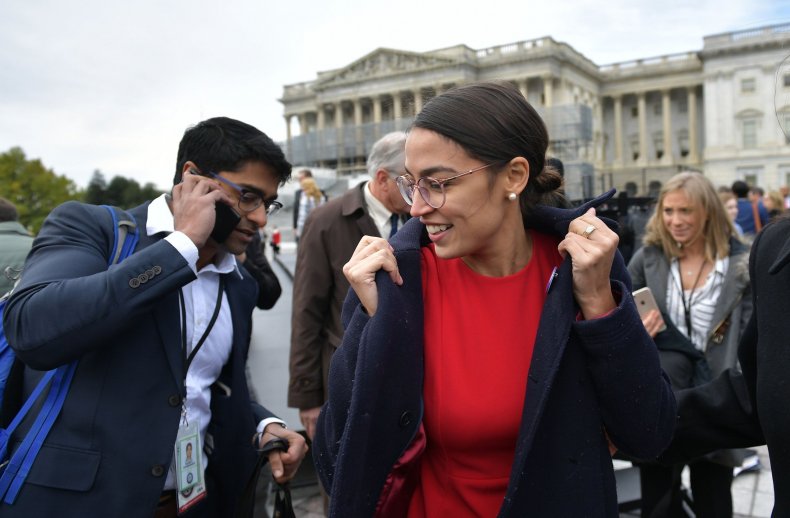 But others railed against the self-described democratic socialist. User browncarol criticized Ocasio-Cortez's experience, writing: "Real accomplishment comes with age and maturity and years of work."
"I'm...old and find the constant navel gazing on her social uninteresting. Go make some policy happen," wrote Twitter user Christine Lopez.
User Todt Fleisch commented: "It's the same bulls*** repackaged."
Last week, Fox host Laura Ingraham blasted the politician's "wacky" views—but Ocasio-Cortez responded by posting a Fox News screenshot on Instagram with the comment, "Fox News discovered our vast conspiracy to take care of children and save the planet."
Ocasio-Cortez blasted Republicans "drooling" over her videos Sunday, in response to a tweet from Representative Niraj Antani.
Antani criticized another video in which Ocasio-Cortez referred to the executive, legislative and judicial branches of government as three "chambers" of government: the presidency, the Senate and the House.
"Maybe instead of Republicans drooling over every minute of footage of me in slow-mo, waiting to chop up word slips that I correct in real-[time] they actually step up enough to make the argument they want to make: that they don't believe people deserve a right to healthcare," she tweeted.