Laura Ingraham Says New Democrat Women in Congress Are on 'Warpath Against White Men': 'Dark, Pink Clouds Gathering'
Fox News host Laura Ingraham has blasted congresswomen-elect Rashida Tlaib, Ilhan Omar, Ayanna Pressley and Alexandria Ocasio-Cortez as "far-left newbies" that will make governing the Democratic Party "all but impossible."
"There are dark, pink clouds gathering on the horizon," she said on her show Tuesday night, before she accused the women of wanting "wacky" policies, holding anti-Israel biases and going on the "warpath against white men."
Rashida Tlaib and Ilhan Omar are the first Muslim American women elected to Congress. Ayanna Pressley is the first black woman to represent Massachusetts in the U.S. House of Representatives, and at 29 years old, Alexandria Ocasio-Cortez is the youngest woman ever elected to the House.
Ingraham said the women posed a particular problem for Nancy Pelosi, who has been touted as a likely Democratic pick for House speaker. "These progressive upstarts have all the juice, all the energy and all the excitement," Ingraham said. But they have a different take on the "political gender card" that Pelosi "perfected," she added.
Ingraham went on to list the "wacky," "radical" policies supported by the women, including free health care for all and free college education.
"These women may as well be the four horsemen of the apocalypse for the Democratic Party if you ask me," she said, before criticizing their views on foreign policy.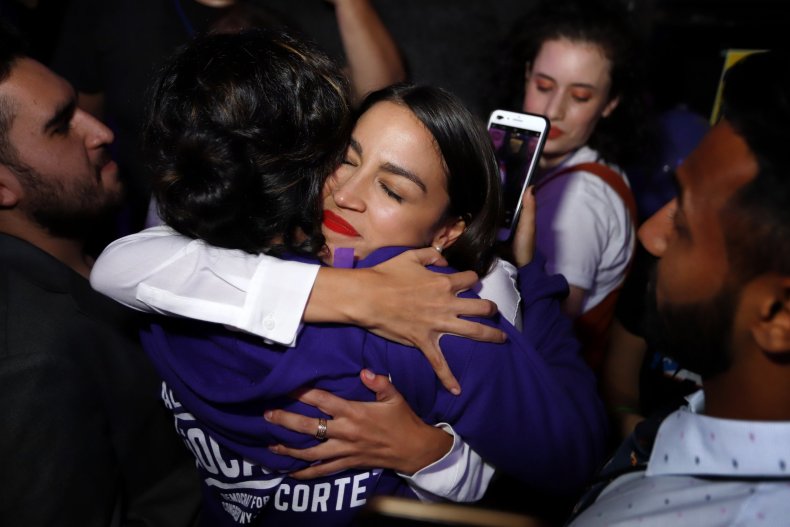 Ingraham accused Ocasio-Cortez of espousing a "downright disturbing" anti-Israel bias, saying she had previously called Israel "an occupier of Palestine," on PBS's Firing Line last July. She then criticized Ocasio-Cortez's explanation of her comments, mocking a perceived hesitance.
"When pressed to explain her views, well, you know, it was like uh—not pretty," Ingraham said. Ocasio-Cortez had told PBS's Margaret Hoover she was referring to increasing settlements "in places where Palestinians are experiencing difficulty in access to their housing."
The topic came up in the original interview when Ocasio-Cortez was pressed on a tweet in which she described the killing of tens of Palestinians by Israeli forces during protests as a "massacre."
She argued that, as an activist, it was difficult to see the killing of so many civilians as anything else. In the same interview, however, she said, "I believe absolutely in Israel's right to exist," and said she supported a "two-state solution".
On Tuesday, Ingraham said Tlaib and Omar's views go "even further," adding that Tlaib endorsed a "one-state solution." She said Omar had previously tweeted that "Israel has hypnotized the world," into ignoring its "evil doings."
Ingraham then called Pressley, "a leftist on the warpath against white men," before showing footage of the congresswoman-elect calling for "drastic change" and "activist leadership.
"You can be certain these far-left newbies [are] going to make governing all but impossible for the Democrats in leadership," she added.
This article has been updated to clarify that Laura Ingraham is a Fox News host.