Ocasio-Cortez Slams Israeli 'Occupation,' Walks It Back: I Am 'Not the Expert'
Democratic congressional candidate Alexandria Ocasio-Cortez sparked widespread debate after describing Israel's presence in the West Bank, a Palestinian territory, as an "occupation" during a television interview.
In an interview with PBS Firing Line host Margaret Hoover, Ocasio-Cortez said, "What people are starting to see, at least in the occupation of Palestine, is just an increasing crisis of humanitarian condition. That, to me, is just where I tend to come from on this issue."
Asked to explain what she meant by her use of the word "occupation," Ocasio-Cortez said, "Oh, I think what I meant is that the settlements that are increasing in some of these areas and places where Palestinians are experiencing difficulty in access to their housing and homes."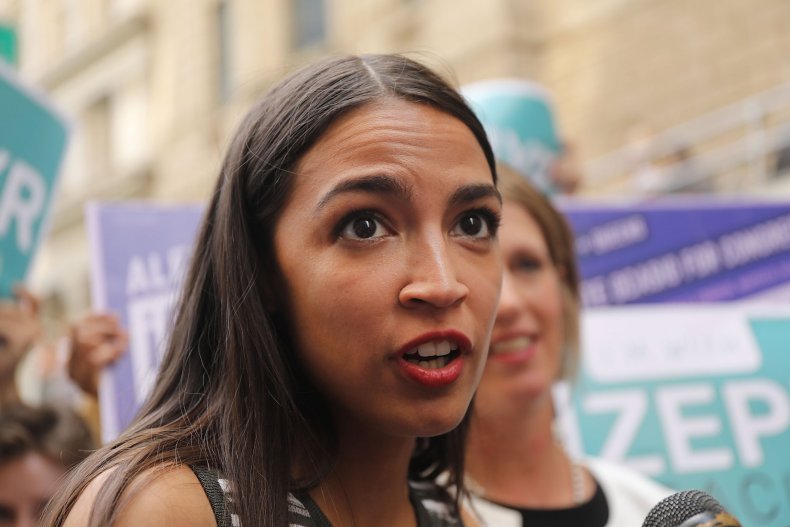 The Democrat, who shocked the country last month with her win over senior Democrat Joseph Crowley in a stunning primary upset, then appeared to walk back her statement, clarifying that she is "not the expert on geopolitics on this issue."
"I am a firm believer in finding a two-state solution on this issue, and I'm happy to sit down with leaders on both of these," she said. "For me, I just look at things through a human rights lens, and I may not use the right words. I know this is a very intense issue," she said.
Her comments sparked controversy online, with the Republican Jewish Coalition tweeting: "PBS interview reveals Alexandria Ocasio-Cortez knows nothing about Israel."
Others defended the politician, with one Twitter user, who identified himself as Fordham University Professor Garrett Broad, writing: "So, Ocasio-Cortez is clearly not an expert. But it is worth noting that The International Court of Justice, the UN General Assembly, and the United Nations Security Council all regard Israel as the 'Occupying Power' in the West Bank and Gaza strip."
Despite backlash to Ocasio-Cortez's use of the word occupation, the Israel military has been occupying parts of the West Bank territory since the Six-Day War, in 1967, according to the United Nations.
Last year, which marked the 50th anniversary since the start of the 1967 Arab-Israeli war, U.N. Secretary-General António Guterres reiterated the intergovernmental organization's call for the establishment of an independent Palestinian state.
"Now is the time to end the conflict by establishing an independent Palestinian state," Guterres said in a statement. "Living side by side in peace and security with the State of Israel."
Related: Ocasio-Cortez slams conservative Newsmax host for sharing photo of her childhood home
At the time, Guterres said the occupation of the West Bank, East Jerusalem, Gaza and the Syrian Golan, which saw hundreds of thousands of Palestinians and Syrians displaced, has imposed a heavy humanitarian and development burden on the Palestinian people.
The U.N. head also warned that continued settlement construction and expansion was contributing to the creation of a one-state reality that the U.N. said was "incompatible with realizing the legitimate national and historic aspirations of both peoples."
In May, the U.N. Human Rights Council voted to launch an international war crimes inquiry into the deaths of nearly 60 Palestinians who were killed by Israeli gunfire amid mass border protests during the same month.
Ocasio-Cortez also spoke out against the Israeli government's treatment of Palestinian people then, calling on her peers to have the "courage" to call the deadly shootings a "massacre."
"This is a massacre. I hope my peers have the moral courage to call it such," she wrote on Twitter. "No state or entity is absolved of mass shootings of protesters," she said.
"There is no justification. Palestinian people deserve basic human dignity, as anyone else. Democrats can't be silent about this anymore," Ocasio-Cortez added.
Both the Republican and Democratic parties have largely adopted a pro-Israel stance over the past two decades, however, with both sides making calls for the long-disputed city of Jerusalem to be recognized as Israel's capital.