Alexandria Ocasio-Cortez Slams Republicans Who 'Can't Conceive of a Life Where People Don't Casually Maintain Two Homes'
Democratic Representative Alexandria Ocasio-Cortez has hit back at Republicans for criticizing her for talking about the difficulties of paying rent in Washington, D.C., as well as in New York's Bronx, an area she represents.
Before taking office, Ocasio-Cortez said she had to wait for her congressional salary to kick in before she could afford an apartment in the nation's capital, the fifth most expensive city in the U.S.
Read more: The only "Conservative outrage" at Alexandria Ocasio-Cortez is over her bad policies | Opinion
In November, she said that "there are many little ways in which our electoral system isn't even designed (nor prepared) for working-class people to lead."
After facing backlash for her candor, with some commentators accusing her of putting on "an act," Ocasio-Cortez responded to her critics on Sunday for "taking cheap shots."
"The thing Republicans taking cheap shots forget to mention is that it's about having trouble affording a SECOND apartment," Ocasio-Cortez said in a Twitter post on Sunday.
"I live in the Bronx and work in D.C. Need a spot in both. But I understand how they can't conceive of a life where people don't casually maintain two homes."
The New York congresswoman was responding to a tweet from activist Jordan Uhl, who said it was "great that @AOC could even maintain rent while campaigning and especially during the post-election/pre-swearing in period.
Responding to a tweet from Candace Owens who accused Ocasio-Cortez of being "so fiscally irresponsible that she hadn't saved up enough money to rent an apartment in the Washington, D.C. area," Uhl wrote, "Imagine thinking it's a worker's fault they can't pay rent in D.C. *and* NYC [conveniently omitted from Candace's tweet] and not a problem attributable to low wages failing to keep up with inflation and cost-of-living.
"Expecting her to easily drop serious cash in another high-rent area is ludicrous and only perpetuates the idea that the wealthy are worthy electeds," Uhl said.
According to Rentcafé, which provides insights on rental market trends, the average rent for a one bedroom apartment in the Bronx is $1,764 per month, while in Washington, D.C., the average rent for a one bedroom apartment is $1,996.
Since her election victory in the November midterms, Ocasio-Cortez, 29, has faced intense scrutiny from Republican commentators and politicians, particularly over her clothing, financial status and level of experience.
Many detractors have also tried to pick apart her personal story of having come from a working-class background, given that her family moved from the Bronx to a Westchester County suburb when she was 2 years old.
On Monday, President Donald Trump was asked by a reporter to respond to comments from Ocasio-Cortez, in which she called him a "racist."
The U.S. leader made a dismissive gesture with his hand, before asking, "who cares?"
In response, the 29-year-old tweeted out that she "bartended for *years* in New York City" and understands "guys like" Trump "like the bank of my hand."
"We got under his skin," she said, before adding in a second tweet: "I'd say we'd be taxing 70 percent of Trump's income, but he probably hasn't made more than $10 million in years—and that's the real reason he's hiding his taxes."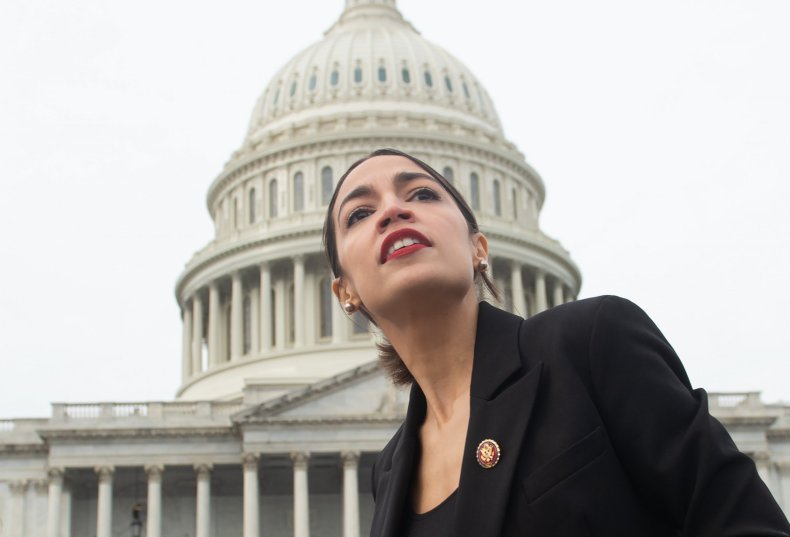 This article has been updated with comments from President Donald Trump and Alexandria Ocasio-Cortez.