Alexandria Ocasio-Cortez Slams Republican Commentators for Doctoring Her Livestreams to 'Sow Doubt in My Intelligence'
New York Congresswoman-elect Alexandria Ocasio-Cortez has hit back at Republican commentators, accusing them of "stalking, doctoring and editing" her social media livestream videos in order to "sow doubt" about her intelligence.
"Cognitive dissonance is Republican commentators stalking, doctoring, and editing my casual livestreams out of context...all while blindly supporting a man who thinks our greatest defense against forest fires is: A Rake," Ocasio-Cortez tweeted on Wednesday, striking back at Republican critics, while also taking a jab at President Donald Trump over his recent comments on wildfire prevention.
Her accusations of video stalking and doctoring appeared to refer to badgering from Republican commentators over a slip-up she made in a livestream video posted on Sunday when she used the phrase "chambers of Congress" before correcting herself to say "chambers of government, the presidency, the Senate and the House," which was technically still wrong.
Read more: Alexandria Ocasio-Cortez praised for annihilating "trolls" in livestreams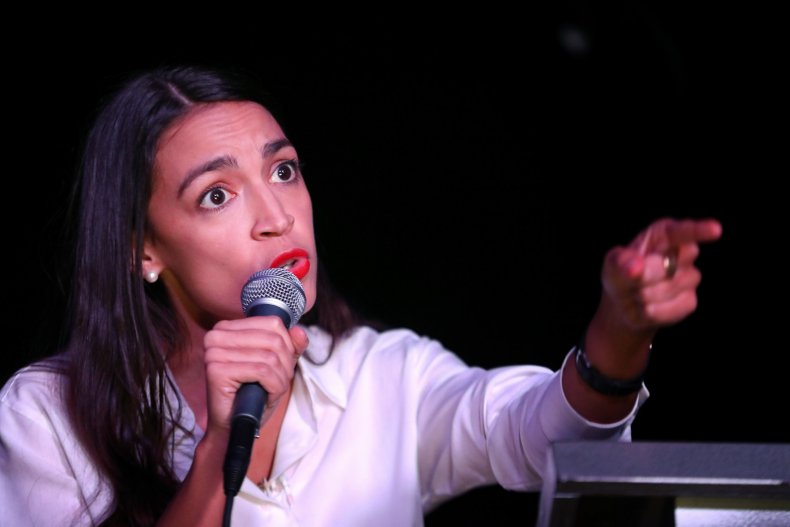 Republican commentators jumped on the slip-up, pointing out that Congress had two chambers, the House and the Senate, while the government has three branches: executive, legislative and judicial.
"What is a chamber of government?" Ohio Republican Representative Niraj Antani asked on Twitter on Monday.
Ocasio-Cortez was quick to respond, writing: "Maybe instead of Republicans drooling over every minute of footage of me in slow-mo, waiting to chop up word slips that I correct in real-[time], they actually step up enough to make the argument they want to make: that they don't believe people deserve a right to healthcare."
As the youngest woman elected to Congress in the history of the United States, 29-year-old Ocasio-Cortez has come under significant scrutiny, with detractors questioning whether she has enough experience to do the job.
Detractors have also pored over other aspects of Ocasio-Cortez's life, including her financial status, her clothing and where she grew up, questioning her account of her working-class Bronx roots.
During her election campaign, Newsmax's John Cardillo posted a photo of the home Ocasio-Cortez grew up in, saying "this is the Yorktown Heights (very nice area) home" Ocasio-Cortez "grew up in before going off to Ivy League Brown University. A far cry from the Bronx hood upbringing she's selling."
Ocasio-Cortez corrected Cardillo, saying that she "did not go to Brown or the Ivy League," but to Boston University.
"Try Google," she wrote, adding that the area she grew up in was "nice."
"Growing up, it was a good town for working people. My mom scrubbed toilets so I could live here, and I grew up seeing how the ZIP code one is born in determines much of their opportunity."
"Your attempt to strip me of my family, my story, my home, and my identity is exemplary of how scared you are of the power of all four of those things," Ocasio-Cortez wrote.
Recently, Washington Examiner reporter Eddie Scarry tweeted a photo of Ocasio-Cortez showing her from the back, writing: "Hill staffer sent me this pic of Ocasio-Cortez they took just now. I'll tell you something that jacket and coat don't look like a girl who struggles."
Ocasio-Cortez responded: "If I walked into Congress wearing a sack, they would laugh and take a picture of my backside. If I walk in with my best sale-rack clothes, they laugh and take a picture of my backside."
When the reporter quietly deleted the tweet amid significant backlash, Ocasio-Cortez tweeted: "Oh, does Scarry think he can delete his misogyny without an apology? I don't think so. You're a journalist–readers should know your bias."
"Dark hates light–that's why you tune it out," she said. "Shine bright and keep it pushing."