Thousands of miles across the Atlantic, people in Finland are making a mockery out of President Donald Trump after the U.S. leader called on Americans to be more like Finns and take care of their forest floors by "raking and cleaning and doing things."
The president made the comments during a trip to survey the damage wrought by the Camp Fire in Paradise, California, asserting that American have "gotta take care of the floors, you know, the floors of the forest."
"You look at other countries where they do it differently and it's a whole different story," Trump said.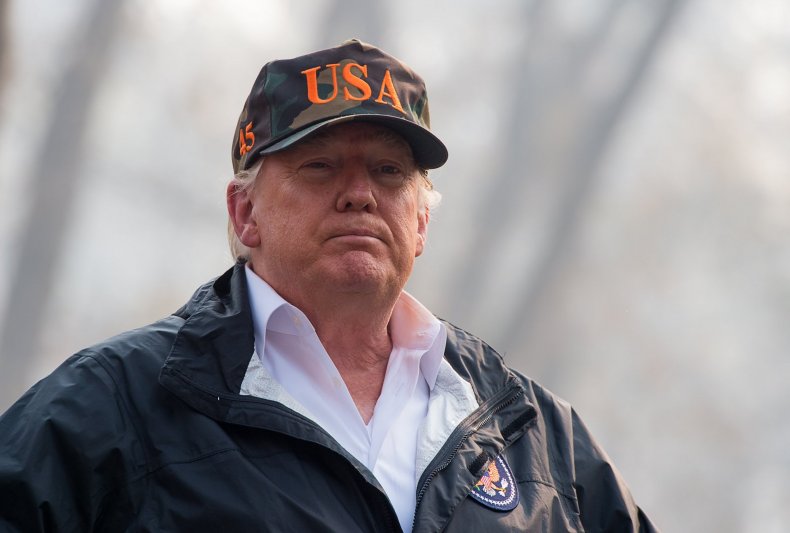 "I was with the president of Finland and he said: 'We have a much different—we're a forest nation.' He called it a forest nation, and they spent a lot of time on raking and cleaning and doing things. And they don't have any problem."
Finnish President Sauli Niinistö addressed Trump's comments head-on on Sunday, asserting that he never touted the country's forest "raking and cleaning" skills.
"I mentioned [to] him that Finland is a land covered by forests and we also have a good monitoring system and network," Niinistö reportedly told Ilta-Sanomat, Finland's second-largest newspaper. He also recalled telling Trump that Finns "take care of our forests."
While Niinistö might have had a diplomatic response to Trump's comments, residents of Finland have not held back, taking to social media to mock Trump over his "raking" comments with a new "#RakeAmericaGreatAgain" hashtag.
"Here I am just #raking around as all us #finns do to prevent forest fires," one Twitter user, Iida Korhonen wrote, sharing a gif of a group of people raking leaves.
"Just been out in the forest raking. It's my civic duty," News Now Finland editor David Mac Dougall chimed in. "We're all at it. So industrious," he said, adding the "#RakeAmericaGreatAgain" hashtag.
In a separate tweet, the news editor wrote that people in Finland were "collectively embarrassed" by Trump's comments, adding that "there ARE forest fires in this part of the world."
"Sweden had some of the worst forest fires in recent memory this summer," he said, adding that Finland has also been hit by wildfires.
Read more: Trump says Finland's President told him they prevent forest fires with raking. He didn't
Another Finn mocked the president's claims, writing: "stay woke people, don't believe all the news about Finland."
"Some claim that the forests are raked, but just look at the state of this national park," the user wrote, sharing a photo of a patch of grass covered in leaves.
"It's really difficult for people to find the mushrooms, because the state neglects the raking," the social media user said, adding the hashtags "'#RakeNews" and "#RakeAmericaGreatAgain."
Yet another Twitter user countered Trump's claims, sharing a photo of a woman not raking the forest floor in Finland, but vacuuming it.
"Hey @realDonald Trump," Jim Aldrich wrote. "They don't really rake the forests in Finland..."
While many have made light of Trump's Finnish "raking" claims, the wildfires that have swept across California have taken a devastating toll.
While predicted downpours have been expected to help temper the blazes that have killed 77 people so far, according to The Associated Press, they could also complicate the search for nearly 1,300 people who have been named on a list of residents who have yet to be accounted for.