Alexandria Ocasio-Cortez Hits Back at GOP Senator Rubio's Remark That 'Every Socialist Is a Democrat'
Rep. Alexandria Ocasio-Cortez responded to Florida Senator Marco Rubio's suggestion that "every socialist is a Democrat" on social media Sunday, pointing out inconsistencies in his claim.
The Democratic congresswoman, who is currently campaigning to represent New York's 14th district for a second term, is a vocal advocate for policies—such as expanded healthcare access—that prominent Republican figures like Rubio associate with "socialist" principles.
A Florida senator since 2011 and former Republican presidential candidate, Rubio has spoken publicly about his opposition to "Democratic socialism," as Ocasio-Cortez and former presidential candidate Bernie Sanders have described themselves, a handful of times. The senator shared thoughts on a relationship between socialism and the Democratic Party on Sunday, amid ongoing claims from President Donald Trump and other leading GOP figures that incorrectly classify Democratic political proposals as "socialist" positions.
"Not every democrat is a socialist," Rubio wrote on Twitter Sunday morning. "But every socialist is a democrat."
Ocasio-Cortez quickly reacted to the senator's tweet with a message that picked apart his statement and questioned its claims.
"Curious what you call GOP giving away billions in public funds to Wall St & fossil fuel companies? OR what you call YOUR ability to go to Walter Reed hospital & receive socialized healthcare for free? Funny how it's only 'socialism' when others get what y'all give yourselves," the congresswoman wrote, reposting Rubio's tweet.
Ocasio-Cortez further noted the differences between socialist and Democratic political beliefs in her follow-up tweet's comments section. "(Also, the idea that socialists like Dems... lol)," she added.
The congresswoman has underscored hypocrisies inherent to Republicans' fear of policies they associate with Democratic socialism—which calls for increased citizen involvement in systems that govern them as well as more equitable distribution of social goods and opportunities— before. In March, as The New York Times reported, she noted Senate Republicans' reluctance to increase pandemic aid to medical institutions while simultaneously pushing for billion-dollar Wall Street bailouts.
Republicans often criticize socialist, or Democratic socialist, ideologies with claims they promote heightened government control and are, therefore, incompatible with the foundational structure of the U.S. Ocasio-Cortez supports several policies some Republican leaders associate with socialism, like the Green New Deal and Medicare for All.
During an Instagram Live discussion in 2019, the congresswoman debunked common misconceptions about Democratic socialism and what it means.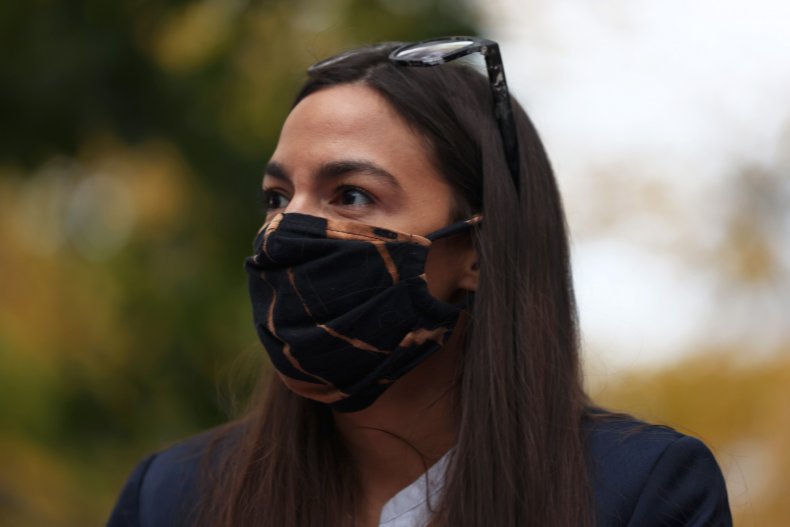 "You can have free market economies with democratic socialist businesses. What on earth is a democratic socialist business? A perfect example of that is worker cooperatives...which means that...workers own the shares of a company," she explained. "So, a more 'democratically socialist' business would have workers on the board of the corporation instead of billionaires on the boards of corporations. So, it's really about democracy in the economy."
Newsweek reached out to Ocasio-Cortez and Rubio's offices for additional comments, but did not receive a reply in time for publication.