Alexandria Ocasio-Cortez Sheds Tear, Says 'We Are Standing on Native Land' As She Calls to Defund ICE
Representative Alexandria Ocasio-Cortez on Thursday called on Congress to cut funding to U.S. Immigration and Customs Enforcement (ICE) and accused the agency of criminalizing Latinos in the United States, which she called "native land."
The New York Democrat said that ICE does "not deserve a dime until they can prove that they are honoring human rights, until they can make a good-faith effort to expand and embrace immigrants." She said that immigrants have always been a part of the United States and that ICE does "not deserve any resource for their radical agenda."
"We have to have respect for children, respect for families, respect for human rights and respect for the right of human mobility. Because it is a right. It is a right. Because we are standing on native land, and Latino people are descendants of native people," Ocasio-Cortez said. "And we cannot be told and criminalized simply for our identity or our status. Period."
Ocasio-Cortez appeared to shed a tear during the press conference outside the U.S. Capitol, where she spoke alongside fellow Representatives Rashida Tlaib, Ilhan Omar and Ayanna Pressley.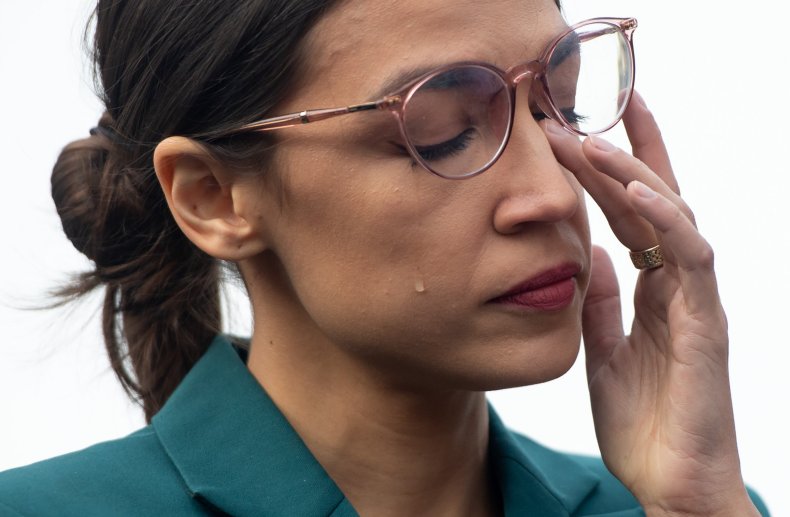 A democratic socialist who made history by becoming, at 29, the youngest woman to be elected to Congress, Ocasio-Cortez ran with abolishing ICE as one of her major platforms.
"As overseen by the Trump administration, ICE operates with virtually no accountability, ripping apart families and holding our friends and neighbors indefinitely in inhumane detention centers scattered across the United States," Ocasio-Cortez's campaign website states. It adds that she "believes that if we are to uphold civic justice, we must abolish ICE and see to it that our undocumented neighbors are treated with the dignity and respect owed to all people, regardless of citizenship status."
But President Donald Trump, whose signature campaign promise was to build a wall at the southern border, reiterated his support for ICE during his State of the Union address on Tuesday. Trump honored ICE Special Agent Elvin Hernandez, who immigrated to the U.S. legally from the Dominican Republic as a boy, in highlighting the importance of the agency.
"Special Agent Hernandez, please stand. We will always support the brave men and women of law enforcement," Trump said in his speech. "And I pledge to you tonight that we will never abolish our heroes from ICE."
Trump also commended "our brave ICE officers" for making "266,000 arrests of criminal aliens, including those charged or convicted of nearly 100,000 assaults, 30,000 sex crimes and 4,000 killings" in the past two years.